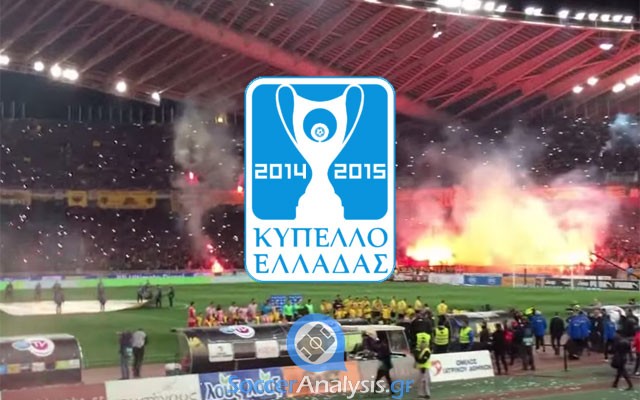 Looking for the best underdog
Tuesday turned out to be a normal day for the Greek Cup with the exception of one match that attracted the attention of many punters. A lot of bets were lost from the failure of Chania to win Olympiakos Volou and I still cannot understand why their win dropped from 2.10 to 1.50 so easily. Anyway, there are 11 matches left and 6 of them are held today. We have not seen any huge surprise yet in Day 2 but my experience tells me at least one underdog will get points we do not expect. The previews and value bets for Wednesday:
Group 4: Levadiakos – Platanias
Teams in this Group: Iraklis 1908 (4 pts), Platanias (3pts), Levadiakos (1 pts), Gazoros (0pts)
Levadiakos finally got the first win of the season in Super League in the home match against Panionios. The players of Pantelidis were in control but they had to wait until 89' to get the three points. With the score at 0-0, Panionios had some good chances to score and this explains the stressful performance of Levadiakos. The main goal of the club is to avoid relegation in Super League and for this reason they should not be trusted in the Cup. There are four absences reported.
Injured: Mantzios (FWD/5)
Out to rest: Tomas (DEF/7), Vukčević (MID/7/1 goal/2 assists), Georgiadis (MID/6)
Platanias comes from a new good away performance, this time against AOK Kerkyra (1-2). They scored first at 16' (penalty kick by Nazlidis) but the home team answered at 25' and added pressure for the win. Nunez scored again at 58' and the score did not change until the final whistle despite the efforts of AOK Kerkyra. Coach Christopoulos will have 17 players available for the Cup match against Levadiakos after his decision to leave more players out to rest.
Injured: Peristeridis (GK/2), Tetteh (DEF/5), Nepliakh (DEF/5/1 assist), Dedakis (DEF/0), Goundoulakis (MID/3), Shehu (MID/0), Milunović (FWD/4),
Out to rest: Olimpa (GK/5), Coulibaly (DEF/6/1 goal), Gilvan Gomes (MID/5/1 goal/1 assist), Nazlidis (FWD/6/2 goals)
Betting Pick: The draw @ 3.25
I believe Platanias is more interested in the Cup than Levadiakos. They have already got three points and all they need is one more before their home match against Iraklis 1908 in Day 3. They look more dangerous when playing away and I will risk on a new positive away result for them.
Group 5: Atromitos – Panthrakikos
Teams in this Group: AEK (4pts), Atromitos (3pts), Panthrakikos (1 pts), Iraklis Psachnon (0 pts)
Atromitos comes from a home draw against Ergotelis (1-1) which was considered a negative result. They scored first at 51' (Lazaridis) but Ergotelis was more dangerous and answered at 78' confirming the positive history of Ergotelis when facing Atromitos. Coach Sa Pinto stated he was pleased with the efforts of his players and that his team deserved to win. There are six absences reported for the Cup match against Panthrakikos where the team is expected to be motivated for a second win that will lock their qualification to the next stage.
Injured: Kouros (DEF/2), Brito (MID/2), Napoleoni (FWD/6)
Out to rest: Cennamo (GK/7), Nastos (DEF/7), Dimoutsos (MID/7)
Panthrakikos comes from a new defeat, this time away against Panetolikos (3-1) and my overall impression is they did not deserve to lose like this. The home team scored first at 13' (Moreno), Cases answered at 60' but two more mistakes in defense were enough to give Moreno his first hat trick (74' penalty kick, 86'). Coach Mantzios stated his team had the best away performance of the season but they ended up with nothing. The officials of the club published a press release stating their support to the players and the coach to end the rumors for a change at the bench. There are two absences reported but the experienced coach will probably make changes in his lineup to rest key players.
Injured: Christou (DEF/3), Tzanis (FWD/7/1 goal)
Betting Pick: The win of Atromitos @ 1.55
The quality of Atromitos combined with the weak away performances of Panthrakikos leave me no choice than picking the home win here. Sa Pinto made it to the semi finals last season with OFI and now he has a much stronger roster in his hands. I believe he will find a way to secure the team before the upcoming match against the hated rivals of AEK in Day 3.
Group 6: Ergotelis – Veria
Teams in this Group: Veria (3pts), Apollon Smyrnis (1pts), Ergotelis (1pts), Ermionida (0pts)
Ergotelis got a very important point in the away match against Atromitos which boosted the morale of the team. The players of Dermitzakis proved their good performance against Olympiakos (2-3 at home, they got the lead twice) was not accidental. The home match against Veria is not expected to be easy but if they keep up like this everything is possible. I must point out that their good performances since Dermitzakis took over were in matches they had to defend instead of being in control. There are three absences reported but more changes in the lineup are taken for granted.
Injured: Melli (DEF/5/1 goal), Fideleff (DEF/1), Allan da Silva (MID/2)
Veria was unable to hold the pressure of PAOK at Toumba and they suffered a humiliating defeat (4-1). With the score was 4-0 at 79' (goals scored at 25', 42', 57' and 79') there is nothing more to analyze. PAOK could have scored at least 2-3 more goals. The goal of Mohamed at 83' made no difference. Coach Granero acknowledged the quality of the opponent and stated his team will use the experience they got from this match to improve. There is one absence reported but most of the players that were used on Sunday will probably be left out to rest.
Injured: Vukic (MID/0)
Betting Pick: The draw @ 3.25
Things become complicated for Ergotelis when they play at home and they need to gain the control of a match. It is no coincidence they lost from Platanias (0-3) but played very well against other strong teams like Panetolikos (1-1 at home), Olympiakos (2-3 at home) and Atromitos (1-1 away). If Veria would be after the win in this match things could be very complicated. From what I hear they intend to make changes in their lineup which means they should be able to get the draw only because Ergotelis performs better under pressure.
Group 7: Asteras Tripolis – Kalloni
Teams in this Group: Tyrnavos (4pts), Asteras Tripolis (3pts), Kalloni (1pts), Aiginiakos (0pts)
*This season: Asteras Tripolis – Kalloni: 1-0
Asteras Tripolis recovered quickly from the away defeat at Tottenham with an away win against OFI Crete (2-3) which brought them in the fifth place in the standings for the first time this season. Coach Verghetis stated he is very proud of the concentration his players show despite the fatigue from the consecutive matches in Super League, Greek Cup and Europa League regardless of the results they get. Asteras has already got three points in the Cup and a win today will secure their place to the next stage. Nine players were left out and it is almost certain the lineup will be a lot different because of the upcoming home match against Olympiakos.
Injured: Goian (DEF/4), Tie Bi (DEF/3), Kourbelis (MID/3), Kitoko (MID/1), Ederson (MID/0)
Out to rest: Košický (GK/5), Mazza (DEF/7/2 goal/1 assist), Usero (MID/6/1 goal), Giannotas (FWD/5)
Kalloni got one point in the away match against Giannina (0-0). It was considered a negative result because they wasted the advantage of an extra player since 51' when Lila was sent off (second yellow). Both teams lost a very important chance at the end of the match that could have given them the win. There are two absences reported for today's match while Matzourakis is expected to rest some players that were used on Saturday.
Injured: Vlastelis (MID/0), Camara (FWD/2/1 goal)
Betting Pick: Kalloni +0.5 to win @ 2.45
Asteras is indeed a better team but they have a very important match ahead against Olympiakos. Do not forget a draw may be enough for them. The absence of so many key players from the home side leaves me no option. The win of Kalloni @ 5.50 is a value bet from every aspect and this is why I decided to include it in the Bomb of the Day section.
Group 1: Olympiakos – Panionios
Teams in this Group: Olympiakos (3pts), Panachaiki (3pts), Panionios (1 pts), Fostiras (1pts)
Olympiacos has a strange behavior this season. I really cannot explain how the team that won Atletico Madrid (3-2) and Juventus (1-0) can be so much different in the domestic competitions. Their last home battle against Panathinaikos at Karaiskakis was won (1-0) but for one more time the Champions troubled their fans with their performance. It was a very boring match where the officials of Panathinaikos complained a lot about the referee and especially one of his decisions, the wrong foul kick which allowed Avlonitis to score with a header. Michel intends to use at least 5 players today from the reserves which means the performance of Olympiakos will not be as strong as we might expect.Nevertheless, they are the favorite for the win since they do have the strongest roster in Greece.
Injured: Dominguez (MID/7/2 goals/1 assist)
Other: Botia (DEF/6) is ill
Panionios was defeated in the last away match against Levadiakos (1-0) with a late goal at 89′. The players of Terezopoulos troubled the stressed home team that was desperate for points. They had some good chances to take the lead while the score was still at 0-0 but they did not succeed and they were punished in the end. The main goal of the club is to avoid relegation and naturally the Cup looks like a luxury for them. Especially when they started with a home draw against a Football League club (Fostiras 0-0 at Nea Smyrni) and they are in the same group with Olympiakos. There are no problems reported but Terezopoulos decoded to leave 4 players out to rest.
Out to rest: Papadopoulos (GK/2), Economou (DEF/2), Gini (MID/4), Siopis (MID/7), Ibagaza (MID/7)
Betting Pick: Olympiakos (-1.5) to win 1.50
Even if the players of Olympiakos will be bored today, they should be able to get a 2-0 win. There is nothing else here for me.
Group 2: PAOK – Giannina
Teams in this Group: Apollon 1926 (3pts), Giannina (3 pts), AOK Kerkyra (0pts), PAOK (0pts)
PAOK forgot the home defeat from Fiorentina (0-1) with a new emphatic home win in Super League against Veria (4-1). They were in total control throughout the match and they had so many good chances they could have scored at least a couple more goals. Veria tried to prove they deserve their high placement in the standings but it was impossible to keep up with the home team. Coach Anastasiadis is aware the demanding supporters want to see their favorite club doing well in all competitions and they least we can expect today is a win that will put PAOK back on the game for a top two placement. There is one absence reported and I really doubt they will risk too many changes in the lineup after the slap they got from Apollon 1926 in Day 1.
Absence: Pereyra (MID/5/2 goals)
Giannina come from a home draw against Kalloni (0-0). It was generally considered a positive result since the players of Petrakis were playing with a man down since 51′ when Lila received a second yellow card. Both teams had a very good chance to steal the win at the end of the match. The experienced coach was pleased with the efforts of his players. There are two absences reported while four more were left out to rest.
Banned: Lila (MID/7)
Injured: Korovessis (MID/4/2 assists)
Out to rest: Vellidis (GK/7), Acosta (MID/7/2 goals), Chavez (MID/6/2 goals/1 assist), Tsoukalas (MID/7/1 assist).
Betting Pick: Over 2.50 goals @ 1.70
PAOK has a negative history against Giannina. Would you place a bet on the home win if I told you Giannina have won two the of the last four matches at Toumba? Would odds like 1.20 have any value then? Probably not. We know that PAOK scores a lot at home so with or without the help of Giannina a result of three goals or more looks a bit safer.