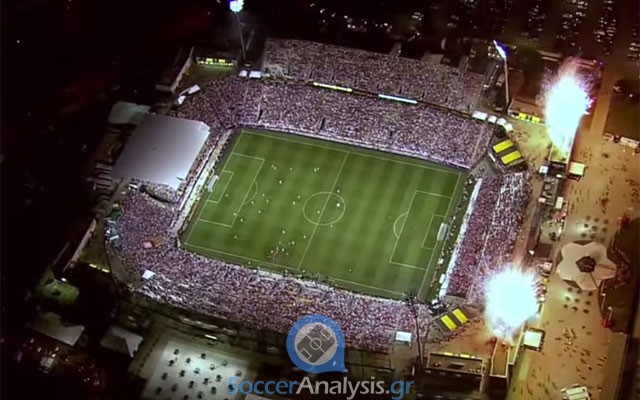 The data entry for the new season of Super League Greece is over. It took me a week but there was a need for double checking the data mostly because there have been many changes in most the Greek clubs because of the economic crisis. By the way, I would appreciate any feedback on possible errors or bug reports. I did my best to check everything myself but it would take more days to do it properly.
I might have been absent from my betting picks columns for a week but this does not mean that I was not watching. Let's take a look at some interesting match previews and betting picks for today:
Ceará vs. Guaratinguetá
Ceará has four wins in their last five matches and Guaratinguetá has three out of three since their former coach Paulo César Carpegianid left. The home team still has hopes (theoretically) for the promotion places while Guaratingueta is desperate for avoiding relegation. Let's stop for a minute and think which is easier? Ceará must keep winning while at least five clubs above them (Goias, Sao Caetano, Atletico Par., Avai, America Natal) must do worst to cover their 6 points of difference from the fourth promotion place. At the same time Guaratingueta is three points away from ABC but they need more because their goal difference cannot be covered (they have -15 and ABC has -2).
 Despite the recent form of the two clubs the bookies have offered Guaratingueta in odds around 7.00 mostly because of their pathetic away results. Former coach Paulo César Carpegiani, had 0W-1D-8L in nine matches. Since Carlos Octávio took over the players seem to respond a lot better. Their first away win was against Baureri, the worst club of the league so far (3-2) but their last home win against Criciuma (2-1) clearly showed they mean business.
Betting Pick: The recent form and results of the two clubs indicate a score of over 3.5 goals @ 2.70. If you are afraid of such odds, over 2.5 goals @ 1.70 is also fine. For ghost hunters like me, the win of Guaratinguetá @ 7.00 is a bet that cannot be ignored. No matter what the outcome will be matches like these are always value bets.
Panathinaikos vs. PAS Giannina
The match preview and betting pick are available through the main menu or if you click here
Chelsea vs. Atletico Madrid
Note: The Super Cup will be held at Stade Luis II (Monaco).
Chelsea is the only club with straight wins and a total of 8 goals in the Premier League so far. Fernando Torres and Lampard have scored twice already in three matches while Hazard seems able to follow the in offense. Atletico Madrid also showed their scoring ability in their last match against Bilbao (4-0) and they seem able to repeat their last season's appearances. I believe we are about to watch a great match but the scoring ability of both clubs makes it hard to predict the winner.
Betting Pick: The first thought that crossed my mind when I saw this match is that both teams will score. I will take my chances on over 2.5 goals @ 1.95 and I hope Falcao and Torres will do what they know best.
My placed bets for today:
Panathinaikos(-1.5) and Super Cup match over 2.5 goals @ 4.29
Guaratinguetá to win @ 7.00 (single bet)
Guaratinguetá (+0.5) to win (offered @ 2.50) and Super Cup match over 2.5 goals @ 4.88
Good luck in your betting picks.