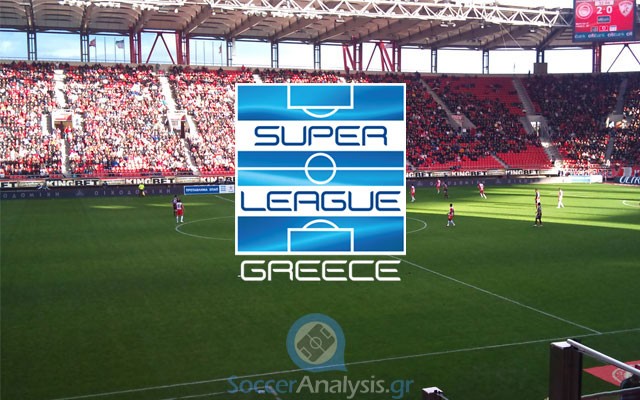 New coaches for OFI Crete and Olympiacos
Day 11 of Super League will be completed today with the remaining 5 matches. This time we do not have a Monday match because of the midweek action for Day 18 (scheduled for 14 and 15/01/15). Two matches stand out after the recent changes at the bench of OFI Crete and Olympiacos. Mr. Anastopoulos and Mr. Pereira having difficult debuts against AOK Kerkyra and Skoda Xanthi respectively. The previews and betting picks for Sunday:
Analysis: Niki Volou – Levadiakos
Niki Volou has left the competition because of past debts. All their matches are cancelled and their opponents will be appointed winners with a 3-0 score.
Levadiakos is the lucky team of Day 11 as they add three important points in their battle to avoid relegation. Their next opponent will be Panathinaikos (away).
Analysis: Panetolikos – PAS Giannina
Panetolikos is deeply influenced by the performances of key player Villafáñez, there is no doubt about it. His two goals in the away win against AOK Kerkyra (1-3) and the overall efficiency of the team in offense made a huge difference in the outcome of the match as the home team was not as bad as you may think (total attempts 15-14). The defeat from Olympiacos Volou (Football League) in the midweek match for the Cup made no difference to the players of Chavos as they were already out of the competition. This explains why he decided to use a secondary lineup and focus on the tight schedule they have ahead. The same three problems are reported.
Banned: Koutromanos (DEF/11)
Injured: Kalogeris (MID/9), Theodoridis (MID/4/1 assists), Moreno (FWD/5/5 goals)
PAS Giannina got a point in the last home match against Panathinaikos which will always be remembered for the strange way it was completed. It started on Sunday (19:30) but the referee was forced to stop it at 31' because of a fog. The two teams played the remaining time on Monday (15:00) and practically had only one half (the second) to claim the win. Both of them lost most of their important chances (attempts 10-6) to get the three points in the last 10-15 minutes but the draw can be characterized as fair. Coach Petrakis decided to rest four players in the midweek match for the Cup against Apollon 1926 (Football League) where his team got the win (2-1) and qualified to the next stage.
Banned: –
Injured: Berios (DEF/9), Charissis (MID/11)
Betting Pick: The win of Panetolikos @ 1.85
Panetolikos could afford to rest more players as they had no chances to qualify in the Cup and their home strength (4W-1D-2L, goals 12-7) cannot be ignored. Especially when Giannina are strong when playing away (1W-1D-3L, 4-8).
I am aware Giannina have only one defeat in their last 10 matches (5W-4D-1L) however their roster cannot justify these stats. The key to their success is coach Petrakis but sooner or later their form will end. The extra fatigue from the matches against Panathinaikos and Apollon 1926 makes me believe they may lose easier than the odds show. The win of Panetolikos (-1.5) @ 3.30 is a fine risk.
Analysis: OFI Crete – AOK Kerkyra
*The former chairman of OFI, Mr. Poulinakis, was arrested on 23/12/14 to explain why the club has not repaid the amount of €2.2 million to the tax office. He was given 15 days to submit his defense. The new chairman, Andreas Manoussakis, and the rest of the officials are on a desperate search for investors but things do not look easy. The debts from the last four seasons only exceed the (shocking) amount of €8 million.
OFI Crete has not played an official match for 2015 yet. They were very lucky to have Niki Volou as their opponent in both Super League and the Greek Cup in this time of crisis. Their last battle was the away defeat from Platanias on 20/12/14 which came a lot easier than the final score (1-0) shows. Gattuzo suddenly decided to leave and a former coach, Nikos Anastopoulos, was called up to replace him. The morale of the team is very poor as the financial problems are worse than ever. A total of 7 players have decided to leave while the club is in danger to follow the sad example of Niki Volou before the end of this month.
Banned: –
Injured: Razak (MID/9), Perogamvrakis (FWD/6/1 goal)
AOK Kerkyra got a very important win in the last home match against Asteras Tripolis (1-0). Coach Grigoriou was pleased to see his players causing many problems to defenders of the opponent. Both teams shared a good number of chances (attempts 15-14) but it was more probable to see Kerkyra scoring a second goal. The morale of the team is SUPERB after the stressful home draw against PAOK (0-0) for the Greek Cup which brought them to the Round of 16. The New Year looks promising after two consecutive positive results against stronger opponents.
Banned: Gomes (FWD/16/1 goal/1 assist)
Injured: –
Other: Maragos (DEF/12) is no longer in the plans of Grigoriou
Betting Pick: AOK Kerkyra (+0.5) to win @ 1.60
The future of OFI Crete in Super League is uncertain. The change at their bench may help but it is obvious they need to solve their financial problems (and their poor morale) first. From what I have watched the home team needs a miracle just to get one point today. Bets like the win of AOK Kerkyra @ 2.85 worth the risk any day of the year.
Analysis: Panathinaikos – Ergotelis
*Last season Ergotelis escaped with a draw (1-1) from Apostolos Nikolaidis. The officials of Panathinaikos were furious after the final whistle because of the behavior of their opponents who kept faking minor injuries with the tolerance of the referee.
Panathinaikos comes from two consecutive away draws one for Super League and one for the Greek Cup. The first was against Giannina (0-0) in a match that started on Sunday (19:30) but finished on Monday noon as the referee was forced to stop it because of a fog. The two teams missed some good chances for the win mainly at the end of the second half but the final result was fair. The second draw was against Chania (2-2 away) but the result was indifferent as the Greens had already qualified to the Round of 16. For the record, coach Anastassiou used only Greek players in the starting lineup. His plan worked for a while with Panathinaikos taking a lead of two goals (17', 29'). The usual defensive problems came up again at the end of the second half with the home team scoring twice in 9 minutes (75', 84'). The two clubs left the field satisfied as they both qualified to the next stage.
Banned: Zeca (MID/15/2 goals/2 assists)
Doubtful: Mendes da Silva (MID/9)
Ergotelis got a very important point in the last away battle against Levadiakos (1-1). There still 4 points away from the safe zone but the four points they got in the last two matches with coach Tsaousianis (temporary but he will probably stay for good) show they still have some energy left . The defeat in the midweek away match for the Greek Cup against a Football League club like Ermionida (2-0) meant nothing because it is clear the club has more important priorities at this point. The club's officials have been quite busy since the winter transfer period opened. A total of 6 players left and 3 new have arrived in their efforts to help the team get away from relegation.
Banned: –
Doubtful: Jovanović (DEF/12/1 goals), Kozoronis (MID/14/1 assist)
Betting Pick: The win of Panathinaikos (-1.5) @ 1.95
The two teams had no motive for a win in their midweek matches for the Cup and if you read my previews for both them you already know I was not surprised by their results. They are both interested in the win today for different reasons. Panathinaikos wants to get the third place back from Asteras (who won PAOK yesterday) and get closer to PAOK and Olympiacos with the hope the Champions will not win Xanthi. Ergotelis on the other hand, is desperate for any point they can get whether it is at home or away.
The motive of the Greens for revenge can make the difference here. They are more reliable at home this season (6W-0D-1L, goals 14-4) while Ergotelis has only one away win (1W-3D-4L, goals 8-11) and it was against Niki Volou (1-4). Without it, their stats look like this: 0W-3D-4L, goals 4-10. I will not be surprised if the home team will attempt to humiliate their opponent and push them further in relegation.
Analysis: Panthrakikos – Atromitos
Panthrakikos got a very important and unexpected point in the last away match against Xanthi (0-0). They were a bit lucky as the home team had two attempts at the bar (3', 67') however their decision to concentrate on defense (total attempts 10-1!!!) worked and they got what they wanted. They also got a home win in the midweek match for Cup against Iraklis Psachnon (2-1, Football League) and qualified to the next stage. Despite their low place in the standings they are still undefeated at home (2W-5D-0L, goals 5-3).
Banned: –
Injured: Baykara (MID/15/2 assists)
Doubtful: Cherfa (DEF/13)
Atromitos complained a lot for a cancelled goal in the last home match against Kalloni (0-0) and they were right. However, this does not change the fact they did have an average performance for one more time this season. They practically wasted the gifts of Asteras and Panathinaikos who also failed to win and disappointed the supporters. Sa Pinto is not feeling safe and rumors want the officials of Atromitos to be on a search of a new coach after the humiliating away defeat from AEK (3-0 away) in the Cup. I just cannot remember Atromitos having such a poor performance in years.
Banned: Agouazi (MID/10), Pitu Garcia (MID/16/3 assists)
Injured: Cennamo (GK/9)
Other: Kontoes (DEF/12) was left out for unknown reasons
Betting Pick: Panthrakikos (+0.5) to win @ 1.55
Panthrakikos has confused me a lot this season, especially at Komotini where they may have difficulties to win worse or equal opponents but they do not lose from stronger ones either. I do not know if you have noticed it but Panthrakikos comes from 3 consecutive draws (4 in their last 5) while Atromitos has two in a row (and 4 in the last 6). I am starting to believe we are heading for a new draw @ 3.10.
Analysis: Skoda Xanthi – Olympiacos
Xanthi comes from a home draw against Panthrakikos (0-0 last Monday) which was considered a negative result after their recent emphatic wins against stronger clubs like PAOK and Panathinaikos (same score, 4-2). They were very unlucky to have two attempts at the bar (3', 67') but I must say they were disorganized by the defensive tactic of their opponent. The total attempts (10-1!) show how concentrated Panthrakikos was on defense. Xanthi also had a midweek match for the Greek Cup against Zakynthos (Football League) and they had no problem getting a win (3-1) and a ticket to the Round of 16. There is one problem reported for the difficult match against Olympiacos.
Banned: Wallace (DEF/10)
Injured: –
Olympiacos struggled to win Platanias (2-1) in the last home match in Super League. In fact their opponent was unlucky to miss a huge chance to take a lead by 1-2 before the Champions score their winning goal. The average performances of the team in the domestic competitions this season brought a sudden change at their bench. Coach Michel left and the team went to the Cup match against Fostiras (0-2 away win) with Mr. Nikopolidis (assistant coach) without showing any signs of improvement. Vitor Pereira was officially announced on 07/01/15 as the new coach and he will have his debut against a very tricky opponent.
Banned: –
Injured: Milivojević (MID/10/2 assists)
Other: Ndinga (MID/9/1 goal) left to join the National Team of Congo
Betting Pick: Both to score @ 2.00
Xanthi is looking stronger this season and they are still undefeated at home (6W-2D-0L, goals 16-6). I cannot understand why the bookies favor Olympiacos so much when they know Xanthi has already humiliated PAOK and Panathinaikos.
The change at the bench of any team usually works for a while. What really bothers me here is that Olympiacos had a new (below) average performance in the midweek Cup match against a very weak Football League club like Fostiras. The players knew the new coach was watching and they did nothing about it. The win of Xanthi @ 7.00 is a value bet but if you are afraid of such odds the handicap (+0.5) home win @ 2.85 can be as good.
By the way, I do not ignore the fact Olympiacos has an extra motive for a win after PAOK's defeat. What I do know is that the performances of PAOK and Olympiacos since the beginning of this season show the fight for the first place will not be over soon. More unexpected results will come, why not starting from today?