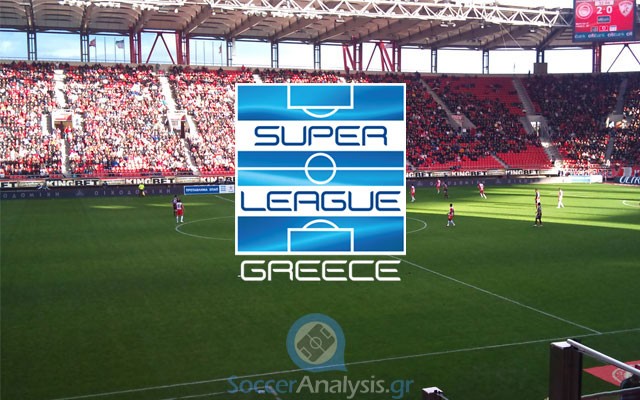 New coach for Panionios
Saturday turned out to be a profitable day even with the exception of Kalloni (0-0) who actually scored at 91' but their (winning) goal was cancelled by the linesman. I watched the replay but it was not clear enough to help me decide if the referee was right to follow his assistant. I sincerely hope he was; I prefer to be wrong in my approach than watching such factors keeping me away from a perfect day. The previews and betting picks for Sunday:
*By the way, this is the best frame I got for the cancelled goal of Kalloni…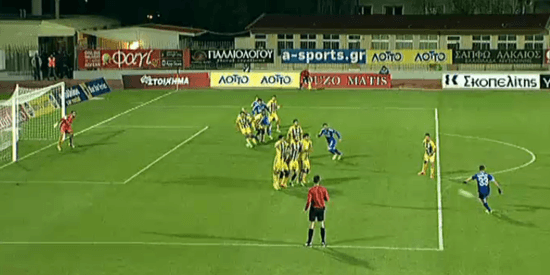 ATTENTION: Three match days of Super League are being held until next Sunday (14, 15 and 16) and all clubs are in need to rotate their lineups due to the tight schedule. I remind you only a few of them are used to playing this often and they have already done it once this season (two weeks back). The schedule for Days 15 and 16 is available at the end of this article.
Analysis: Panionios – OFI Crete
*The arrival of coach Marinos Ouzounidis at Panionios was combined with an announcement by Nikos Zamanis (manager) to the players. He pointed out the team is after a fresh start and that any disciplinary misconduct from now on will be fined with €500 – €1000. Any fight between players will be fined with €5.000. However, if they will manage to avoid relegation they will all share a bonus of €100.000.
Panionios comes from two consecutive away defeats against AOK Kerkyra (1-0, Pick of the Day) and Panetolikos (2-1) which were the end of Mr. Terezopoulos at the bench. Despite the fighting spirit of the players, the truth is they needed a change. Panionios has conceded at least one goal in EVERY match this season and they deserve their place in the standings. They were favorites for relegation anyway due to their low budget. Their two wins in their first three matches (Ergotelis 2-1 on Day 1 and Asteras Tripolis 2-1 on Day 3) showed they do have some talented players to avoid it. The new coach, Marinos Ouzounidis, will have his debut with the hope to win and boost the poor morale of the team. There is one problem reported.
Banned: Chatziisaias (DEF/7)
Injured: –
OFI Crete comes from a home defeat in the rivalry battle against Levadiakos (0-2). Coach Gattuzo stated his team did not deserve to lose like this as they were more dangerous in offense (attempts 14-7) and wasted good chances to take the lead, especially in the first half. The goal of Levadiakos at 54' (Mantzios) stressed them a lot but they kept looking for an equalizer that never came. The second goal came by a penalty kick at 92' when everything was over. Gattuzo will have to deal with important absences again but OFI must look for a positive result otherwise they will be immediately sent to relegation placement.
Banned: Milhazes (DEF/9/2 goals/2 assists), Tripotseris (DEF/12)
Injured: Fazos (DEF/0), Kalajdzic (MID/3), Koutsianikoulis (MID/9), Razak (MID/9), Perogamvrakis (FWD/6/1 goal)
Betting Pick: OFI (+0.5) to win @ 2.25
The change at the bench of Panionios will probably help in the long run but I refuse to accept odds like 1.65-1.70 so soon. End of story! How can I forget their failure to keep a clean sheet in 11/11 matches?!? OFI is no better than them but this match is highly important for both sides. Do not forget that the draw will not be a negative result if things do not go as they wish.
I still cannot forget how OFI escaped with the away win against Panathinaikos (1-2, odds 6.50-7.50) a few weeks back. If their defense will hold at Nea Smyrni, 2 or maybe 3 counter attacks maybe enough to give them a goal. The win of OFI @ 7.00 is not as difficult as the bookies want us to believe.
I will take my chances knowing that the odds worth the risk. As far as I am concerned, the bonus may motivate the home team but I doubt the players are stupid. If the club has difficulties paying them their salaries how will they come up with extra €100.000? Especially when they are in need of at least 2-3 good players during the winter transfers…
Analysis: Asteras Tripolis – Veria
Asteras Tripolis and Panathinaikos were determined for a win last week but they ended up with a draw (1-1) that was not convenient for anyone. Asteras was more dangerous in offense (attempts 17-9) and they could have scored first with Mazza (8' bar). The Greens scored at 30' to take the lead with the home team answering at 36' to set the final score. Believe it or not most of the action took place during the first half as the bad weather conditions and the stress of both sides ruined everything in the second part. Verghetis keeps stating his satisfaction for his players who begun their amazing journey this season on the beginning of July and they still hold! They may lost some points due to their Europa League obligations but they are now officially out of the tournament and they can concentrate on ensuring a place in the Play Offs. Asteras also had a midweek match against Partizan (0-0 away) where they used their best lineup despite they were not interested in the win. There are three problems reported.
Banned: –
Injured: Kitoko (MID/1), Ederson Tormena (MID/0), Badibanga (MID/4)
Veria won the last home match against Platanias (2-0) but their win was not as easy as you may think. They may took the lead with an early goal at 6' but Platanias added pressure for the equalizer and had an attempt at the bar at 58'. The second goal at 60' (Campora) secured the win but even then their opponent did not quit, finishing the match with a large number of chances (attempts 13-14) and a second attempt at the bar at 78'. Coach Granero was pleased to see his team returning to wins after five matches (0W-3D-2L). The next match at Tripoli will not be easy at all because Veria is not as efficient when playing away (1W-2D-3L, goals 5-11).
Banned: Amarantidis (DEF/11)
Injured: Balafas (MID/7/1 goal)
Betting Pick: Both to score @ 2.10
I do not like the odds that I see on the home win. Veria has the exact same overall record with Asteras Tripolis (6W-3D-3L) and they are a huge surprise this season. They may be weaker when playing away but you must know they were influenced by the two long breaks of Super League. I do not think we should underestimate them, especially now they seem to find their way after the away draw against Atromitos (1-1, do you remember the 4-3 defeat of Asteras in that venue?) and the win over Platanias.
I prefer to risk on the option of Over 2.5 goals @ 2.00 and I must tell you that the win of Veria @ 7.00 must not be ignored. Sooner or later Asteras will show signs of fatigue. Why not now?
Analysis: Ergotelis – Skoda Xanthi
Ergotelis comes from an away draw against Panthrakikos (0-0) which can only be characterized as a lucky result. The home team was in total control (attempts 22-6!) with the players of Dermitzakis being unable to cause any real problems. In fact, they should thank their goalkeeper (Kavoussakis, 7 saves!) and the poor weather conditions for helping them keeping a clean sheet in a match they should have lost by at least 2-0. Coach Dermitzakis is not safe at the bench any more as his contribution since he took over is one away win against Niki Volou and nine matches without a win (0W-4D-5L). Ergotelis is still in search of the first home win of the season (0W-2D-4L, goals 6-15).
Banned: –
Injured: Alvarado Melli (DEF/10/1 goal), Fideleff (DEF/1)
Other: Youssouf (MID/12/3 goals/2 assist) did not attend training of Friday (minor injury) but he was included in the roster for today. It is not known if he will be in the starting lineup.
Xanthi comes from an amazing home win against PAOK (4-2) which proved they will be a threat for any team this season, especially at home where they are stronger. To be honest, I did not have a score like this in mind when I included them on the Bomb of the Day section. However they proved me right by punishing an arrogant opponent who thought a win at Karaiskakis would be enough to get the three point at Xanthi as well. Coach Lucescu was pleased with the performance of his team but their away record (0W-2D-4L, goals 7-14) needs to improve.
Banned: Cleyton Silva (MID/8/5 goals/1 assist)
Injured: Ranos (FWD/7)
Betting Pick: The win of Xanthi (+0.5) @ 1.55
I was shocked to watch Ergotelis being so weak last Monday. They did not take any risks despite their need for points. They seem influenced by the consecutive matches without a win and I expect to see them stressed at home for one more time. Their weak defense will have difficulties with the tactical approach of Xanthi so the away win @ 2.80 is a value bet any day in a match where the team that will concede less goals will win. A result of Over 2.5 goals @ 2.10 is highly probable as well.
Analysis: PAOK – AOK Kerkyra
*The officials of PAOK are very busy lately; they have already started making contacts towards players for the winter transfers. Most of the players in the current roster should be motivated until the break if they do not want to be replaced…
PAOK comes from two consecutive defeats against Xanthi (4-2 away) and Guingamp (1-2 at home) which have disappointed the players and the demanding supporters of the club. The slap from Xanthi was a warning the competition is not over just because PAOK won Olympiakos at Karaiskakis (1-2). Despite the overall expectations for improvement, they also lost the important home match against Guingamp and they were left out of the Europa League as well! Coach Anastassiadis must find a way to wake up his players soon as they cannot afford to lose any more points. They have already wasted a great chance to increase their distance from Olympiacos last week… There are three absences reported and the goal for today's match is a win at all cost.
Banned: –
Injured: Martens (MID/8), Mak (MID/9/6 goals/3 assists), Tziolis (MID/11/1 assist)
AOK Kerkyra got a point in the last home match against Atromitos (1-1) which was considered a positive result as they were facing a stronger opponent. Coach Grigoriou was pleased with the efforts of his players who scored first (61') but then received a late equalizer at 92'. The four points Kerkyra got in the last two matches have improved their confidence as they now feel a bit safer in the standings. Their away record is not strong (1W-2D-2L, goals 4-5) but they can cause problems to anyone who will underestimate them. There is only one absence reported for Grigoriou.
Banned: Maragos (DEF/11)
Injured: –
Betting Pick: Halftime bet on he win of PAOK & Over 1.5 @ 2.40
PAOK is a different team at Toumba, especially in domestic competitions. I believe the shocking defeat from Xanthi was the best thing that could possibly happen to them. They have now realized they need to concentrate 100% if they want to have any hopes for winning the title. AOK Kerkyra is a good team, they will probably stay safe all season, but they do not have the confidence to get anything in this venue.
I expect to watch PAOK determined for a quick goal like in most of their home matches. The win of PAOK in the first 10 minutes @ 4.30 is a fine risk.
Analysis: PAS Giannina – Atromitos
Giannina compensated their fans for the unexpected humiliating defeat from Levadiakos (0-4 at home) with an amazing away draw against Olympiacos at Karaiskakis (2-2). The players of Petrakis proved us right for trusting them to score in a very difficult venue. They actually did it first at 23' (Michail) and they spent the rest of the match defending their advantage. A penalty kick allowed Olympiacos to score at 50' and, 25 minutes later, they even managed to take the lead by 2-1 (75'). A late goal by Ghiakos gave Giannina the point and a lot of confidence for the next matches. There is one absence reported for today.
Banned: –
Injured: Berios (DEF/9)
Atromitos comes from an away draw against AOK Kerkyra (1-1) and they wasted a good chance to get closer to Asteras and Panathinaikos. Nevertheless, it was a relatively fair result as they conceded a goal (50') at a point they looked more dangerous. They spent the rest of the match looking for the equalizer which came at 92' by Lazaridis. Sa Pinto wants the win in today's match as there is no more room for lost points but Giannina are not an easy opponent, especially at home.
Banned: –
Injured: Tavlaridis (DEF/8) and Dimoutsos (MID/10) are still recovering from injury.
Betting Pick: The draw @ 3.10
The two teams are not fond of many changes in their rosters and they have kept most of their key players over the last couple of years. Their recent history in this venue shows 1W-2D-0L. I am not convinced Atromitos can get an away win especially when they have failed to win Veria at home (0-0) and AOK Kerkyra (1-1 away). They might need it but the home record of Giannina (3W-2D-1L) shows it will not be easy. Furthermore, it will be a bit difficult to see Giannina losing two home matches in a row.
Day 15: Schedule
Wednesday 17/12/2014
AOK Kerkyra – Ergotelis
Panathinaikos – Asteras Tripolis
Atromitos – Levadiakos
Veria – Niki Volou
OFI Crete – Kalloni
Panetolikos – Platanias
Olympiacos – Panionios
Thursday 18/12/14
Giannina – PAOK
Skoda Xanthi – Panathinaikos
Day 16: Schedule
Saturday 20/12/14
Panthrakikos – Veria
Platanias – OFI Crete
Kalloni – Olympiacos
Sunday 21/12/14
Panionios – Atromitos
Asteras Tripolis – Skoda Xanthi
Ergotelis – Giannina
Niki Volou – Panetolikos
Levadiakos – PAOK
Monday 22/12/14
Panathinaikos – AOK Kerkyra