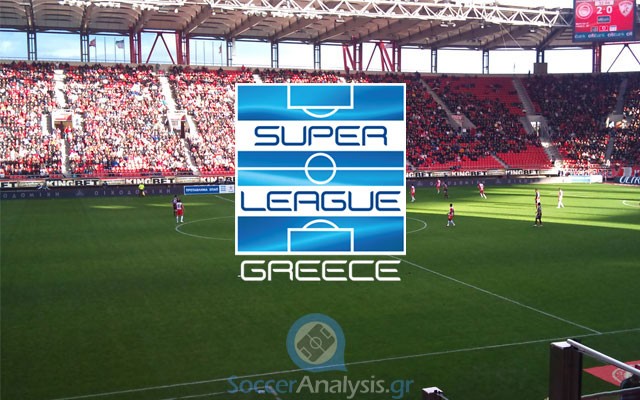 Panathinaikos returns at OAKA
All Saturday matches gave us something to remember. Ergotelis and Aris scored 6 goals in only half an hour (3-3), Levadiakos got the fifth consecutive home win against Platanias (2-0) with their opponent having almost double attempts on target and Olympiakos unlocked the defense of Asteras Tripolis with a penalty kick seen only by the referee of the match. The videos with the highlights from each match will soon be available and you must watch them to see for yourself how some results are not always depicting what happened during the match.
Five more matches are available today and the one that has got my attention is the return of Panathinaikos to OAKA to face Kalloni who has three wins in the last four. To the Sunday previews and betting picks of Day 14:
PAOK vs. APOLLON SMYRNIS
PAOK was challenged by Giannina in the last away match at Zossimades and they had to wait until 83' to score with a penalty kick (Perez). A minute earlier Berios from Giannina received a red card making things easier for the players of Mr. Stevens who also managed to score a second goal at 87' (Lazar) while the also had an attempt at the bar at 56' (Stoch). López (DEF/3), Ninis (MID/7) and Lawrence (MID/2) are out because of injuries. Keep in mind that PAOK will also have a midweek match for the Europa League against Alkmaar on Thursday.
The players of Apollon Smyrnis were more determined for a positive result in the last home match against Panathinaikos (1-1) and they got it. The Greens scored first at 6' but Apollon did not surrender, they scored the equalizer at 47' and came close to winning the match. The new coach of the team, Mr. Sanchez had a negative start in the home match against OFI (0-1) but the home draw against Panathinaikos and the midweek home win for the Cup (3-1) against Niki Volou (Football League) with secondary lineup show that Apollon is improving. Farinola (FWD/11/1 goal) is banned while Tseberidis (MID/2), Kamara (MID) and Blažek (FWD/5) are out because of injuries.
Betting Pick: Both teams to score @ 2.60
The players of PAOK often receive a goal first before starting to perform like they should. Apollon is desperate for points, they do show signs of improvement and the fact this match is played at 15:00 makes things more complicated than the odds on the home win show.
PANTHRAKIKOS vs. PAS GIANNINA
Panthrakikos managed to take the lead in the score twice (6', 27') in the last away match against Aris but their opponent answered both goals (23', 62') and the two clubs shared the point of the draw. Aris had more attempts on goal, mainly with distance shots and the result could be characterized as fair. The match against Giannina is very important for the home team not only because they want to get back to home wins after four matches, but also because a win will help them feel a lot safer in the standings. M'Bow (DEF/10) and Merino (MID/2) are the only problems today for coach Mantzios.
PAS Giannina were defeated in the last home match against PAOK (0-2) with two goals in the last ten minutes of the match. The players of Mr. Tsiolis had a good performance but the red card at Berios (82') followed by the goal of PAOK after penalty kick (83') killed their efforts for a positive result. The team also complained for the decisions of the referee in that match. Berios (DEF/6) and De Vincenti (MID/8/2goals) are banned while Michail (DEF/12) and Korovessis (DEF/13/2 goals) are reported injured.
Betting Pick: The win of Panthrakikos @ 2.70
The motive of the home side combined with the away performance (0W-2D-4L) and the absences of PAS Giannina in defense make the home win a value bet. Mr. Tsiolis has an attacking mentality and the absences of his team make me believe this match will also have many goals making the option of Over 2.5 goals @ 2.25 another interesting bet.
ATROMITOS vs. OFI
Atromitos had a good performance in the last away match against Platanias (1-1). Despite the fact they received a goal first (25'), they answered quickly (37') and they even added pressure for the win although they were playing with a man down since 43'. Atromitos also had a midweek match for the Cup against Panetolikos where they won by 0-2 and made a huge step for the Quarter Finals. Karagounis (MID/12/1 goal) and Napoleoni (FWD/9/4 goals) are injured and they are considered important absences for coach Parashos.
OFI managed and easy home win over Kalloni in their last Super League match (3-1) last Sunday but their opponent took the revenge in the same venue as the two clubs met again for the Cup competition. Keep in mind that Kalloni's win becomes more important if we consider they scored (83' Kazakis) playing with a man down since 42' when Perrone received a red card (second yellow). Fraggoulakis (MID/8/1goals), Labropoulos (MID/6/1 goal), Galletti (MID/6) and Perogamvrakis (FWD/11/2 goals) are not available for the difficult match at Peristeri.
Betting Pick: Over 2.5 goals @ 2.40
Atromitos is very strong at home (4W-2D-0L, goals 11-3) and they often score more than once at Peristeri. I am not convinced that OFI really wanted the win in the midweek Cup match and I am under the impression that they are more dangerous than the odds show. I expect to watch a good match with at least three goals although the bookies think otherwise.
SKODA XANTHI vs. VERIA
Xanthi had a good performance in the last away match against Panionios (0-0) where they played with a man down since 59' (red card by second yellow at Calvo). The officials of Xanthi complained for a goal that was canceled at the end of the match but Panionios also missed a penalty kick (21', Aravidis) so the result can be characterized as fair (both teams also had an attempt at the bar). Calvo (MID/12/2 goals) is banned and he will be the only absence for Mr. Maurer against Veria.
Mr. Dostanić got his first home win in the last match against Levadiakos (4-3) but his team once again showed they need to improve in defense.  Levadiakos was on the lead with their goal at 3' but Veria started the second half determined to turn everything around. They scored at 51', their opponent took the lead again at 60' but they did not give up and scored three more goals (63', 70' own goal, 79') showing they really wanted the three points. Levadiakos scored the last goal of the match at 91'. Mr. Dostanić will not have the services of Ostojić (MID/11) who is injured.
Betting Pick: The draw @ 3.40
Xanthi is strong at home (4W-1D-1L, goals 9-5) but Veria is better than their placement shows and they seem to be improved under their new coach. I believe the three goals they received from Levadiakos last week have alarmed their coach and I expect them to be more cautious in this match as the new coach will be after his first positive away result. The draw is a risky but well paid choice and I will not be surprised at all if it will come with a score like 1-1 or 2-2.
KALLONI vs. PANATHINAIKOS
Note 1: Kalloni is using OAKA stadium for their home matches until the construction works in their venue are complete.
Note 2: OAKA, also known as the Olympic Stadium of Athens was the home ground of Panathinaikos until last season.
Kalloni comes from two consecutive away matches against OFI, one for Super League (defeat, 3-1) and a midweek one for the Cup (win, 0-1). Their defeat last Sunday came easier than expected and gave an end to their winning streak of three matches in Super League. The players of Mr. Mantzourakis are not afraid of anyone and they go after the win in every match. This maybe explains the absence of a draw in their 13 matches so far (6W-0D-7L, goals 9-11). Silighardakis (MID/11) is injured while Perrone (FWD/8) is banned after receiving a red card in the Cup match. Keep in mind that Kalloni won that match with a goal at 83' playing with a man down since 42'.
The players of Panathinaikos underestimated Apollon Smyrnis and they lost points in their last away match (1-1). They took the lead win an early goal by their usual scorer Berg (6') but they did not try hard enough to "lock" their win with a second goal. Apollon scored the equalizer at 47' (Panteliadis) and with the score at 1-1 any of the two teams could have scored a winning goal. Now the Greens will have to face a more dangerous team than their last opponent and they now they cannot afford to lose more points especially in a familiar stadium like OAKA. Figueroa (FWD/7/3 goals) was transferred last week while Lagos (MID/12) is banned after reaching the limit of 4 yellow cards.
Betting Pick: Both teams to score @ 2.30
I cannot explain the favoritism the bookies show to Panathinaikos! Both teams have managed 6 wins since the season started and their only difference is that Panathinaikos has got 4 more points from draws. I doubt the Greens will manage to keep a clean sheet in this match and the winner will probably come from an Over 2.5 goals result @ 2.20. Considering the offered set of odds, the win of Kalloni @  6.50 is a huge value bet I cannot ignore.