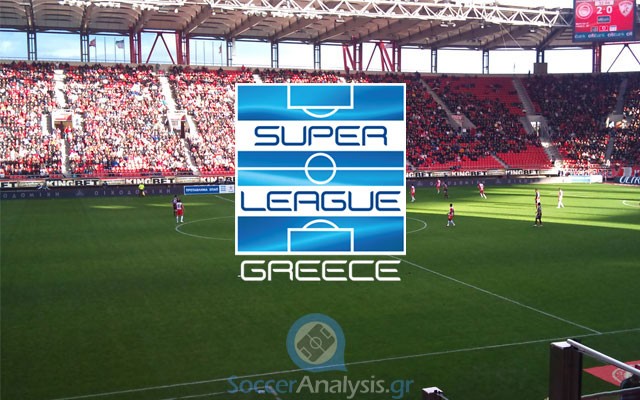 Olympiakos' test against Atromitos
It is no mystery the match of Atromitos has attracted most of the attention in Day 18 of Super League. The Champions will be challenged from a team that is still undefeated at home (6W-3D-0L, goals 18-5), that gave them a hard time in their first match at Karaiskakis (2-1 but Atromitos had scored first during the second half) while we should not forget that the last defeat of Olympiakos was last season at home against Atromitos (2-3). For the record Mr. Míchel had watched this match from the VIP room as he had just arrived in Greece to take over from the match that followed.
To the previews and betting picks for the Sunday matches of Day 19:
PAOK vs. PANETOLIKOS
I have no intensions on delaying and overanalyzing this match. PAOK was humiliated in the match of the first round from Panetolikos with an easy defeat (2-0). I expect they will look for revenge and considering their home strength (8W-1D-0L, goals 20-4) and the weak away performances of Panetolikos (0W-3D-6L, goals 5-15) I do not think they will have any problems setting things straight.
Betting Pick: The win of PAOK (-1.5) @ 2.10
A two goal difference is the best Panetolikos can hope in this match. I am afraid things will be more difficult for them today.
PANTHRAKIKOS vs. SKODA XANTHI
Note: This match is considered a domestic rivalry battle.
Panthrakikos has been changing between home wins and away defeats recently. In their last home match against Levadiakos (1-0) they could have scored earlier but their two attempts at 5' and 43' were stopped at the bar. A goal by de Souza at 75' was enough to give them the win after 13 attempts on goal (vs. 4 of their opponent). Mr. Mantzios will not have the services of Christou and Koutsopoulos who are injured.
Xanthi had a very good performance in the last home match against PAOK where they took the lead at 13' and held on to their advantage until the last minutes of the match. Their choice to wait while PAOK was adding more pressure was proven wrong and they paid the price by receiving two goals at 87' and 91' ending up with nothing in a match they should have won. Coach Maurer stated their opponent had a lot of luck. The arrival of the experienced midfielder Garcia from PAOK is expected to help the team improve their place in the standings. Komessidis (DEF/1) and Josemi (DEF/8) are still injured while Dié (MID/13) is no longer included in the plans of the coach.
Betting Pick: The win of Panthrakikos @ 2.50
This is a very interesting match. Panthrakikos is a very tough team to beat at home (5W-2D-2L, goals 11-10) and their only defeats so far are from Olympiakos (1-4) and PAOK (0-3). I do not think Xanthi is capable of winning this match after the away performances that I have seen so far (1W-2D-6L, goals 9-19). Without the defeats from Olympiakos and PAOK, the home record of Panthrakikos is 5W-2D-0L with goals 10-3. One way or another they should find a way to revenge their defeat in the first round.
APOLLON SMYRNIS vs. GIANNINA
Apollon Smyrnis recovered the humiliating defeat from Olympiakos (0-5) with the away win against Aris (0-2) proving their improvement since Mr. Sanchez arrived. They surprised their opponent with an early goal at 2' by Minga, and chose to wait on them and hit with counter attacks. Their decision was proven right as they scored again at 60'. Aris came close to get back in the match at 62' but Papadopoulos missed a penalty kick and the match was practically over. Petropoulos (FWD/14/5 goals) is banned and he will be the only absence in this match.
Giannina were easily defeated at home from Asteras Tripolis (0-2) and coach Tsiolis is not feeling safe at the bench. The two goals of their opponent at 14' and 39' practically finished the match before halftime. Chávez (MID/11/2 goals) left the club for family reasons adding one problem to the roster after De Vincenti (MID/10/5 goals) signed with APOEL. Lila (MID/16/1 goal) and Vicento (FWD/5) are injured adding two more problems to Mr. Tsiolis who is trying to improve the performances of the team while the roster is weakened.
Betting Pick: The win of Apollon Smyrnis @ 2.45
The players of Apollon Smyrnis have a huge chance to claim a win today that will improve their place in the standings and boost their morale. I consider the absence of Petropoulos very important but the motive is still too strong for the home side. The weak away performances of Giannina (0W-2D-6L, goals 8-17) combined with their weaker roster and the attacking mentality of Mr. Tsiolis will give Apollon room for chances and if they are determined enough they will manage to win this match. Nevertheless their win is offered in interesting odds that worth our attention.
ASTERAS TRIPOLIS vs. PLATANIAS
Asteras Tripolis took advantage of the absences of Giannina and got a very important away win (0-2) that got them closer to Panathinaikos (the Greens were defeated by Panetolikos). Their two goals during the first half (14', 39') ended the match a lot sooner than anyone anticipated. Asteras also had a midweek away match for the Cup against Olympiakos where they lost easily by 4-0. Coach Verghetis will now have to deal with the morale of his players after the humiliating defeat and, at the same time, deal with the absences of N'Daw (MID/13/2 goals) and Barrales (FWD/16/5 goals) who are banned while Pol (MID/6/1 goal) is injured.
Platanias comes from the away draw against Veria (2-2) which was considered a positive result. Things could be better for the players of Mr. Anastopoulos who were on the lead by 1-2 until 76' when Barbas scored the equalizer. At 81' the home team was left with a man down after the red card at Amarantidis but the score did not change until the final whistle. The match at Tripoli becomes more difficult if we consider the absences of Faisca (DEF/15) who is banned and Intzidis (DEF/13) who returned to PAOK (he was on a loan).
Betting Pick: Over 2.5 goals @ 2.30
Asteras Tripolis is stronger at home (5W-4D-0L, goals 17-7) but Platanias should not be underestimated. Despite their weak away performances (1W-2D-6L, goals 5-14) they are more motivated for points and their draw against Veria was just another proof they are improving with Mr. Anastopoulos at the bench. I expect to see both sides scoring today and a result of at least three goals.
ATROMITOS vs. OLYMPIAKOS
Atromitos won the away match against Ergotelis (0-1) after a goal during the first half (17') by Karamanos. Ergotelis added pressure for the equalizer for the rest of the match (total attempts on goal 11 vs. 7) but the players of Mr. Parashos proved once again they deserve to have their current place in the standings. Higher attendance is expected in the home match against Olympiakos where Atromitos will defend not only their undefeated home streak (6W-3D-0L, goals 18-5) but also their overall undefeated streak of seven matches (5W-2D-0L). Mr. Parashos is pleased to have a full roster for this match.
All we need is just a look at the overall stats of Olympiakos (17W-1D-0L, goals 57-6) to understand how strong they are. The team has managed this season to offer the fans a lot of goals despite the constant rotation in the lineup as Mr. Michel tries to keep all his players available for the important matches of the team in the Champions League. The recent easy home win against Kalloni (4-0) was followed by a new one for the Cup against Asteras Tripolis (4-0). The big question is who will be able to stop the winning streak of the Champions even with a draw. Papadopoulos (DEF/7), Siovas (DEF/11), Torres (DEF/5) and Šćepović (FWD/4) are out because of injuries but the good news is that Mitroglou (FWD/10/14 goals) was included in the roster for this match for the first time after his injury. It is not known though if he will be in the starting lineup.
Betting Pick: Atromitos (+0.5) to win @ 2.40
It will be a very difficult match for Atromitos but in the first round (2-1) showed they are not afraid of Olympiakos. They are a lot more reliable at home (6W-3D-0L) and I think they have good chances of not losing today. Over the last week I have read too many statements from Olympiakos' side that they are aiming an undefeated season and I am beginning to think they are losing their concentration. I cannot blame them for doing since they do score three or four goals in every match but if they will think the match against Atromitos is easy, they will pay it. For the same reason the win of Atromitos @ 6.00 is an acceptable risk if not a value bet.