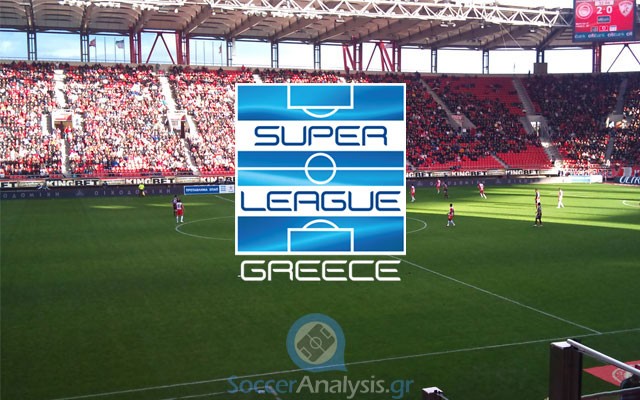 Panionios and Panthrakikos are tricky opponents
The twentieth day of Super League begins today with three matches. Panetolikos and Olympiakos are favorites for the win in their home matches against Panthrakikos and Levadiakos respectively but PAOK is expected to have a more difficult task in the away match against Panionios at Nea Smyrni. The home team has shown signs of improvement with Mr. Panagopoulos at the bench and they had a very good performance last week against Panathinaikos despite their (unfair) defeat.
To the previews and predictions for the Saturday matches of Day 20:
PANETOLIKOS vs. PANTHRAKIKOS
Panetolikos has been changing between strong home and weak away performances all season but they were surprisingly good in their last away defeat against PAOK (1-0). My overall impression from what I watched is that they deserved at least the point in that match and if they were a bit more accurate in their attempts they would have got it. Panetolikos also had a mid-week rematch for the Cup against Atromitos and they were defeated with the same score (2-0) after an average performance with changes in their lineup. There are no important problems or absences reported for coach for Mr. Chavos.
Panthrakikos comes from a stressful and very important home win against Xanthi (2-1). Their opponent was playing with a man down since 16' (red card at Fliskas) but this did not stop them from making things difficult for the home side (attempts on goal 11 vs. 10). Panthrakikos took the lead at 70' with Tzanis but Xanthi responded quickly with a goal at 73' by Vallas. José María Cases scored one of the most important goals this season for his team at 79' and everything was over when Xanthi received a second red card at 88' (Mucuana). Coach Mantzios will have a full roster for the difficult away match against Panetolikos.
Betting Pick: Panthrakikos (+0.5) to win @ 2.10
I am aware of the home strength of Panetolikos (6W-3D-0L, goals 14-1) but I cannot underestimate the fact they had a midweek match for the Cup and that before it they gave 100% of their efforts for a positive result against PAOK. Panthrakikos can be a tricky opponent (1W-4D-4L, goals 12-17 away), they have won the match of the first round (2-1), they had no midweek obligations and the most important thing is they have no stress at all. The bookies have underestimated the experience of coach Mantzios in this match and the offered sets of odds leave me no option. The win of Panthrakikos @ 6.00 is a value bet considering all the above.
OLYMPIAKOS vs. LEVADIAKOS
Olympiakos comes from the away draw against Atromitos (0-0) which was only the second time they did not win this season (17W-2D-0L, goals 57-3). The Champions were aware from their first match at Karaiskakis (2-1 stressful win) that the team from Peristeri had no intensions of surrendering to them. The same happened to their second match, only this time Atromitos was better in defense and more motivated for a positive result. The best moment of Olympiakos was the header of Maniatis at the bar (68') but Atromitos could have stolen the win in three of their chances at 70' (header by Papadopoulos, amazing save by Roberto Jiménez), 92' (Karamanos failed to push the ball into the net) and 94' (Brito failed to score with a header from close range in the last corner of the match). Siovas (DEF/11) is injured and the only reported absence for the next match.
Levadiakos returned to home wins last week in the match against Ergotelis (2-0). The two goals of Mantzios in only six minutes during the first half (26', 32') gave his team three important points in their efforts to avoid relegation. Ergotelis' performance was below average but the important thing is that they managed to win. The next match against the Champions at Karaiskakis will be very difficult for the players of Mr. Karageorgiou who will focus on not repeating their humiliating home defeat of the first round (0-5). Manolo Martínez (DEF/13) is banned and he is considered an important absence for this match.
Betting Pick: Olympiakos (-2.5) to win @ 1.80
Olympiakos dominates every home match (9W-0D-0L, goals 33-4) and I will be extremely surprised if Levadiakos will lose today with a score lower than 3-0. Do not forget that someone must pay the price for last week's no scoring draw.
PANIONIOS vs. PAOK
The players of Panionios have every right to feel unlucky for their last week's away defeat from Panathinaikos. The Greens were better during the first half were they scored at 16', had an attempt at the bar at 39' (header by Karelis) and more chances to double their goals. Panionios was improved during the second half and went after an equalizer but they were extremely unlucky; first with a penalty kick at the bar at 68' (Lasnik) and then with the header of Labropoulos (bar again) at 80'. Coach Panagopoulos was satisfied with the performance of his players in the second half and stated they deserved something more in that match. There are no problems or absences reported today.
PAOK had an average performance in the last home match against Panetolikos (1-0). The players were surprised by the good performance of their weaker opponent who resisted a lot in defense and looked for a goal with dangerous counter attacks. The goal of Pérez at 53' gave PAOK the three points but did not satisfy the fans who hoped for a convincing win after their unexpected defeat by Panetolikos in the first round (2-0). Vukić (MID/15/4 goals) is ill and he is the only reported absence for the next match against Panionios.
Betting Pick: Both teams to score @ 2.35
The players of PAOK have a bad tendency to receive a goal first before starting to play according to their real potential. If I recall correctly, they have done it 13 times this season and I am afraid they will do it again. Panionios is too desperate for points and I do expect them to fight hard no matter what happens today.  This match seems great for the option of Over 2.5 goals @ 2.15 and I think we should also consider the halftime/fulltime bet Panionios/PAOK @ 35.00 in case PAOK repeats the bad habit of receiving a goal in the first half.
Let's not forget that PAOK has built the character of a great team and great teams win even in matches where they do not play as good as they can. This is what happened with Panetolikos and Xanthi.