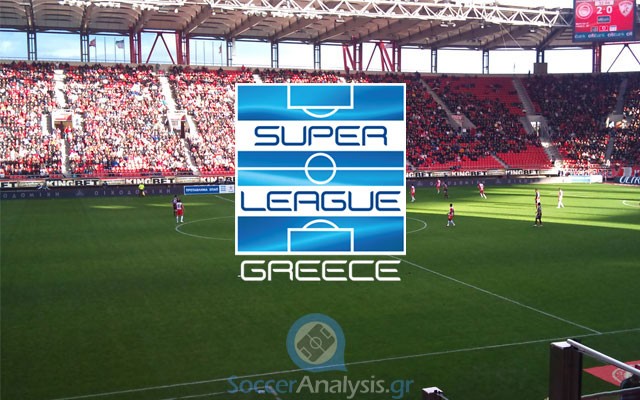 The last away defeat of Olympiakos was at Xanthi
I feel quite disappointed after the Saturday results in Super League. My thoughts for Apollon were right but the red card they received at 13' changed the tactical planning of both teams. Atromitos could have scored twice during the first half when they prevailed but they reduced their efforts during the second, and the day was completed with the win of Panathinaikos with the players disappointing their crowd after a poor overall performance. I hope Sunday will be a better day in terms of accuracy.
From today's matches the one that will get most of the attention will be the home match of Xanthi against Olympiakos. The Champions have not been playing well recently and it will be very interesting to see how they will do today against the last team that won them in an away match two seasons back.
The previews and predictions for the Sunday matches of Day 21:
LEVADIAKOS vs. ARIS
Levadiakos was defeated in the last away match against Olympiakos after a good performance (2-0). The players of Mr. Karageorgiou took advantage of the lazy performance of the Champions and made it with a clean sheet until halftime. Things changed during the second half as Olympiakos started looking for the goal more carefully after the protest of their crowd. The two goals at 54' (Olaitan) and 82' (Holebas) allowed Levadiakos to leave Karaiskakis with their heads up. Mr. Karageorgiou will have to deal with the important absence of Mantzios (FWD/15/6 goals) who is banned.
Aris was under a lot of pressure from Atromitos in the last home match but they got the point of the draw (0-0). Atromitos wasted many attempts on goal (14 vs. 6 for Aris) and had another one stopped at the bar. Despite their overall average performance they took advantage of the scoring difficulties of their opponent and claimed a point that might be helpful in the end. Coach Papadopoulos is still optimistic they team will succeed to avoid relegations and he is pleased to have the services of the six new players since the team managed to get a (dramatic) tax clearance. Dioudis (GK/19) is banned after reaching the limit of 4 yellow cards and Margaritis (DEF/10) is ill.
Betting Pick: Aris (+0.5) to win @ 1.90
Aris is less stressed therefore more dangerous when playing away. This explains why their only two wins this season came in away matches (Panionios 1-2, Veria 0-1). I consider the absence of the top scorer of Levadiakos, Mantzios, very important. With his goals missing, this is a huge chance for Aris to hold their opponent close in relegation. Levadiakos is not fond of draws and their last one was in the away match against Aris. The next good option is the win of Aris @ 4.50. I find it almost impossible to see them avoiding relegation but this does not mean they will surrender to anyone from now.
ASTERAS TRIPOLIS vs. OFI CRETE
Even the coach of Asteras Tripolis, Mr. Verghetis, agreed that his team got very lucky in the last away win against Apollon Smyrnis. The home team received a goal first at 39' but they were in control for most of the match. Their efforts to score were rewarded at 81' with the goal of Petropoulos but their decision to add more pressure for the win was proven wrong. Asteras managed to score again after a counter attack in the last minute of the match (93'). Asteras also had a midweek rematch for the Cup against Olympiakos. They had a good performance but their efforts to answer with a win to their humiliation in Karaiskakis (first match 4-0) were not successful. They added pressure to the secondary lineup of Olympiakos but one good chance by their opponent at 79' with Šćepović was enough for the Cup Holders to win. Coach Verghetis will have to deal with the absences of Zissopoulos (MID/19/1 goal) who is banned and Ximo Navarro (FWD/14/1 goal) who is injured.
OFI comes from two consecutive away wins that have boosted the morale of the players. The first was in the Cup rematch against Kalloni (FT: 0-1, ET: 0-2) which took them to the Quarter Finals. The second was last Monday in the domestic battle against Platanias (0-2). Their good performances in both matches have satisfied the coach Mr. Sa Pinto who is pleased to see his team six points away from relegation while they are doing great in their goal to go as far as possible in the Cup. Koutsianikoulis (MID/15/2 goals) and Šišić (MID, winter transfer, he was also in the club last season) are banned while Daskalakis (GK/11), Fraggoulakis (MID/8) and Hoyos (MID/13/1 goal) are injured.
Betting Pick: Both teams to score @ 2.30
OFI had more days to prepare for this match and their confidence after their last two away wins can cause problems to Asteras. I respect the home strength (6W-4D-0L, goals 20-7) but the odds offered here make the win of OFI @ 7.00 a value bet. If you are afraid of these odds, the win of OFI (+0.5) @ 2.40 is a well paid option for this match and covers the possibility of a draw.
PAOK vs. VERIA
PAOK recovered the poor performance of the away defeat against Panionios (2-0) with an emphatic home win in the rematch against Iraklis 1908 (5-1). The bad habit of the players to receive a goal first continued both matches and the only difference is that they responded better in the match against Iraklis and took the lead before halftime (2-1). Coach Stevens is troubled with the performances of his players who will have to play from now on one match every three days as they are still in the Greek Cup, the Europa League and they will have midweek action in Super League.
Veria surrendered easily to Panathinaikos in their last home match (1-3). The Greens scored first at 2' but Veria answered with a goal after a penalty kick at 10'. They were unable to cause any real problems to Panathinaikos for the rest of the match (attempts on goal 5 vs. 13) and the two goals they received at 34' and 68' depict the differences in the performances of the two teams. Coach Dostanić was not satisfied with the efforts of his players in defense and things are not expected to be easy at Toumba. Barbas (DEF/14/1 goal) and Ostojic (MID/16) are banned while Apostolopoulos (MID/12) is injured.
Betting Pick: The win of PAOK (-1.5) @ 1.75
Worst teams have managed to win Veria by two goals this season. PAOK must concentrate and start getting some easy and quick wins because their schedule is very tight. They just cannot afford to waste their energy on turning matches around.
PANTHRAKIKOS vs. PANIONIOS
Panthrakikos took the lead in the score in the last away match against Panetolikos (4' M'Bow) but they did not manage to hold the pressure of the home team. Panetolikos came close to the equalizer at 40' but the attempt of Theodoridis was stopped at the bar. They added more pressure during the second half; they scored at 53', took the lead at 83' and ended the match with a third goal at 92'. Coach Mantzios is troubled with the injury of José María Cases (MID/19/6 goals/7 assists) who is the "brain" of his team in midfield and he will be out for a month. Koutsopoulos (GK/4) is also injured while Christou (DEF/16/1 goal) is banned.
Panionios comes from the two consecutive positive performances followed by wins against PAOK (2-0 at home in Super League) and Aiginiakos (3-0 at home for the Cup). The confidence of the team was boosted after the win against PAOK maybe this explains their easy win against a tough defensive team like Aiginiakos who had won the first match (1-0). The players seem to respond very well to Mr. Panagopoulos and their last statements show they have faith for an away win which will improve their place in the standings some more. Kabadais (FWD/15/1 goal) is still injured and he will be the only absence today.
Betting Pick: The win of Panionios (+0.5) @ 1.90
The form of Panionios combined with the absence of a key player like Cases for Panthrakikos tell me Panionios has very good chances for a positive result today. Considering their enthusiasm from the two consecutive wins, a new win @ 4.50 will not surprise me at all.
SKODA XANTHI vs. OLYMPIAKOS
Xanthi had a negative start in the last away match against Ergotelis (2-2). The home team surprised them with two early goals at 10' and 18' by Anastassakos. The usual scorer of Xanthi, Solari, scored his eleventh goal at 23' to put his team back in the match. The second half was less interesting as Ergotelis was holding on to their win but a late goal at 94' by Ghoutas made all the difference for Xanthi who returned to positive results after three defeats. Now they return at home where they are much stronger (6W-1D-2L, goals 15-8) to face Olympiakos. There are no reports for important problems or absences for coach Maurer.
Olympiakos had an average performance in the last match against Levadiakos (2-0). Especially during the first half, the Champions looked bored (who can blame them) which annoyed the crowed that attended this game. Things got a little better during the second half with the two goals at 54' (Olaitan) and 82' (Holebas) which gave Olympiakos what they wanted. In their midweek away rematch for the Cup against Asteras Tripolis, coach Míchel used a secondary lineup.  The home team added pressure for a positive result but the Champions and Cup Holders got a new win after their goal at 79', one of the few chances they created. Weiss (MID/17/4 goals) was left out probably because of his transfer to Lekhwiya SC which was announced on Sunday noon. Mitroglou (FWD/12/15 goals) is also out to rest as he is still away from the performances we saw when the season started.
Betting Pick: Both teams to score @ 2.10
This is the only good value I could come up with. Olympiakos seems like a train that does not stop anywhere this season and they are aware of the difficulties of this match. Xanthi after all was the last team that won them in an away match back in season 2011-12. If they really want it, they will win. If they are bored again, Xanthi is capable of a surprise but how can I trust them after the way the lost the home match against PAOK? I will just choose this option and stay away from handicap or fixed odd bets.