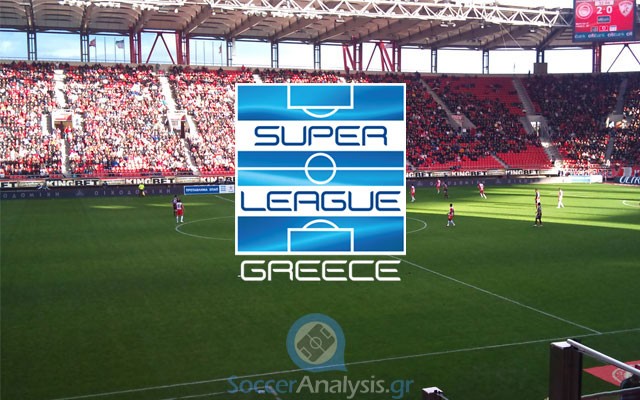 Panionios must win Ergotelis
The Saturday Super League matches were completed without any surprises. I cannot say I feel the same will happen today as Atromitos, Asteras Tripolis and PAOK will be playing against tricky opponents and their wins are not as easy as the offered odds show. I must remind you to be cautious as all the teams have a difficult schedule ahead because of their midweek matches.
To the previews and betting picks for Sunday:
OLYMPIAKOS vs. PANETOLIKOS
Olympiakos won the last away match against Xanthi (0-2) after an average performance. Xanthi had the first importance chance to score at 19' after a serious mistake by goalkeeper Jiménez. Olaitan gave the lead to the Champions at 24' and the red card at De Guzman at 47' gave them a strong advantage for the win. Xanthi did not give up, they were more dangerous and the match got more complicated at 73' when Holebas received a red card. The home team risked some more in their search for a late equalizer and Olympiakos punished them after a perfectly executed counter attack at 89' (Ibagaza). The Champions also had a midweek home match for the Cup against Atromitos (0-0). The absences of Weiss (MID/17/4 goals) and Mitroglou (FWD/10/14 goals) combined with a new average performance helped Atromitos escape with a very positive result before the rematch. Coach Míchel did not expect Mitroglou to leave so soon (the player was included in the roster for that match) but he is optimistic that the latest additions to the roster will soon start paying off.
Injured: Siovas (DEF/11), Fuster (MID/16/3 goals)
Next matches for Olympiakos: Panionios (Home), Veria (Away)
Panetolikos had no midweek Cup obligations as they were left out of the competition in the previous round from Atromitos. Last Monday they managed to get the first away win of the season against Ergotelis (0-1). Their goal at 43' (Camara) was enough to give them win as they were never in real danger from their opponent. They were better both in offense (attempts on goal 9 vs. 15) and defense and they deserved the three points. Coach Chavos was very pleased with the performance of his players who have become more confident lately when they play away. If you have watched their last two matches against PAOK (1-0 defeat) and Ergotelis you will understand he is right.
Injured: Budimir (FWD/3)
Banned: Silva Junior (MID/19/1 goal)
Next matches for Panetolikos: Aris (Home), Giannina (Away)
Betting Pick: Olympiakos (-1.5) to win @ 1.60
Olympiakos seems a bit bored lately and it is quite logical as they are out of motive in Super League. Their last home draw against Atromitos was a warning for them and I doubt they will repeat the same mistakes. They wasted too many chances in that match so I expect them to focus some more against Panetolikos. After all they do have the motive of revenge as their opponent survived the match of the first round (0-0).
VERIA vs. PANATHRAKIKOS
Veria was easily defeated in the last away match against PAOK (4-1) and the home team ended that match in only thirteen minutes (goals scored at 1', 5' and 13' with three different scorers). Their weak defense has received 37 goals in 21 matches so it is no wonder they hold one of the relegation places. They have a lot more chances than Aris to save the season but they must improve immediately. Coach Dostanić stated after the match that PAOK is on a higher level so his players will now look for points against Panthrakikos. They did not have obligations for the Cup and there is one absence reported.
Injured: Apostolopoulos (MID/12)
Next matches for Veria: Ergotelis (Away), Olympiakos (Home)
Panthrakikos comes from the emphatic home win against Panionios (4-1). Their opponent resisted only during the first half where the home team scored at 16' and the team from Nea Smyrni answered at 42'. Panthrakikos added more pressure during the second half and their goal at 59' was enough to make Panionios collapse. Two more goals followed at 63' and 68' and if we include the 21 attempts on goal and the two attempts at the bar (38', 59') it is clear that Panionios should thank goalkeeper Anestis for his performance despite the two long distance goals he received. Mr. Mantzios was very pleased with the passion of his players for the win which covered the important absence of midfielder Cases.
Injured: Christou (DEF/16/1 goal)
Banned: Šeremet (GK/18), Cases (MID/19/6 goals/7 assists, the player is also injured)
Next matches for Panthrakikos: Platanias (Home), OFI (Away)
Betting Pick: Both teams to score @ 2.10
Veria is highly motivated for a win in their efforts to get out of relegation placement. They are stronger at home (3W-2D-5L, goals 13-17) but they are not reliable. Panthrakikos might not be as strong when playing away (1W-4D-5L, goals 14-20) but they are a better team and their morale is superb. They often score first and if this will happen again today things can become very hard for the home side. The odds on the home win (1.75!!!) are way too low for the risk involved so the next option is a result of Over 2.5 goals @ 2.20. I will not be surprised if I see a scoring draw in this match.
PANIONIOS vs. ERGOTELIS
Panionios resisted only for 45 minutes in the last away match against Panthrakikos where the home team scored first at 16' but they managed to answer at 42'. The players of Mr. Panagopoulos failed to stand the pressure of Panthrakikos in the second half where they received three goals in nine minutes (59', 63', and 68') which gave an early finish to that match. Panionios also had a midweek away Cup match against OFI where they lost with two quick goals during the second half (61' Papazoglou, 65' penalty kick by Kalajdzic). OFI had a better performance and they deserved to win. The good news for coach Panagopoulos is that Olympiakos decided to get Avlonitis (DEF/19) at the end of the season so the player is expected to continue helping Panionios in their efforts to keep their distance from relegation.
Injured: Giannakopoulos (GK/13), Toskas (MID/1), Kabadais (FWD/15/1 goal)
Banned: Mitropoulos (MID/19)
Next matches for Panionios: Olympiakos (Away), Aris (Away)
Coach Ouzounidis had a negative start at the bench of Ergotelis with a home defeat from Panthrakikos (0-1). Their opponent was better in every aspect as they were more dangerous in offense and a lot more reliable in defense. The goal at 43' by Camara was proven enough to give Panetolikos the win and I must say I expected more from a team that is officially involved in relegation battle. Coach Ouzounidis will now look for his first win at Nea Smyrni. Things are not expected to be easy but Ergotelis has built an interesting undefeated history against Panionios lately (5W-3D-0L).
Injured: Anastassakos (FWD/18/4 goals)
Banned: Romano (MID/18/2 goals), Tzanakakis (MID/18)
Next matches for Ergotelis: Veria (Home), Platanias (Away)
Betting Pick: Panionios to win @ 2.40
Panionios is more reliable at home (5W-3D-2L, goals 13-8) and they do know that they can get into real trouble since they do have a difficult schedule ahead. I watched the last home match of Ergotelis and I did not like what I saw. I expected a better performance on the first match of their new coach. If the home team is concentrated they will have no problem getting the win despite their negative history against Ergotelis.
APOLLON SMYRNIS vs. ATROMITOS
Apollon Smyrnis comes from an away draw against Kalloni (0-0). The point they got becomes more important if we considered they played with a man down since 13' when Delizissis received a red card. Despite their disadvantage they had the same attempts on goal with Kalloni (7) and an attempt at the bar at 47' (Farinola). Apollon Smyrnis also had a midweek away match for the Cup against PAOK and they were defeated by 3-0. Coach Sanchez used a different lineup in that match which showed that this competition was not important for them. There are three absences reported for the difficult match against Atromitos.
Injured: Diamantis (MID/7)
Banned: Álvarez (MID/19), Delizissis (MID/21/1 goal, banned for 4 matches)
Next matches for Apollon Smyrnis: Levadiakos (Away), Xanthi (Home)
Atromitos won the last home match against PAS Giannina (1-0) easier than the final score shows. They deserved at least two goals during the first half where they scored, they had an attempt at the bar and many more chances. They were not as good during the second half as they probably had their minds in their upcoming match against Olympiakos but Giannina did not manage to cause any problems to their defense. In their first match for the Cup Quarter finals they escaped with a draw (0-0) from Karaiskakis and improved their chances for moving to the semi-finals. It will not be easy, but with the second match held at Peristeri, anything is possible. Coach Paraschos has every reason to feel proud for his players who have built an undefeated streak of 13 matches (8W-5D) in both competitions. It is a great accomplishment if we consider they have faced teams like Olympiakos (0-0 home and away), PAOK (1-1 at home), Panathinaikos (1-2 away) and Panetolikos (0-2 away, 2-0 at home) during this period. There no problems or absences reported.
Full roster
Next matches for Atromitos: Kalloni (Home), Asteras Tripolis (Home)
Betting Pick: Both teams to score @ 2.10
Atromitos is a stronger team than Apollon Smyrnis but my opinion is that they will need two goals to win today. The home team has become very dangerous since Mr. Sanchez took over and they must not be underestimated as they are desperate for points. Their recent home results against Panathinaikos (1-1), Panthrakikos (3-2) and Giannina (4-0) were not a coincidence and they did not deserve to lose against Asteras (1-2) but they were very unlucky. I will feel a lot safer with the option of Over 2.5 goals @ 2.35 instead of choosing a new win for Atromitos. The odds are very low for the risk involved and do not be surprised if you see Apollon Smyrnis winning this match.
KALLONI vs. ASTERAS TRIPOLIS
Note: The match will be held at OAKA because of construction works that take place at Kalloni's venue.
Kalloni comes from the home draw against Apollon Smyrnis (0-0) which was not considered a positive result. Their opponent was left with a man down at 13' but the players of Mr. Matzourakis never managed to use their advantage as they shared the same total of attempts on goal (7) and they got very lucky at 47' when Farinola's attempt was stopped by the goalpost. Their 8 wins this season are keeping them safe at the moment seven points away from relegation but their overall stats (8W-2D-11L, goals 22-37) show they are capable of anything. Their performances so far at OAKA (4W-2D-5L, goals 11-19) show they are almost as dangerous as when they play away (4W-0D-6L, goals 11-19).
Absence: Alves (DEF/19/3 goals) is ill.
Next matches for Kalloni: Atromitos (Away), Levadiakos (Home)
Asteras comes from a home draw against OFI (0-0). The players of Mr. Verghetis were in control, they had more attempts on goal (14 vs. 9) but they never managed to overcome the determination of their opponent for a positive result. They are expected to be motivated for the win after the away draw of Panathinaikos against OFI yesterday as they will manage to get closer to the Greens before facing them at home in Day 23. There two important absences reported.
Injured: Navarro (FWD/14/1 goal)
Banned: Barrales (FWD/18/5 goals)
Next matches for Asteras Tripolis: Panathinaikos (Home), Atromitos (Away)
Betting Pick: Over 2.5 goals @ 2.25
The odds on the away win are very low for a team that has won 3 times after 10 away tries (3W-4D-3L, goals 10-11). Yes, Asteras Tripolis is the favorite but I doubt Kalloni will sit down and watch them winning this match. Considering that Kalloni has failed in similar home matches against teams like PAOK (2-5) and Panathinaikos (0-4) I would not be surprised if I will see a high score in this match as well. The option of Over 3.5 goals @ 4.30 is an acceptable and well paid risk. Asteras is very dangerous team in offense and if Kalloni will manage to score today this match will be extremely interesting.
PLATANIAS vs. PAOK
Platanias did not deserve the defeat in the last away match against Panathinaikos (1-0) as they deserved at least one goal in that match. They were as dangerous as the Greens in offense (attempts on goal 10 vs. 11 for Platanias) and they could have scored first after their important chances at 32' and 37' and things got more stressful when Panathinaikos took the lead at 40'. They spent the rest of the match looking for an equalizer and everything was over when Vlachodimos received a red card at 83'. Coach Anastopoulos stated after the match that even the draw would not satisfy him. Rumors want him to be under a lot of pressure after the consecutive negative results (1W-1D-4L in the last six) and a new defeat today could be his end at the bench of the club.
Injured: Zouboulakis (DEF/10), Zaradoukas (DEF/new transfer), Nazlidis (MID/7/4 goals)
Banned: Vlachodimos (FWD/3)
Next matches for Platanias: Panthrakikos (Away), Ergotelis (Home)
PAOK comes from two easy wins against Veria (4-1 for the league) and Apollon Smyrnis (3-0 midweek for the Quarter Finals of the Cup). Both matches practically ended during the first half showing the determination of the team to leave the defeat from Panionios behind. If we include the previous midweek match against Iraklis (5-1), PAOK has scored 12 goals in the last three matches and their offense seems to be in form. They are the favorites for the win against Platanias but Coach Stevens will have to deal with important absences in defense.
Injured: Katsikas (DEF/5/1 goal), Vítor (DEF/15/4 goals) and Georgiadis (FWD/6)
Banned: Lazăr (MID/17/1 goal), Tzavelas (DEF/12/1 goal)
Next matches for PAOK: OFI (Home), Panathinaikos (Away)
Betting Pick: Platanias (+0.5) to win @ 2.35
I know this is a shock for most of you but let me explain. Platanias is more reliable at home (3W-5D-2L, goals 13-12) where they often take the lead in the score. Their only defeats were from Olympiakos (1-4, they were on the lead in halftime) and OFI (0-2 after their only horrible home performance). I cannot be sure if the players of the home team have any plans to get rid of their coach but I do know that they are better than their place in the standings show. PAOK is not in danger of losing the second place and I doubt they have any hopes they will reach Olympiakos and this is exactly why they can afford some negative results until the end of the season as their real goal is the Cup and their European matches. For all the above I will risk saying that the win of Platanias @ 5.50 is a value bet.
Considering the habit of Platanias to score first at home and the habit of PAOK to receive a goal first I also have the following special bets in mind:
Platanias to win at halftime @ 10.00
Scorecast:
David Torres to score at anytime and win of Platanias by 1-0 @ 56.00 (x 1.40€)
David Torres to score at anytime and win of Platanias by 2-1 @ 41.00 (x 1.85€)
David Torres to score at anytime and win of Platanias by 3-2 @ 76.00 (x 1€)
If Platanias will win this match these three options can provide us with a 17.88 multiplier for the money we invested. I rarely place bets of this kind but as I said the habits of the two clubs combined with the motive of the home side for points makes a possible win with their top scorer involved (6 goals this season) paying 17.88 instead of 5.5.