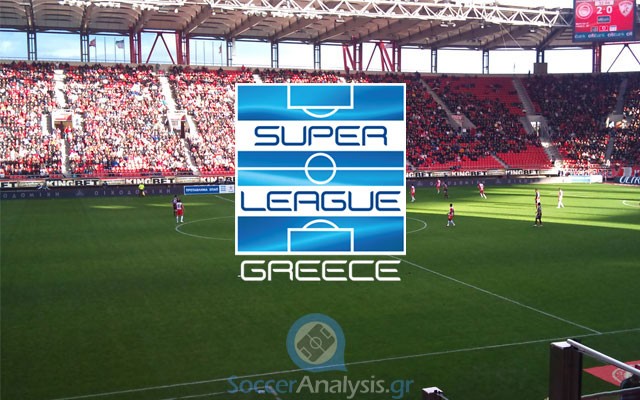 Only 80% or more is good enough
Sunday was a very strange day as I could not really decide how to feel after the final whistle in the last match. Should I feel excited that my thoughts for the win of Platanias (Bomb of the Day) with a scorecast @ 41.00 were proven right? Should I feel disappointed for the lost Pick of the Day (Panionios deserved to lose 100%)? Should I be pissed off because Olympiakos and Asteras stopped at two goals against their match stats and their total attempts on goal? I cannot lie. The only good days are the ones above 80%. They are rare but this is always the main goal.
Time is precious so let's begin with the midweek matches. Before taking your final decisions please consider that seven Super League clubs will not only have to face the consecutive matches of the regular season but also the Cup re-matches for the Quarter finals. This means that Olympiakos, PAOK, Atromitos, Panathinaikos, OFI, Panionios and Apollon have a more difficult schedule than the rest of the teams. And if PAOK and Panathinaikos have made huge steps to the semi-finals (against Apollon and Olympiakos Volou respectively) things are still open for the rest of the teams.
The previews and betting picks for Day 23:
SKODA XANTHI vs. GIANNINA
The last away draw of Xanthi against Aris was considered a fair result. The players of Mr. Maurer took advantage of the stress by the home side for the win and they scored first at 52' with Mantalos. Aris added pressure, scored the equalizer at 68' but they just did not have a clear mind to look for more. The 0W-2D-4L in the last six, make the next match against Giannina a must win situation for Xanthi. They are much stronger at SKODA Xanthi Arena (6W-1D-3L, goals 15-10) where they have raised 19 out of their 28 points.
Banned: De Guzman (MID/15)
Next match for Skoda Xanthi: Apollon Smyrnis (Away)
Coach Petrakis had a perfect debut in the last home win of Giannina against Levadiakos (2-1). His team was more determined for the win, they took the lead by 2-0 (24', 66') but Mantzios scored at 73' adding some stress to their effort to get back to wins after 4 consecutive defeats. Both teams had an attempt stopped by the goalpost (20' Giannina, 67' Levadiakos) but my overall impression was that Giannina would be more likely to score a third goal instead of receiving an equalizer. They have not lost at Xanthi the last three times they visited and the goal will be a new positive result.
Banned: Lila (MID/18/1 goal)
Next match for Giannina: Panetolikos (Home)
Betting Pick: The win of Skoda Xanthi @ 1.90
Xanthi is strong enough to get back to wins and they need to. Giannina are weaker when they play away (0W-2D-8L, goals 8-22), they come from a home win so a defeat by one goal margin would be a first sign of improvement for them. I will be very surprised if Mr. Petrakis will immediately get a positive result (win or draw) in his first away match.
ERGOTELIS vs. VERIA
Coach Ouzounidis got the first win at the bench of Ergotelis in the away match against Panionios (0-1). The team from Nea Smyrni had a very poor performance and they deserved to lose. The win of Ergotelis becomes more important if we consider they were playing with two men down when they scored at 86' after the two red cards they received at 66' and 74'. Panionios had an attempt stopped by the goalpost at 91' with Aravidis which was their first real chance in that match. The morale of the team is superb after this amazing win and they will now try to get a new one by pushing Veria deeper in relegation.
Injured: Anastassakos (FWD/18/4 goals)
Banned: Álvaro (DEF/17), Rentzas (FWD/8)
Next match for Ergotelis: Platanias (Away)
Veria was playing with an extra player for more than 85' minutes in the last home match against Panthrakikos but they failed to use this to their advantage. They were awarded a penalty kick at 5' followed by a red card at Pashalakis' (GK of Panthrakikos). The 20 year old Athanassiadis (GK) who entered the match to replace him proved his guts by saving not only the penalty kick but many of the chances that followed. The truth is that Veria was clearly out of luck. Believe it or not, they failed to score after 17 attempts on goal, 2 attempts on the bar (51', 76') and a penalty kick. They are desperate for points and they will look for them anywhere, especially against clubs like Ergotelis that share the same goal to avoid relegation.
Injured: Apostolopoulos (MID/12)
Banned: Amarantidis (DEF/20)
Next match for Veria: Olympiakos (Home)
Betting Pick: Ergotelis to win @ 2.00
Ergotelis is a strange team because they are capable of getting points both home (3W-4D-4L, goals 16-15) and away (2W-5D-4L, goals 6-12). I cannot really evaluate their away win against Panionios because you will not believe how poor their opponent was.
What I do know is that they have excellent relations with Platanias. In fact those two clubs from Crete had friendly matches this summer during their preparation and they also had one more during the winter break. And guess what; they will play against Platanias (away) this weekend…
What would you do in their place? Would you lose points here and then claim them against a relatively friendly club from the same island? I prefer to choose they will be motivated for the win today. Veria will fight because they know they will lose the away match against Olympiakos that follows. However, their away stats (1W-4D-6L, goals 6-20) tell me they will receive more goals than the ones they can score which can be excellent for a bet on Over 2.5 goals @ 2.40.
PANTHRAKIKOS vs. PLATANIAS
The last away draw of Panthrakikos against Veria (0-0) was considered a positive result. They were forced to play with a man down since 5' when goalkeeper Pashalakis received a red card awarding the opponent with a penalty kick. Šeremet (GK/18) was also banned in that match and coach Mantzios was forced to use Athanassiadis, a 20 year old goalkeeper, who not only saved the penalty kick but many of the chances that followed for Veria. It was definitely a lucky day for Panthrakikos if we include the two attempts at the bar Veria had (51', 76'). Mr. Mantzios stated that he is very pleased with the good performances of his players lately, especially in this point where they do have important absences.
Injured: Koutsopoulos (GK/4), Christou (DEF/16/1 goal), Cases (MID/19/6 goals/7 assists)
Banned: Šeremet (GK/18), Pashalakis (GK/1)
Next match for Panthrakikos: OFI (Away)
Platanias comes from an amazing home win against PAOK (2-1) which made Mr. Anastopoulos feel a lot safer at the bench. PAOK scored first at 10' but they made a serious mistake to believe the match was over. The players of Platanias did not give up and with the help of a poor defensive performance by their opponent they scored at 36' and took the lead at 67' to claim a win they deserved 100%. Mr. Anastopoulos was very pleased with the passion of his players and he wants a new positive result against Panthrakikos. After all, a new defeat will immediately be followed by rumors for his replacement and this is the last thing his team needs at this point.
Injured: Zouboulakis (DEF/10), Zaradoukas (DEF/new transfer), Nazlidis (MID/7/4 goals)
Next match for Platanias: Ergotelis (Home)
Betting Pick: The draw @ 3.10
Panthrakikos is very strong at home (7W-2D-2L, goals 17-12) but they come from a tensed match where they played with a man down for 85' minutes and they have too many important absences. The win of Platanias against PAOK has not turned them into a super team and if they lose today they will ruin everything. I expect they will aim at the draw and there are good chances they will get it.
Both teams have a tendency for goals before halftime and this is why the HT/FT bets Panthrakikos/Draw @ 17.00 and Platanias/Draw @ 17.00 can boost the odds of this result to 8.50.
LEVADIAKOS vs. APOLLON SMYRNIS
Levadiakos comes from a new away defeat, this time against PAS Giannina (2-1). Coach Karageorgiou was troubled with the performance of his team because they have improved but they still do not have the confidence to claim a positive result away. Giannina took the lead by 2-0 (24', 66') and it was after the second goal that Levadiakos reacted (67' bar) and went after a goal that came at 73' with their usual scorer, Mantzios. In the remaining time until the final whistle they did not cause any real problems to their opponent. There are no problems or absences reported for the home match against Apollon where the goal will be the win.
Full roster
Next match for Levadiakos: Kalloni (Away)
Apollon fought hard in the last home match against Atromitos but they lost by 2-3 after a good performance. They took the lead in the score twice (10', 63') but Atromitos answered with three goals at 37', 75' and 81'. Coach Sanchez could not believe how his team ended up with 0 points after being on the lead by 2-1, fifteen minutes before the final whistle. He stated that he is confident that if his players play like they did against Asteras (1-2 at home) and Atromitos, they will manage to avoid relegation.
Injured: Diamantis (MID/7), Soouza (DEF/1)
Banned: Argyropoulos (DEF/16/1 goal), Delizissis (MID/21/1 goal)
Next match for Apollon Smyrnis: Xanthi (Home), midweek Cup rematch against PAOK (Home)
Betting Pick: Over 2.5 goals @ 2.15
The last six matches of Apollon are a great proof they do not intend to give up. They stood up to Atromitos, they should have won the home match against Asteras (bad luck), they got two clean sheet wins against Aris (0-2 away) and Giannina (4-0 at home) and they had a draw (0-0 away) against Kalloni playing for 80 minutes with a man down. Levadiakos is a strong team at home (7W-1D-2L, goals 16-14) but they have a weak defense and I expect them to be in trouble. The win of Apollon (+0.5) @ 2.00 will not surprise me at all. Considering all the above a bet on the fixed odd win of Apollon @ 5.00 is a value bet.
OLYMPIAKOS vs. PANIONIOS
As I said in the previous article, the players of Olympiakos are bored and they cannot be blamed since the season is almost over for them in Super League. The recent changes to the roster can be an extra reason for their new average performance against Panetolikos (2-1) which allowed their opponent to score first at 5'. The Champions answered at 26' with Olaitan and they kept adding pressure for the win. Despite their efforts, Panetolikos was very good in defense but one mistake at 70' allowed Olympiakos to score with a penalty kick (71'). The fans are not happy with what they see and Mr. Míchel must prepare the team as soon as possible because the away Cup rematch against Atromitos and the two matches against Manchester United are not that far away any more. If f they keep up playing like this they will be in trouble. A rotation in the starting lineup is expected again.
Injured: Siovas (DEF/11), Fuster (MID/16/3 goals)
Next match for Olympiakos:  Veria (Away), midweek Cup rematch against Atromitos
Panionios had the worst performance of the season in the last home match against Ergotelis (0-1). Their defeat was more than fair but the fans were annoyed by the fact they saw their team losing from an opponent that played with two men down for twelve minutes (red cards 66', 74') when Ergotelis scored after a perfectly executed counter attack (86'). Changes is the starting lineup are expected because the players are tired from their consecutive matches and the next match against Aris is more important.
Injured: Giannakopoulos (GK/13), Toskas (MID/1)
Banned: Kouros (DEF/21), Labropoulos (DEF/19/1 goal)
Next match for Panionios: Aris (Away)
Betting Pick: Scores 3-0 @ 5.50 and 4-1 @ 21.00
I find it better to risk on a couple of scores at this moment instead of risking a handicap bet. The Champions are not in form but they will get back to their usual scores sooner or later. Panionios looks like a great opponent to do that even with a different lineup.
ATROMITOS vs. KALLONI
Atromitos comes from an away win against Apollon Smyrnis (2-3) which was probably the best match of Day 22. The home team took the lead in the score twice (10', 63') but the players of Mr. Parashos not only answered both goals (37', 75') but they also claimed the win with the goal of Napoleoni at 81' after a serious mistake from Apollon's defense. The new win expanded their undefeated streak to 11 matches (7W-4D) and they also have 2W-1D in the Cup for the same period. Mr. Parashos is expected to make some changes in the lineup before the home matches against Asteras Tripolis and Olympiakos.
Banned: Dimoutsos (MID/20/1 goal)
Other: Napoleoni (FWD/15/6 goals/2 assists) was left out because he ill.
Next match for Atromitos: Asteras Tripolis (Home), midweek Cup rematch against Olympiakos (Home)
Kalloni had an average performance in the last home match against Asteras Tripolis (0-2). Mr. Matzourakis was not pleased to see his team playing without any confidence to score. Asteras had a total of 19 attempts on goal and one at the bar (62' Carrasco) and they could have finished the match a lot earlier. There are two absences reported while the experienced coach is expected to use the new transfers today.
Banned: Anastasiadis (MID/20/1 goal), Manoussos (FWD/20/3 goals/2 assists)
Next match for Kalloni: Levadiakos (Home)
Betting Pick: Under 2.5 goals @ 1.90
Atromitos is a very steady team and if it wasn't for their 7 draws they could even hold the second place in the standings. I do not know how much longer they can hold at this pace as they mainly use 14-15 players. They will need their energy for the Playoffs but they are also interested in the Cup where they will challenge Olympiakos for a place at the Semi-finals. I expect they will save their strength today because neither Asteras nor Olympiakos that follow are easy opponents.  Kalloni can be very dangerous but I believe they are already looking in their next home match against Levadiakos. A win like 1-0 or 2-0 should be enough for the home side and if they are serious in defense they can prevent their opponent from scoring a goal that will cause more stress and effort.
ASTERAS TRIPOLIS vs. PANATHINAIKOS
Asteras Tripolis got an easy away win in the last match against Kalloni (0-2) at OAKA. They had important chances to score more goals (19 attempts on goal, one at the bar) with Kalloni seeming unable to resist. The goal in the home match against the Greens can only be the win in order to take the fourth place in the standings from them. There is one absence reported and the morale is good after their four wins in their last five matches.
Injured: Navarro (FWD/14/1 goal)
Next match for Asteras Tripolis: Atromitos (Away)
Panathinaikos comes from an away draw against OFI (1-1) where they complained a lot for the decision of the referee to award a penalty kick at 85' to a player that was offside. They are right but the truth is that OFI deserved at least one goal in that match. It came the wrong way but they were in control and wasted important chances to score the equalizer earlier (18 attempts on goal vs. 7 by the Greens). The youngsters of Mr. Anastassiou will now try to defend their fourth place against a very strong home team like Asteras.
Injured: Pranjić (DEF/15/3 goals), Bajrami (MID/8), Mendes (MID/17)
Banned: Risvanis (DEF/12)
Next match for Panathinaikos: PAOK (Home), rematch for the Cup against Olympiakos Volou (Away) after a 4-0 score in the first match.
Betting Pick: Both teams to score @ 1.95
Asteras is undefeated at home but they do have a tendency to draws (6W-5D-0L, goals 20-7). They are expected to add pressure to Panathinaikos but their opponent can be very dangerous in offense especially when the opponent does not focus on defense like the weaker clubs do. To be honest I did not expect the Greens to be so passive in their last match against OFI where they spent most of the match waiting for them. If they will do the same mistake again today Asteras has the quality in offense to punish them. I do expect both of them to score so the only way to see a winner is with the option of Over 2.5 goals @ 2.30. May the best team win.
PAOK vs. OFI
PAOK deserved to lose the last away match against Platanias (2-1). The goal of Athanassiadis at 10' gave them the lead but once again their defense was poor. The home team did not give up they scored back at 36' and added more pressure for the win that came with a goal by Torres at 67'. Stoch was caught on camera saying "f@## off" when Mr. Stevens reacted to his decision to apply the fair play rule. The player is expected to pay a fine as PAOK's officials are strict and this explains why he was not included in the roster today.
Injured: Katsikas (DEF/5/1 goal), Vítor (DEF/15/4 goals) and Georgiadis (FWD/6)
Other: Stoch (MID/19/4 goals) is out for a disciplinary breach.
Next match for PAOK: Panathinaikos (Away), midweek Cup rematch against Apollon (Away)
OFI was more dangerous and wasted many good chances in the last home draw against Panathinaikos (1-1). The total attempts on goal (17 vs. 7 of the Panathinaikos) depict what happened in that match as the Greens chose to wait on their opponents. Klonaridis scored at 39' and the players of Mr. Sa Pinto added pressure for the equalizer. The decision of the referee to award a penalty kick and show a red card at Risvanis at 85' were proven wrong as Rovithis was offside and this caused a lot of reactions and statements after the match. The truth is that OFI deserved a goal but it came the wrong way.
Banned: Zoro (DEF/18), Kalajdzic (MID/18), Papazoglou (FWD/18/5 goals)
Next match for OFI: Panthrakikos (Home), midweek Cup rematch against Panionios (Away)
Betting pick: The win of PAOK (-1.5) @ 2.00
Those two clubs and especially their supporters have excellent relations. PAOK is in need of the win today and I expect they will get it without humiliating their friendly opponent. A win by two goals will be enough and the scores I have in mind is 2-0 @ 5.50 and 3-1 at 13.00. OFI will only be interested in a descent performance and maybe this explains why they CHOSE to leave three of their best players out specifically in this match after they reached the limit of 4 yellow cards. If OFI was desperate for points I would use a different approach but they are not, they do have an easier home match coming up and I believe they already think of the rematch against Panionios of the Cup.