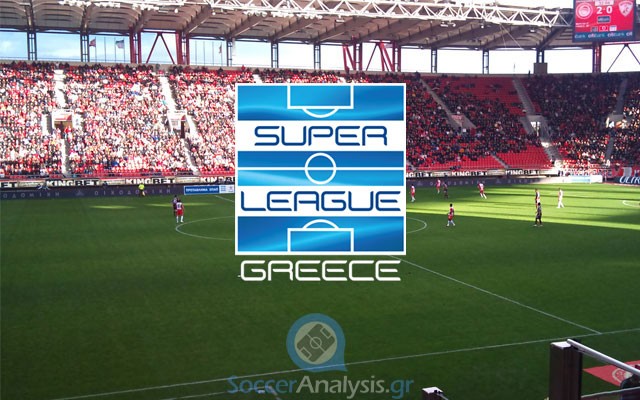 New coach for Panionios
When the regular season was completed last year, only eight teams had 7 wins or more after 15 home matches. This season 10 out of the 18 teams, have already got 7 wins or more after 12 or 13 home matches so far. Five are still undefeated (Olympiakos, PAOK, Atromitos, Asteras Tripolis and Panetolikos) making very clear the vast majority of the clubs are influenced by the home ground effect. We have reached Day 26 and according to the calculations of many Super League coaches, the teams close to relegation will only be safe when they reach 35 pts. All of them will aim at home wins and claim the best they possibly can when playing away to reach this goal.
From the three matches that are available this Saturday, the most interesting will be the home battle of Apollon Smyrnis against Panionios. Both teams are in need of points and what makes this match so special is the return of Mr. Anastopoulos to the team he started his career as a player before becoming one of the most successful strikers in the history of Greek soccer. Many believe that his arrival will inspire the players of the team.
The previews and predictions for the Saturday matches:
LEVADIAKOS vs. ASTERAS TRIPOLIS
Coach Pantelidis had a perfect debut in the last home win of Levadiakos against Atromitos (1-0). His team not only won but they also ended the undefeated streak of their opponent who had not lost against stronger opponents like Olympiakos, PAOK, Panathinaikos or Asteras Tripolis. Atromitos lost a good chance to score at the added time of the first half when Umbides aimed at the bar (45+1'). Levadiakos was more dangerous, having more attempts on goal (13 vs. 7) and the goal of their usual scorer, Mantzios, at 82' was proven enough to give them a very important win in their efforts to avoid relegation. Having only one away point (0W-1D-12L, goals 8-28), Levadiakos has raised 26 out of their 27 points at home (8W-2D-2L, goals 18-15).
Banned: –
Injured: Labropoulos (MID/16/1 goal), Vukčević (MID, winter transfer)
Asteras Tripolis was no better than PAOK but they managed to get the win in their last home match (2-1). The truth is that PAOK looked more dangerous and when they scored at 60' (Athanassiadis) no one could possibly expect what was about to follow. The poor defensive behavior of the opponent for the rest of the match allowed Asteras to score two goals (65', 78') and force PAOK to a fourth consecutive away defeat. Mr. Verghetis agreed that his team was very lucky after the first goal but their attempts on goal (10 vs. 5 of PAOK) show how poor their opponent was in defense especially if we consider that the match was leveled until 60'.
Banned: Goian (DEF/23/1 goal), Delgado (FWD/18/4 goals/1 assist)
Injured: Lluy (DEF/14/1 goal)
Betting Pick: Levadiakos +0.5 to win @ 1.65
Asteras has got very lucky lately and they have got wins they did not deserve. Good examples are the wins against Apollon Smyrnis (1-2 at 94' but they should have lost), Panathinaikos (1-0) and PAOK. Atromitos was the only team that exploited their weaknesses scoring three goals while playing with a man down since 16' (3-1). Levadiakos might not be a better team but their home strength (8W-2D-2L), their necessity for points and their recent change at the bench are three factors that can help them avoid the defeat. For the same reasons the win of Levadiakos @ 3.30 is a value bet.
APOLLON SMYRNIS vs. PANIONIOS
Apollon Smyrnis was defeated in the last away match against Panetolikos (2-1). The home team took advantage of their home strength and scored two early goals (7' Bojović, 13' Camara) with Apollon having a very poor performance for the first 45 minutes. The two goal advantage allowed Panetolikos to rest but a goal by Ambrose at 55' got Apollon back in the match. The players of Mr. Sanchez were very improved for remaining time and added a lot of pressure for the equalizer. The red card at Bikey at 87' gave them an extra advantage but the score did not change until the final whistle. Mr. Sanchez stated after the match that he was very satisfied only with the performance of his team during the second half and that if they had five more minutes they could have got the draw.
Banned: –
Injured: –
Other: Lucero (MID/6/2 goals) was left out at the last minute because he is ill.
Panionios comes from a win against PAS Giannina (2-0) which ended their losing streak in Super League (4 matches). However their win was not as easy as the score shows. Giannina added pressure for an early goal (4 attempts) before a foul kick by Kolovos at 22' which gave the lead to the home side. The advantage allowed Panionios to wait for their opponents and try to exploit dangerous counter attacks. In one of them at 77', Kouros stole the ball in midfield and delivered a fantastic long pass to Dounis who locked the win for his team. Despite the efforts of Giannina to get back in the match, the red card at Tzimopoulos at 85' killed any remaining hopes to score.
Banned: –
Injured: Koulouheris (DEF/12), Aravidis (FWD/23/8 goals)
Betting Pick: Both teams to score @ 2.00
Both teams want the win for the same reason that is to avoid relegation. Panionios may be satisfied with a draw but the way Apollon plays at home makes me avoid this choice. They have the tendency to open too much when they look for the win and Panionios has many talented players that can punish any defensive mistake. The arrival of Mr. Anastopoulos is expected to help Panionios but they need to improve their away performances (1W-3D-9L, goals 6-20) to achieve it. Keep in mind that they have scored only once in their last 8 away matches. I do expect them to score today but I cannot trust them for the win without Aravidis. I believe we will have a winner in this match and if I am right, it will be with a score of Over 2.5 goals @ 2.35.
OFI CRETE vs. OLYMPIAKOS
Note 1: The foreign players of OFI asked Mr. Sa Pinto to stay away from training on Wednesday because they had not been paid since December. The coach respected their will and they were soon followed by the Greek players. The Chairman of the club Mr. Poulinakis kept his promise to take care of this matter on Friday and everything seems to be back to normal for the club.
Note 2: OFI had a lot of support in the last away match against Ergotelis. I watched the full match and I must tell you that their songs focused mainly on Olympiakos. OFI has been very strong at home this season and they seem optimistic for a positive result.
OFI comes from a win in the domestic battle against Ergotelis (0-1). The home team was more active in offense during the first half and their triple chance to score at 16' was a lot more dangerous than the two attempts at the bar that followed (29' Romano, 36' Kubík, both chances ended at the outside part of the bar). OFI took the lead at 42' with a new FANTASTIC long shot by Dudu who scored for the third match in a row. They spent the rest of the match waiting for their opponents, executing dangerous counter attacks that would lock their win. A silly move by Romano at 71' caused him to receive a red card that gave OFI the advantage of an extra player for the rest of the match. The officials of Ergotelis complained a lot for a penalty kick that was not awarded to them at 92'.
Banned: Milhazes (DEF/25/2 assists)
Injured: Bourbos (DEF/24/1 assist)
Olympiakos got a new home win against Platanias (4-2) and continued undefeated for one more match (23W-2D, goals 74-9). No comparisons can be made between the two clubs and the only thing that can be said is that the Champions had a good training. The upcoming midweek match against Manchester United is expected to influence the performance of the team. Coach Míchel has already left key players out in order to protect them from fatigue or possible injuries. The performances of Manchester United this season, allow Olympiakos to hope for qualifying to the Quarter Finals of the Champions League but they need to give all their energy and concentration in both matches to achieve it.
Banned: –
Injured: Siovas (DEF/11), Torres (DEF/5), Valdes (FWD/2/1 goal)
Other: Maniatis (DEF/20/4 goals/2 assists), Marcano (DEF/3/1 goal), Ndinga (MID/14), Dominguez (MID/19/5 goals/10 assists) and Olaitan (FWD/15/8 goals/4 assists) are out to rest for the midweek upcoming match against Manchester United. All of them are considered very important players for the plans of Mr. Míchel after the changes in the roster of the Champions during the winter transfers.
Betting Pick: OFI (+1.5) to win @ 1.65
Even if OFI will lose tonight, I doubt it will be by more than one goal. Coach Míchel and his players live and breathe for the two upcoming matches against Manchester United. The last thing they have in mind at this moment is OFI or their undefeated streak. I do not expect to see a lot of motivation from Olympiakos today and especially from players who will be in the roster for the midweek match. I doubt any of them will be interested to tackle and risk an injury before a match which is probably the most important of their careers until now.
Olympiakos has a deep roster and Ibagaza with Saviola can be great solutions for today but they cannot play for 90 minutes. The absences of Dominguez and Olaitan, two players who have made the difference since Mitroglou and Weiss left, are way too important at this moment. OFI is a very tough team to face at Theodoros Vardinogiannis this season (5W-6D-1L, goals 13-7) and they have improved a lot with Mr. Sa Pinto. Their venue will be crowded and they seem capable of getting a positive result with the help of their fans. For all the above, the win of OFI @ 9.00 or the safer option OFI +0.5 to win @ 2.85 are great value bets.