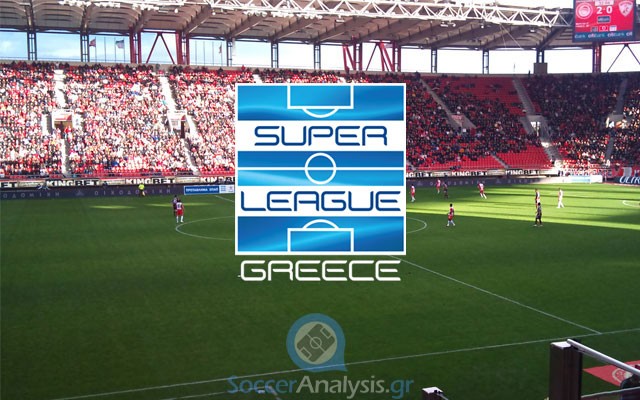 Platanias and Aris battle for the knockout place
The recent change in relegation gives a second chance to the club that will take the sixteenth place in the standings. The one that will take it can still hope for a win in a knock out match against the third team from the Football League Playoffs. Platanias currently holds it while Aris and Veria hope that they can do what is necessary to take their place. With nine match days to go, it is pretty clear the relegation fight is still open and that the performances of other teams with less motive from the top half of the standings will determine its outcome.
Needless to say that the home match of Platanias against Aris will get most of the attention today as both clubs are desperate for points. The previews and predictions for the Sunday matches of Super League:
PANATHINAIKOS vs. ERGOTELIS
Panathinaikos got the win in the last away match against Panthrakikos after an average performance. The home team was more dangerous during the first minutes where they created 2-3 chances to take the lead. Panathinaikos answered with an attempt by Karelis at the bar (9') and the same player managed to score at 26'. Panthrakikos was stressed after the goal but they did try to look for the equalizer. Their goalkeeper Šeremet made a serious mistake at 59' which allowed Ajagun to score the second goal for the Greens. The players of Mr. Anastassiou did not have any problems to hold their win until the final whistle. The coach stated recently he is a bit concerned with the optimism of his players from the consecutive (easier than expected) wins against PAOK and Panthrakikos. Any other result than the home win against Ergotelis can quickly change the morale of the club before the difficult upcoming match against Olympiakos at Karaiskakis.
Banned: Koutroubis (DEF/18/1 goal)
Injured: Mendez (MID/17), Bajrami
The truth is that Ergotelis deserved a goal in the last home match against OFI (0-1), especially during the first half while the score was still at 0-0. Their two attempts at the bar (29' Romano, 36' Kubík) were less dangerous than their triple attempt to score at 16'. The fantastic goal by Dudu at 42' gave the lead to OFI forcing every attending spectator to applaud him. The players of Ergotelis looked for the equalizer during the second half but they were very stressed in their attempts while OFI was waiting, trying to end the match with dangerous counter attacks. The foolish move by Romano to hit Dudu at 71' caused him a red card that left Ergotelis with a man down for the rest of the match. Mr. Ouzounidis was furious with the referee in his statements because he did not award a penalty kick at 92' that could help his team get a point.
Banned: Sarris (DEF/22), Kozoronis (MID/17/1 assist), Romano (MID/20/2 goals/1 assist)
Injured: Diamantakos (FWD/19/6 goals), Bam Bam (FWD/5/2 goals, 1 assist)
Betting Pick: Panathinaikos (-1.5) to win @ 2.25
The odds on the home win are ridiculous but Panathinaikos must win this match. Mr. Anastassiou has watched his players winning Ergotelis three times this season (one for the league and two for the Cup). However two of their wins were only by one goal. The away performances of Egrotelis (3W-5D-4L, goals 7-12) prove they are capable of causing problems but they have too many important absences that can help Panathinaikos get a confidence win before the difficult match against Olympiakos at Karaiskakis. The scores I have in mind are 2-0 @ 5.50 and 3-1 @ 15.00.
ATROMITOS vs. XANTHI
Note: The owner of Atromitos Mr. Spanos was among the 16 arrests that took place last week by the authorities. They are all accused for smuggling oil trying to hide millions of euro in taxes. Mr. Spanos is also the chairman of ETEKA Group, one of the big oil companies in Greece. He has never been implicated to any kind of negative publicity in the past and the news were a shock to everyone and especially the players of the team. On Saturday he was imprisoned.
The last away defeat of Atromitos against Levadiakos (1-0) gave an end to their amazing undefeated streak in Super League (9W-4D). The players of Mr. Paraschos were clearly influenced by their important absences, the fatigue from the consecutive matches (league and Cup) and the disappointment for the draw in the Cup re-match against Olympiakos (1-1) which left them out of the competition. The recent news for the owner of the club has alarmed the players regarding their financial future. Mr. Paraschos is doing his best to keep the players focused in their obligations but with Mr. Spanos imprisoned, the promises that this was just a misunderstanding were proven wrong.
Banned: Tavlaridis (DEF/20)
Injured: Iglesias (MID/19/6 goals)
Xanthi finally got a win in the last home match against Kalloni (1-0) which ended their negative streak (2D-6L). After an average first half, they added a lot of pressure to their opponent but their stress kept them away from scoring. A late goal at 89' gave them the three points while there have been complains for the referee of that match and especially his decision not to award a penalty kick when Zacuani clearly used his hand to stop the ball like a volleyball player. Mr. Kehagias was very pleased with the passion his players showed in the field and he is optimistic that more positive results will come.
Banned: Soltani (FWD/19/4 goals/6 assists)
Injured: Chema (GK/17), Komessidis (DEF/4)
Betting Pick: Both teams to score @ 2.50
I do respect the home strength of Atromitos (9W-4D-0L, goals 24-6) but the last thing they must have in mind right now is their opponent. Usually in circumstances like these, teams either bond or collapse. They do have the quality to score against a weak away club like Xanthi (1W-4D-8L, goals 13-26) but I cannot forget that their opponent is more dangerous than their place in the standings shows. The win of Skoda Xanthi @ 10.50 and the handicap bet Xanthi (+0.5) to win @ 3.00 are two risks I am willing to take.
GIANNINA vs. VERIA
Giannina come from an away defeat against Panionios (2-0) which ended their winning streak (3 wins) since coach Petrakis took over. They tried to surprise the home team with an early goal but despite their chances Panionios scored first after a foul kick by Kolovos at 22'. Giannina spent the rest of the match looking for the equalizer but Panionios scored again at 77' and everything was over at 77' when Tzimopoulos received the red card leaving his team with a man down until the final whistle. In his statements after the match, Mr. Petrakis said it was obvious Panionios was more determined for the win. Giannina need only three points to lock their presence in Super League 2014-15 and they can already start making their plans for it.
Banned: Tzimopoulos (DEF/20/1 goal)
Injured: Michail (DEF/20), Chițu (MID/1/1 goal, winter transfer)
Veria got the draw in the last away match against Aris (0-0) and they are still alive, only two points away from the knockout place. Their scoring difficulties still hold and they have failed to score in their last four matches. They are desperate for the win today, especially if Aris will manage to get a positive result in the away match against Platanias. Coach Dostanić was pleased with the determination of his players in the last match and for this reason he thanked his players in his statements after the final whistle.
Banned: Siontis (MID/15)
Injured: –
Betting Pick: Giannina to win @ 2.00
The motive of Veria for points is stronger but they do not score. Giannina are very strong at home all season (9W-0D-4L, goals 16-11) and the main reason is because the players are familiar with the very poor condition of their field which is the worst in Super League. I consider this a high risk pick but I do not see why Mr. Petrakis and his players should do any favor to their opponent.
PLATANIAS vs. ARIS
Platanias could not hope for a positive result in the last away match against Olympiakos (4-2) but Mr. Anastassiadis already showed he was not intensions of following the defensive play of his predecessors. The defeat of Apollon Smyrnis from Panionios yesterday, has turned the home match against Aris into a must win situation for the team. The experienced coach is troubled with the important absences of five players that are in his plans.
Banned: –
Injured: Georgallidis (GK/25), Katai (MID/18/3 goals/1 assist), Mendrinos (MID/6), Kasnaferis (MID/5), Sialmas (FWD/4)
Aris was too stressed in the last home match against Veria and ended up with a draw (0-0) once again. Their opponent resisted a lot more than they anticipated and despite their intensive efforts to score they did not succeed. They seem to respond well in defense lately and their three consecutive clean sheets are the main reason they have still chances to save the season. There has been a lot of criticism for the choices of Mr. Papadopoulos lately but he is still optimistic the team will be saved at the end.
Banned: –
Injured: Pulido (DEF/15), Kaminiotis (MID/4/1 assist)
Betting Pick: Over 2.5 goals @ 2.10
Both teams will look for the win at all cost today. I expect to see Platanias risking more in offense but I cannot underestimate that Aris has survived difficult matches like the one against Panetolikos (0-0 away) and Panionios (1-0 at home) recently. Furthermore they have proven they are more dangerous when they play away and if Platanias will open too much they will pay it. For this reason the away win @ 5.00 or the win of Aris (+0.5) @ 2.10 look a lot better than the underrated home win.
PAOK vs. PANTHRAKIKOS
PAOK was defeated in for a fourth consecutive away match this time against Asteras Tripolis (2-1). Both teams had an average performance during the first half with PAOK having more energy in offense. My overall impression was that they deserved the goal and they made it with Athanassiadis at 60' but they were betrayed by their poor defense very soon. Asteras managed to score two easy goals at 65' and 78' which were more a result of poor defensive performance from the players of Mr. Stevens. PAOK also lost the midweek match against Benfica for the Europa League (0-1). It was generally a leveled match and the outcome was determined by a goal that should never count (offside) but the truth is that Benfica was more dangerous anyway. The criticism for Mr. Stevens still holds but so far he has the support of the club's officials.
Banned: Athanassiadis (FWD/21/8 goals/3 assists)
Injured: Vitor (DEF/15/4 goals)
Other: Spyropoulos (DEF/8) is ill and Insaurralde (MID/new transfer) was left out to rest for midweek re-match against Benfica.
Panthrakikos lost the last home match against Panathinaikos (0-2) after an average performance. They were more dangerous during the first minutes where they lost 2-3 chances to take the lead and Panathinaikos answered with an attempt at the bar by Karelis at 9'. The same player scored at 26' forcing Panthrakikos to start looking for an equalizer for the rest of the match. Panathinaikos handled the advantage patiently and scored again at 59' after a serious mistake of goalkeeper Šeremet that allowed Ajagun to score. Coach Mantzios has renewed his contract with the team and he is allowed to experiment with lineups until the end of the season.
Banned: M'Bow (MID/21/1 goal/1 assist)
Injured: Koutsopoulos (GK/4) Cases (MID/19/6 goals/7 assists), Ladakis (MID/22/1 goal), Baykara (MID/24/1 assist)
Betting Pick: The draw at halftime @ 2.30
PAOK will have the midweek re-match against Benfica and this is expected to influence their performance today. No one can explain what is wrong with them lately and the truth is they seem to be out of motive. I expected to see more from them against Benfica and the fatigue from the consecutive matches (Super League, Cup and Europa League) is a good reason to bet against them. The win of Panthrakikos @ 13.00 just the handicap (+0.5) win @ 4.25 do worth our attention. Panthrakikos can be a dangerous team away (1W-5D-6L, goals 13-21) and I cannot underestimate the fact that Mr. Mantzios has inspired the poorest roster of Super League to have the best season in their recent years in this competition. I just do not expect they will lose all their remaining matches just because they are out of motive and they already have two consecutive defeats.