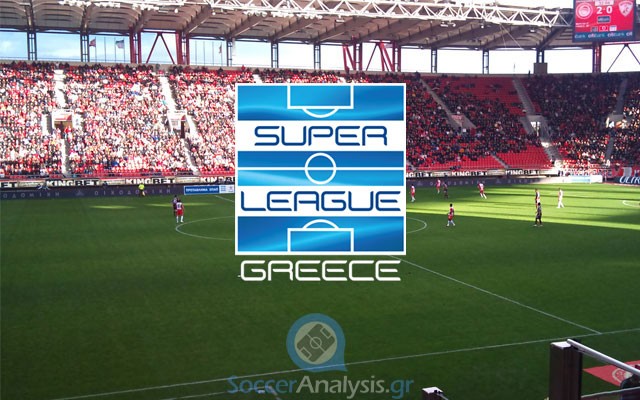 Rivalry battles are a different story
Olympiacos is officially the Champion after yesterday's "professional" win against Panthrakikos (2-0). Almost half of the clubs in the standings are patiently waiting for the end of the regular season and the only real interest is in relegation battle. I was a bit surprised to see so low odds for the five matches we have available for Sunday but the bookies have already started their calculations for when and where teams will get the points they need. I do not believe things will be as easy as they expect especially in matches like the one of Aris against PAOK. Do I need to remind you the recent example of Olympiakos to prove that rivalry battles are a different story?
The previews and betting picks for the Sunday matches of Day 29:
Analysis: PAS Giannina – Panathinaikos
Note: The two teams have met at Zossimades five times since season 2000-2001 with Panathinaikos getting two away wins (0-3-2).
Giannina managed to leave Crete undefeated after the away draw against OFI (1-1) and the win against Platanias (1-2). In their last match, OFI was in control with Giannina being mostly concentrated on defense using dangerous counter attacks. At 85' Nunez scored to give the lead to the home side but the players of Mr. Petrakis did not quit and answered with a late equalizer at 92' (Chavez). Both teams were satisfied with the result and my overall impression is that it was fair. Giannina have improved a lot since Mr. Petrakis took over (4W-1D-2L) and they are a lot more dangerous at home (9W-0D-5L, goals 16-12) especially now that they are in superb morale.
Banned: –
Injured: Chavez (MID/14/3 goals/2 assists)
Panathinaikos comes from an emphatic home win against Aris (4-1). The confidence of the team was boosted after the away win against Olympiakos (0-3) and they added a lot of pressure to their opponent (attempts on goal 23 vs. 5). Berg scored at 26' forcing Aris to open and look for the equalizer. The team from Thessaloniki came close to 1-1 at 35' when Kotsolis saved the penalty kick of Tatos but Aris surprised the Greens with a goal at 40' (Manias). Panathinaikos added a lot of pressure in the last minutes of the first half looking to take the lead again and they made it with Klonaridis at the added time (45+1). The home team stayed in total control of the match and the two goals at 56' and 74' by Berg (hat-trick) completed their great performance. Coach Anastassiou is very pleased with the last performances of the team and he stated there is still room for improvement as long as the players are concentrated on what they must do. Panathinaikos will also have a midweek match for the Greek Cup Semi Finals against OFI (away).
Banned: Koutroubis (DEF/20/1 goal)
Injured: Bajrami (MID/8), Petrić (FWD/4)
Betting Pick: The win of Giannina (+0.5) @ 2.00
I cannot accept odds like 1.70-1.80 for the away win of Panathinaikos. Giannina are not an easy home team (9W-0D-5L, goals 16-12) and they are doing very well lately. I have stated many times in the past I like the way Panathinaikos tries to play in every match (constant pressure, quick attacks) but I cannot forget they have won three matches only one time this season. After their two wins (Aris, Olympiakos) so they are reaching their limit again…
The Cup Final is their main goal for this season and considering their history against Giannina I will not be surprised if a new Draw @ 3.40 pops up.
Analysis: Panionios – Levadiakos
Panionios was easily defeated in the last away match against Atromitos (4-0). The home team was in total control and gave a quick end to the match after scoring three goals in 26 minutes (3', 22' and 26'). The players of Panionios looked shocked and with only three attempts on goal (Atromitos had 15) it was clear they were in a very bad day. Umbides scored at 63' for the home side to set the final score. The financial problems still hold for the team from Nea Smyrni and, according to contra.gr their bus was confiscated last week! Mr. Anastopoulos will have a full roster for the next match against Levadiakos having included Giannou (he reacted to his substitution last week) and Koulouheris (he complained in an interview the coach has put him aside).
Banned: –
Injured: –
Levadiakos deserved nothing in the last away win against Panetolikos (3-1). Their opponent was on the lead after a goal at 2' having important chances to lock the win. When Panetolikos was left with a man down at 85' everything changed. Levadiakos used the advantage of the extra player and with two decisions of the referee that raised a lot of questions they scored twice (91', 94 penalty kick) to get a win that was followed by many negative statements. Coach Pantelidis characterized the win as lucky because Panetolikos could have ended the match in many cases and stated his satisfaction for the efforts of his players until the last minute of the match.
Banned: Kone (MID/24/3 goals/1 assist)
Injured: Warden (FWD/1)
Betting Pick: Both teams to score @ 2.10
Levadiakos is too weak when playing away (0W-1D-13L, goals 9-32) and this explains the favoritism on the home side. They have three wins in four matches with Mr. Pantelidis at the bench and now that they feel a lot safer in the standings it is about time they begin to show more things when playing away as well. Panionios is more reliable at home (6W-4D-3L, goals 16-10) but they are often less careful in defense when facing weaker teams.
Considering all the above I take my chances of the halftime/fulltime option Levadiakos/Panionios @ 30.00 having in mind how important is the win for Panionios today.
Analysis: Asteras Tripolis – Ergotelis
Asteras escaped with an away win against Skoda Xanthi (0-1) last week. The players of Mr. Verghetis had half the attempts on goal of Xanthi (10 vs. 5) but they were more accurate. The goal of Barrales at 60' was enough to get them back to wins after two away failures (Atromitos, Levadiakos). They got extremely lucky at 94' when Calvo's attempt to score the equalizer was stopped by the bar. Asteras is still undefeated at home (9W-5D-0L, goals 24-8) and they will now look to expand their streak against Ergotelis. Mr. Verghetis will have to deal with important absences in this match.
Banned: N'Daw (MID/21/2 goals), Usero (MID/26/3 goals/5 assists)
Injured: Kaffa (MID/11/2 assists)
Other: Tsabouris (FWD/15/2 assists)
Ergotelis had an average performance in the last away defeat from Panthrakikos (2-1). The home team was more eager for the win and they scored twice (20', 65') taking a lead of two goals. The players of Mr. Ouzounidis woke up a little late. They scored at 74' and started looking for the equalizer but the score did not change until the final whistle with both teams looking for an additional goal that never came. The officials of Ergotelis complained a lot for a penalty kick that was not awarded to them at 90' making a lot of negative comments for the referee.
Banned: Mejia (DEF/22)
Injured: Kozoronis (MID/18/1 assist), Badimanga (MID/26/6 goals/3 assists), Kubík (MID/7/1 assist)
Long absent: Anastassakos (FWD/18/4 goals/2 assists), Bam-Bam (FWD/5/2 goals/1 assist)
Betting Pick: Ergotelis (+0.5) to win @ 2.35
Asteras is a reliable home team (9W-5D-0L, goals 24-8) but four of their draws came against team with weak away performances (Giannina 3-3, Xanthi 2-2, Veria 0-0, OFI 0-0). They have important absences in midfield today and things will not be that easy against Ergotelis. Their opponent is very tough when playing away (3W-6D-5L, goals 9-15) and their numbers are great for a competition that is dominated by home teams this season. Ergotelis is still in need of points and the next match against Olympiakos tells me they will look for them here. The away win @ 6.50 is a value bet no matter what happens.
Analysis: Platanias – Kalloni
Platanias had a new weak away performance in the last away defeat from Apollon Smyrnis (3-1) and they deserved to lose. Coach Anastassiadis was furious with the defensive behavior of his players against an opponent who is also involved in relegation battle. The results of Saturday (Apollon lost, Veria got one point) have turned today's match against Kalloni into a must win situation for Platanias. There is one absence reported.
Banned: –
Injured: Zouboulakis (DEF/11)
Kalloni was easily defeated at home from Veria last Monday (0-3) after a poor performance. Their opponent was concentrated on defense and took the lead at 43'. The players of Kalloni were unable to cause any threats even when Veria was left with a man down at 51' after the red card at Sissoko. In fact, they received two more goals at 85' and 86' forcing Mr. Matzourakis to say that his team never entered that match.
Banned: Zakuani (DEF/10/1 goal)
Injured: Valios (DEF/7)
Betting Pick: Over 2.5 goals @ 2.00
The motive of Platanias has lowered the odds on the home win and the bookies are right. Kalloni has no reason to fight and they only need 2-3 pts which can easily come in their next matches. I doubt they will be as bad as they were last Monday and this is why I expect them to score although I seriously doubt they will get a positive result. This is why a bet on Both teams to score @ 2.10 is another good option that should not be ignored. Platanias is more dangerous in offense with Mr. Anastassiadis at the bench but they still have a very weak defense.
Analysis: Aris – PAOK
Note: This match is a rivalry battle. Both teams are located at Thessaloniki and their fans practically hate each other.
Tip 1: No comparisons can be made between the two rosters this season. Aris is struggling to stay alive in relegation battle while PAOK is aiming for the second place which gives a ticket to the Champions League Qualifiers. However, be extra careful because Aris has not lost in the last five home matches (1W-4D) while PAOK has not an away win for the same period (1D-4L). In fact, no away wins are present in the last ten matches (home and away) for both sides this season.
Tip 2: Aris has not lost at Charilaou from PAOK since season 2004-05. They have 4W-5D-0L in all competitions since then. One of the draws was for the Cup (2008-09) where PAOK won after a penalty shootout (8-9).
Aris was easily defeated in the last away match against Panathinaikos (4-1). Their choice to concentrate on defense was proven wrong especially with the Greens having a superb morale after their away win against Olympiakos. Tatos missed a penalty kick at 35' (saved by Kotsolis) while the score was still at 1-0 but Manias managed to put Aris back on the match at 40' with his goal. Panathinaikos added more pressure forcing Aris to concentrate on defense and a new goal came for the home side just before halftime (45+1). Aris was too stressed for the rest of the match and received two more goals at 56' and 74'. Coach Papadopoulos stated that things could be different if his team had managed to keep the score at 1-1 in halftime but the number of attempts on goal (23-5) show that it was almost impossible for Aris to survive this match.
Banned: Bougaidis (DEF/5/1 assist), Bakassetas (FWD/6/3 goals)
Injured: –
The change at the bench of PAOK worked and the win against Olympiakos (2-1) at Toumba satisfied the supporters of the club. Olympiakos scored first at 33' (Samaris) but Athanassiadis scored the equalizer only three minutes later boosting the morale of the team. PAOK was more energetic than the Champions in offense (attempts on goal 11-5) and they managed to score again 84' to get a win they deserved according to what happened in the match. They were very lucky the referee failed to see Insuarralde giving a punch to Ndinga while the score was still at 1-1. The player received a yellow card instead of a red causing the reactions of Olympiakos' officials who accused Mr. Kakos for being biased in that match.
Banned: –
Injured: Lino (DEF/19/1 goal/7 assists), Spyropoulos (DEF/8), Maduro (DEF/7/2 goals), Lazar (MID/22/2 goals/1 assist)
Betting Pick: Aris (+1.5) to win @ 1.55
I do not think that Aris will save the season but the players are expected to give their best in this match. The team will relegate but this does not mean they intend to surrender to the hated opponent. Even if they lose I doubt it will be with more than one goal. The odds on the win of PAOK are way too low for the risk involved even if PAOK will demolish Aris today. It is unacceptable to see PAOK being treated as a strong favorite when they have five consecutive away failures.