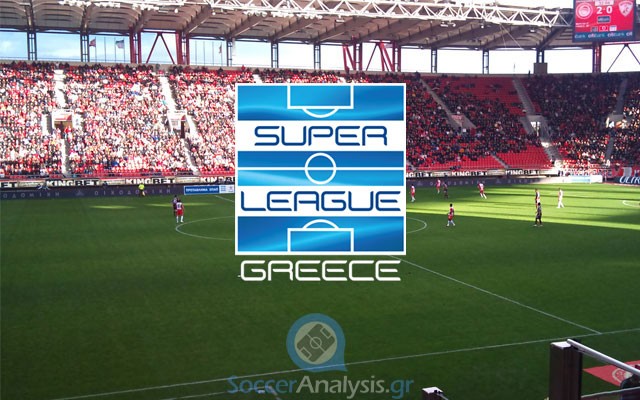 The match of the season for Apollon
Saturday was turned out to be a disaster in my quest for value bets. I had a huge faith on my pick for Atromitos against Panathinaikos and this match is a perfect example why we must never get carried away by confidence. If some had asked me before kickoff what I thought of it, I would answer that it was my most confident bet of all time in the Pick of the Day section. The two teams shared a good number of chances, each one had an attempt at the bar with the final score (0-0) proving that a lot of things can go wrong no matter how sure we are on our picks. This is exactly why I recommend bankroll management and bets of equal value at all times.
There are five more matches available for Sunday and here is how I intend to bet in them:
Analysis: PAOK – Kalloni
The last away draw of PAOK against Apollon Smyrnis (3-3) was just a confirmation that the team has serious confidence issues away from Toumba. In other away matches earlier this season, like the one against Platanias (2-1) or Asteras Tripolis (2-1), PAOK was on the lead by one goal and lost. In the match against Ergotelis (2-2) they were on the lead by 0-2 and they got only a point. This time they took it a step further. PAOK actually managed to take the lead by 3 goals (16', 27' and 37') and end up with a draw after a spectacular come back by Apollon (40', 45' and 86'). In fact the home team had a couple more great chances to complete an epic win. Mr. Georgiadis will have to solve this problem before the Playoffs and the Cup matches against Olympiakos otherwise the club will have problems reaching their goals for this season.
Kalloni comes was defeated easily in the last away match against Panathinaikos (3-0). The Greens used a secondary lineup but they had no problems overcoming the poor defense of their opponent. Mr. Matzourakis stated after the match his team needs to reach 37-38 pts to be really safe and their remaining matches make this task difficult.
Next matches for PAOK: Atromitos (home), Levadiakos (away)
Next matches for Kalloni: Panthrakikos (home), Ergotelis (away)
Betting Pick: PAOK -2.5 to win @ 1.70
The bookies are well prepared for this match. PAOK is a lot more confident at Toumba and they do have a huge motive for the win after the draw of Atromitos against Panathinaikos yesterday. If they won the match of the first round by 2-5) imagine what can happen now… The option of Over 4.5 goals @ 3.10 is very low but highly probable.
Analysis: Panthrakikos – Apollon Smyrnis
Panthrakikos comes from an away draw against Giannina (1-1) which was considered a positive result especially if we consider their four consecutive away (and easy) defeats before it. Coach Mantzios has the luxury if testing players who had less participation time over the last weeks as the clubs is already making plans for the next season. They have two consecutive home wins against Ergotelis and Aris with the same score (2-1) which improved the overall stats of the club in their last 8 matches (2W-1D-5L).
Apollon Smyrnis was down by three goals during the first half (16', 27' and 37') of the home match against PAOK (3-3) but they proved once again they do not intend to relegate that easily. They managed to score twice before the break (40' and 45+1) and they got the point after their goal at 86'. It was a crazy with lots of chances by both sides (13-19!) with Apollon losing two more to get a spectacular win that would be a huge step to save the season. The two matches against Panthrakikos and Ergotelis (home) are must win situations for the players of coach Sanchez. If they succeed their chances to stay in Super League will be increased even by getting the knockout place.
Next matches for Panthrakikos: Kalloni (away), Atromitos (home)
Next matches for Apollon Smyrnis: Ergotelis (home), Olympiakos (away)
Betting Pick: Over 2.5 goals @ 2.00
Apollon is a lot better than Veria and Platanias during the second round but their defensive weaknesses and the fact that some teams donate points to the other two have made their task much harder. I expect to see them as dangerous as they usually are in offense. Panthrakikos is out of motive and I believe they still have the right to hope.The win of Apollon Smyrnis @ 2.70 is a value bet in this set.
Analysis: Levadiakos – OFI
Levadiakos lost in the last away match against Platanias (2-0) showing their usual weaknesses and why they are the worst away team in Super League (0W-1D-15L, goals 11-38). Coach Pantelidis was annoyed by the questions regarding the away stats of his team and accused the club's planning and his predecessors for it. He also said that his players do not try as hard. Levadiakos is a lot more confident at home (11W-2D-2L, goals 25-17) and their numbers are way higher anyone could anticipate when the season started. They currently have an undefeated streak of seven matches (6W-1D-0L) at home.
OFI had a good performance and took advantage of the absences Atromitos had in their last match to get the win (2-0). They were better than their opponent in every aspect and Mr. Sa Pinto stated he was very satisfied with the efforts of his players against a very strong opponent. OFI is doing great although they were favorites for the relegation battle earlier this season.
Next matches for Levadiakos: Panathinaikos (away), PAOK (home)
Next matches for OFI: Xanthi (home), Panetolikos (away)
Betting Pick: OFI (+0.5) to win @ 3.10
Although motive plays a significant role at this point, Levadiakos only needs a point to be safe and they can get it in the next home match. OFI is a better team than them and they are not that bad away (3W-4D-8L, goals 8-22). I insist the home stats of Levadiakos do not depict their strength. This is why I consider the win of OFI @ 9.00 a value bet no matter what happens. If OFI was capable to win Panathinaikos (1-0) and Atromitos (2-0) in the last two matches, they can surely win their today's opponent. That is IF THEY PLAY LIKE THEY REALLY CAN. Nevertheless both options worth the risk, especially if the players were annoyed by the recent statements of their coach…
Analysis: Ergotelis – Giannina
Ergotelis scored twice in three minutes against Aris (28' and 30') and killed any hopes of their opponent to avoid relegation. For one more match they proved how dangerous they can be away (5W-6D-5L, goals 14-17) however things are a bit different for them at Pagritio (4W-5D-6L goals 21-22). In fact they have won only Veria (2-0) there in their last ten matches (1W-4D-5L). It seems they just cannot do what is necessary when they need to be in control of the match as they have got very used to wait on their opponents and kill them with counter attacks.
Giannina come from a home draw against Panthrakikos (1-1) in a match where they had the control and more chances (12 vs. 4). The truth is they could have got the win if they were a bit more careful in their attempts but the final score was not bad for any of the two clubs who practically wait patiently for the end of the season. Their away stats are poor (2W-3D-10L, goals 15-28) but you should be careful because Giannina have 2W-1D-2L away since Mr. Petrakis took over.
Next matches for Ergotelis: Apollon Smyrnis (away), Kalloni (home)
Next matches for Giannina: Olympiakos (home), Aris (away)
Betting Pick: The draw @ 3.10
This is just another indifferent match. Both teams are out of motive for points and considering the home weaknesses of Ergotelis and the improvement of Giannina with Mr. Petrakis, I will not be surprised if I will not see a winner today.
Analysis: Olympiacos – Aris
Olympiacos lost the last away match against Asteras Tripolis (2-1) they are out of motive for this season. The home team scored first at 22′ (De Blassis) but the Champions were a lot more dangerous even with their secondary lineup (attempts on goal: 9-16). Verghos scored the equalizer at 60′ with both teams losing some good chances to claim the win. Asteras got lucky (AGAIN) as they scored with Carrasco at 93′ when Olympiakos had no more time to react. More changes in the lineup are expected for the match against Aris.
Aris lost the home match against Ergotelis (0-2) and they are now officially the first team to be relegated in Football League. It took only three minutes for Ergotelis to kill their hopes (28′ and 30′). Coach Papadopoulos resigned after the match and Mr. Passialis was called up again to guide the team until the end of the season. The morale of the team is very poor and there important absences reported for the difficult match against Olympiakos at Karaiskakis.
Next matches for Olympiakos: Giannina (away), Apollon Smyrnis (home)
Next matches for Aris: Asteras Tripolis (away), Giannina (home)
Betting Pick: Over 3.5 goals @ 1.90
Olympiakos has been defeated three times in the last five matches proving the season is over for them. They have not recovered yet from the way they were left out from the Champions League but there is no doubt they can win this match regardless of any changes in their lineup. They are always capable of scoring four goals on their own at home but there is another reason behind my choice for this match.
Mr. Passialis, the man who took over for Aris, is well aware of the team and the players. The differences of the two clubs were more or less the same last season but Aris had a fantastic home performance with him at the bench in a match that ended 2-2. I do not really expect to see Aris getting a positive result today but Olympiakos is very loose at this moment. I do expect to see Aris less stressed and this can make them more dangerous. A bet on both teams to score @ 2.60 is not bad at all at this point.