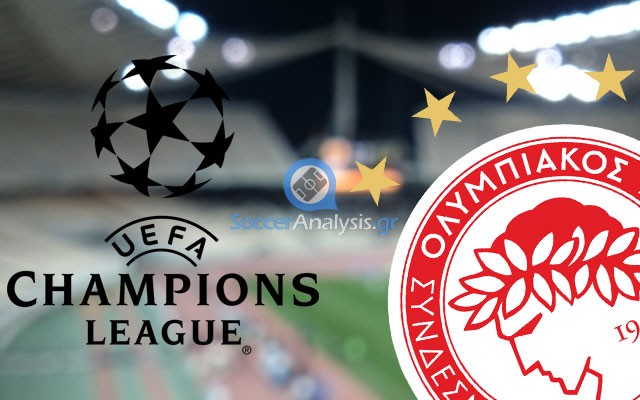 A battle for the second place in Group 3
Once again I will try to keep things as simple as possible. Olympiakos and Benfica have an important match for their future in the competition tonight. The Greek Champions are in superb form lately punishing every opponent they faced over the last weeks with 3 to 6 goals. Mr. Michel has a lot of good players to rule the Greek league but things are always more complicated in the Champions League. No matter who the opponent is, the defense is also a key factor for success. The big question is if Olympiakos can keep a clean sheet again, like they did in the last away match against Anderlecht (0-3). Because that clean sheet was mostly accidental with the home team losing important chances and a penalty kick…
The lineup
According to the last reports Olympiakos will go for the win tonight. At least that is what the tests of Mr. Michel have shown. The probable lineup:
Roberto, Siovas, Manolas, Holebas, Maniatis, Endinga, Samaris, Saviola (or Dominguez), Fuster, Weiss and Mitroglou.
The facts
Fact 1: The referee of the match, Mr. Mallenco (Spain), was present in four matches for Olympiakos and the results were 3 wins and one draw. He has also been present in three matches with Benfica and the results were 2 defeats and one draw.
Fact 2: Even if Mr. Michel has any secret plans for tonight, the team has clearly shown an attacking mentality in their play. The coach loves it and the fans adore it, there is no doubt about it. Despite the defensive theories I hear since Sunday, I seriously doubt Olympiakos will focus on defense tonight. Yes, they must be more careful and try harder but if they really want to survive in Da Luz they must score and my opinion is they must do it twice. Benfica is not full of inexperienced players like Anderlecht was and they will need half the chances to score.
Fact 3: Both teams have lost from PSG quite easily (Olympiakos 1-4 at home, Benfica 3-0 away) but I have to remind you that Olympiakos had a descent first half (1-1) against the leaders of Group 3 but they collapsed after the second goal.
Fact 4: Benfica might won Anderlecht at home (2-1) but Olympiakos managed to do it more emphatically away (0-3) although they DID NOT deserve to keep a clean sheet.
My bets
I am a bit concerned about the weather conditions (rain) but I find it highly probable to see both teams scoring tonight. The odds offered for this bet are around 1.80-1.90 and I find them more than fair. As for the set of odds, I believe that the bookies have made a mistake. I wonder how the team that is more dangerous in offense is offered 4.80-5.00. If this is not a value bet, I wonder what is… To conclude, I respect the experience and the home strength of Benfica but I feel that Olympiakos will not lose this match. If you want to play safe, the win of Olympiakos (+0.5) @ 2.10 is a fine bet.
That is all from me, good luck in your bets.