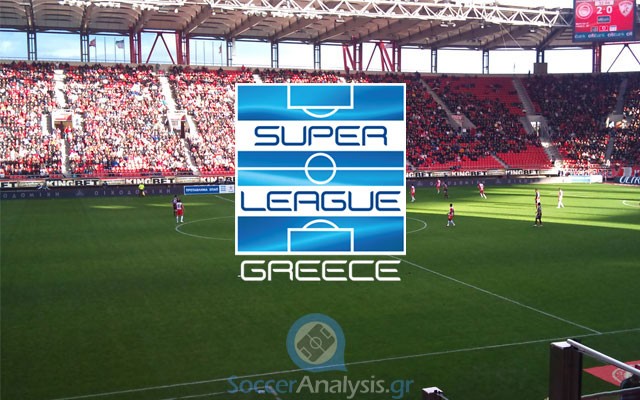 Super League previews
The midweek action for the Greek Cup is over and we can now concentrate on the weekend matches of Super League Greece. The battles Levadiakos – Panionios, Platanias – Kalloni and Veria – Olympiacos open Day 09 although they look less interesting than the ones we have available tomorrow. Let's see what we've got:
Analysis: Levadiakos – Panionios
The away match of Levadiakos against Kalloni (0-0) is already forgotten. The rainy weather did not help the performance of the two teams at all. Despite the total number of chances (attempts 13-5) only one shot was made within the box (Levadiakos) which makes the final score look very reasonable. Coach Matzios has every reason to feel pleased as his players expanded their undefeated streak in Super League in four games. Levadiakos also had a midweek away match for the Cup against Panathinaikos. They were defeated from the Greens for a second time this season (same score 3-0) but we should keep in mind four key players were left out to rest. There are three absences reported.
Banned: –
Injured: Milhazes (DEF/7), Belghazouani (MID/1)
Other: Marković (FWD/4)
Panionios was defeated in the last home match against Veria (0-1) after a late goal by Nazlidis at 93'. Coach Ouzounidis had warned his players about the strange away behavior of the opponent but it was not enough. Despite the fact they were in control of that match (total attempts 10-3) they ended up with no points at all. Panionios returned to wins in the midweek away match against Panetolikos (1-2). They practically locked their win with two goals during the first half (10', 31'). The home team got back in the match after a goal at 74' but the score did not change until the final whistle. This win becomes more important if we consider four key players were left out to rest. There is only one problem reported today.
Banned: –
Injured: Mitropoulos (MID/4)
Betting pick: Both to score @ 2.10
In theory these two teams are only aiming to avoid relegation. Their results so far are surprisingly better than we anticipated. Their history of matches (both venues) since season 2005-6 has 12 home wins and only 4 draws. In fact, the only recent away win took place in a friendly match on 2014. This season Panionios looks a bit stronger but how can anyone underestimate these facts? The option that both teams will score looks a bit safer especially when it came true in 2/2* of home matches for Levadiakos and 3/4 away matches for Panionios.
*The home record of Levadiakos shows three matches (1W-1D-1L) but one of them, the defeat from Olympiacos (0-2), was held in neutral ground (OAKA stadium).
Analysis: Platanias – Kalloni
*Platanias and Kalloni gave strong indications of helping each other in season 2013-14 by pushing Apollon Smyrnis in relegation with a strange result (7-0) in their match. More details can be found in this article which was later included in the goodbye letter of Lawrie Sanchez (coach of Apollon at that period).
October has been a great month for Platanias. The away draw against Asteras Tripolis (1-1, Day 6), was followed by an emphatic home win over Panthrakikos (4-0, Day 7) and an away win against Panetolikos (1-2, Day 8) which was a bit stressful but allowed the team to feel a lot safer in the standings. Their away match against Olympiacos at Karaiskakis (2-2) became the unexpected result of Day 1 in Group Stage. Believe it or not, they came very close to a win. In fact, they took the lead twice (29' and 78') but they were unlucky to see Hernani (Olympiacos) answering both goals at 47' and 92'! Coach Paraschos made changes in his lineup and he stated he was pleased to find out that players that were not used until now have so much to offer.
Banned: Pagalos (FWD/2) was sent-off the Cup match
Injured: Mahamat (MID/4)
Other: Olimpa (GK/5), Chimodzi (MID/0)
Kalloni may had more chances (total attempts 13-5) in the last match against Levadiakos (0-0) but it was impossible to claim the win with 0 attempts within the box (11 shots outside the box and two headers). The two teams have the excuse of the rainy weather in after a boring match that I have already erased from my memory. The midweek humiliating defeat from Asteras Tripolis (4-0) was not a surprise as coach Theodoridis left 10 players out to rest. The truth is the Cup tournament looks like a luxury when it have become obvious Kalloni is quite weak and they need to concentrate in only one thing; to avoid relegation. The same absences are reported for this away match.
Banned: –
Injured: Ellakopoulos (MID/5), Marković (FWD/2)
Betting pick: Platanias to win @ 1.70
I will not get carried away by the draw of Platanias against Olympiacos as the Champions left too many key players out. A weak team can be extremely dangerous when they have nothing to lose. The form of the two teams and their recent history are the main reasons behind my choice here.
Platanias and Kalloni have faced each other 8 times in Super League and Football League (home and away). Six of them ended as home wins and two were draws. No away wins have been recorded until now.
Analysis: Veria – Olympiacos
*The two clubs are still under investigation for fixing the match of season 2012-13 at Karaiskakis (06/01/13, Olympiacos won that day, HT 0-0, FT 3-0). Some former players of Veria testified during the investigation they were asked to concede three goals during the second half (HT: 0-0). Mysteriously, two large bets (aprox. €1.5 million each) were placed alarming the bookies. The first was placed before kickoff and the second during the halftime break when the score was still at 0:0… The disciplinary committee of Super League decided last May there was nothing suspicious about this match but the case is still open for the authorities who continue to search the origin of the two bets.
Veria proved for one more week why they are considered more dangerous when playing away. In fact, they did it twice. They won their last Super League match against Panionios at Nea Smyrni (0-1) after a late goal at 93' (Nazlidis) despite the fact the home team was more dangerous (total attempts 10-3). Only three days later (28/10) they faced Atromitos away (2-2) and they came close to a new win as they took the lead by 2 goals (44', 52' penalty kick). Two late goals (84' and 88') gave a point to the home team but this does not change the fact Veria escaped with a positive result from another difficult venue. Coach Georgiadis is looking for ways to deal with the strange behavior of his team that has not win a single home match yet (0W-1D-3L, goals 2-7) having raised 10/11pts away (3W-1D-0L, goals 5-1)! There are six problems reported.
Banned: Maragos (DEF/8)
Injured: Nastos (DEF/4), Kali (DEF/0), Balafas (MID/0), Ostojić (MID/1), Verghonis (MID/8)
Olympiacos is undoubtedly heading for a new title in Super League. We knew they were favorites anyway but their 8/8 wins combined with the results of the "theoretical" competitors (PAOK and Panathinaikos) have allowed them to have a safe distance of 6pts having faced most of the difficult teams. PAOK (0-2), AEK (4-0) and Atromitos (1-2 last week after an average performance) have already surrendered to the Champions meaning the only teams strong teams left to challenge them until the end of the first round are Panathinaikos (away on Day 11) and Asteras Tripolis (Day 12). It is my opinion that the midweek home draw against Platanias (2-2) for the Cup meant nothing. Olympiacos left too many key players out (10) to face a relatively friendly club.
Banned: –
Injured: Maniatis (DEF/0), Bouchalakis (MID/1/1 goal), Fuster (MID/1)
Betting pick: Over 3.5 goals @ 2.65
There is no doubt Olympiacos is the favorite of this match and considering strange behavior of Veria, I would say a high score is on the way.
The rumors for the excellent relations of the two clubs have strengthened after the investigation I mentioned above. Something stinks in this case although I no one expects the authorities will ever find out what happened. Most probably, it will fade out like every other we 've seen in the past. Now, if they really want to fix this match again, I would say they will either look for a higher score than usual. The option of over 5.5 goals @ 9.00 looks great having in mind scores like 2-4, 1-5, 2-5 etc…