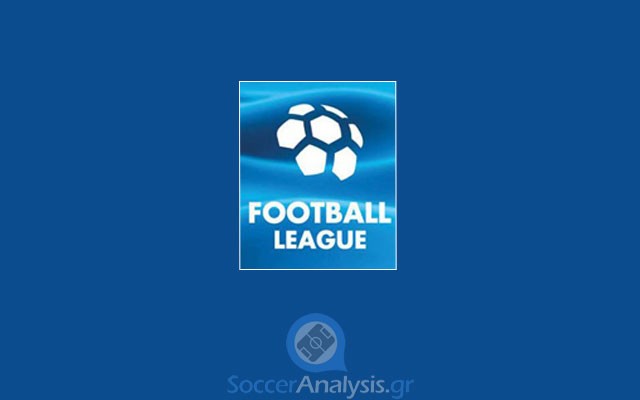 Opinion: Motive and location matter
The presence of the top eight clubs of season 2013-14 makes it certain we will finally see better offers by the bookies, at least as long as the three top places are open. Can the bonus points that Kassiopi (6), Olympiakos Volou (6), Niki Volou (2) and Chania (1) got be enough to keep them in their place? As far as I know things are a lot more complicated. Not only in terms of motive but of location as well.
About motive
A total of 26 matches were held during the regular season of Football League. Let's have a look at the standings after Day 13, when the first round was completed:
Standings after the end of the first round (Match Days 1 to 13)
Group 1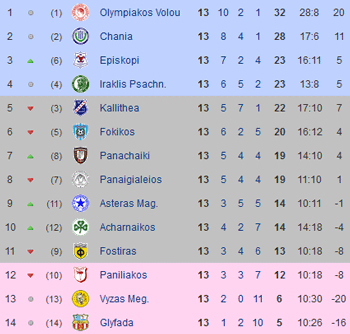 Group 2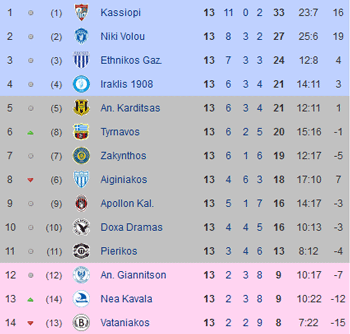 As you probably have already notice six out of the eight clubs showed their intensions to enter the Playoffs very soon. Episkopi and Gazoros failed to keep up, giving their place to Fostiras and Aiginiakos respectively. For those of you who remember I had pointed out some things about Episkopi in Day 20. After a closer look in the standings you will soon realize that Fostiras made an extraordinary comeback covering the 10 pts from the top placement.
During the second round (and after the necessary additions to their rosters) many teams from both groups intensified their efforts as the battles for the Playoffs and relegation were escalating. This is why I consider this part of the season more helpful of what the clubs can really do. I bet you will be very surprised when you have a look at the standings IF ONLY the last 16 matches are included:
Standings for the second round (Match Days 14-26)
Group 1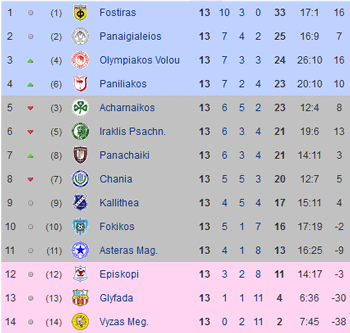 Group 2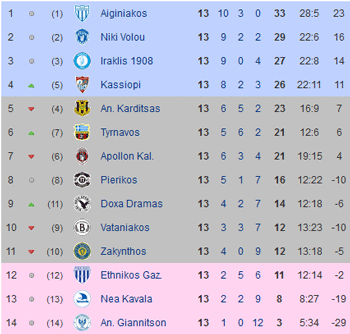 It will be a huge mistake to underestimate what Aiginiakos (10W-3D-0L, goals 28-5) and Fostiras (10W-3D-0L, goals 17-1) are capable of. Yes, I am aware the rest of the clubs (like Kassiopi or Olympiakos Volou) had the luxury of giving away some points as the season was coming to an end but this does not mean they will keep their places that easily.
In order to understand better what I am trying to say, just have a look at the Playoff teams filtered according to what they achieved during the second round:
| | | | | | |
| --- | --- | --- | --- | --- | --- |
| Team (+bonus pts) | Pts | W | D | L | GD |
| Aiginiakos | 33 | 10 | 3 | 0 | 28-5 |
| Fostiras | 33 | 10 | 3 | 0 | 17-1 |
| Niki Volou (+2) | 29 | 9 | 2 | 2 | 22-6 |
| Iraklis 1908 | 27 | 9 | 0 | 4 | 22-8 |
| Kassiopi (+6) | 26 | 8 | 2 | 3 | 22-11 |
| Olympiakos Volou (+6) | 24 | 7 | 3 | 3 | 26-10 |
| Iraklis Psachnon | 21 | 6 | 3 | 4 | 19-6 |
| Chania (+1) | 20 | 5 | 5 | 3 | 12-7 |
About location
One of the main reasons for the introduction of Super League (former A' Ethniki) back in season 2006-2007 was that most club owners realized the necessity of improving the product they sell. The first place Greece got in Euro 2004 (and the transfers that followed for Greek players) made them realize that if they will improve their "product" they will earn more.
Personally I have not seen many things changing since then (not to mention the fixed matches scandal in season 2010-11) but one of the most important things in this project appears to be the map of the competition. To make things short, the best case scenario is that all major districts of the country will have a representative in Super League. Having this in mind, let's take a look at the areas where the candidates for promotion from:
Kassiopi: Kerkyra (Corfu)
Kassiopi merged with Kerkyra FC after their relegation last season from Super League. Their predecessor has been coming and leaving from the top Greek competition for years being the only representative of the Ionian Islands. They are considered the very experienced and
Olympiakos Volou and Niki Volou: Volos
It is very interesting to see a city of almost 145.000 people (sixth larger city in Greece) having two teams that constantly have Super League in their goal. The matches between them are considered not only domestic but also rivalry battles. Personally I will be very surprised if I watch both of them promoting as the only regions that constantly have more than one team in Super League are Attica (almost 4 million population and major cities like Athens (capital) and Piraeus, Crete (almost 600.000) and Thessaloniki (almost 800.000).
Chania: Crete
Crete is the most populous island in Greece with 600.000 people. It is obvious they are doing a better job with their clubs having three representatives in Super League (OFI, Ergotelis and Platanias). Chania and Episkopi were eager to follow them but only the first made it to the Playoffs. As I wrote in a past article, I find it extremely difficult to see a fourth club getting there. Unless of course, Chania finish in the third place and Platanias gets a knockout placement. In this difficult scenario, only one team from Crete will make it, meaning that the total number of teams from this island will remain the same.
Iraklis 1908: Thessaloniki
Thessaloniki has a population of 800.000 and it is the second largest city in Greece (also called the co-capital). Three major clubs, PAOK, Aris and Iraklis are located in that area. During the first four seasons of Super League, all three of them were participating but in season 2010-2011 Iraklis was relegated. At least two of them are constantly present in Super League's project each season. Aris has relegated but it looks like Iraklis has a great chance to sustain the number of the city's representatives in the competition.
Aiginiakos: Pieria
Pieria has approximately 127.000 but they rarely have a representative in the top Greek competition. Pierikos (est. 1961) is also located in the same area but the last time they were in A' Ethniki was back in 1992-93. Aiginiakos was established at 1972 but they have never made it to the top competition. In fact this is their first chance to represent Pieria in Super League. Considering their stats during the second round of the regular season (10W-3D-0L, goals 28-5) they have the right to hope despite their inexperience in promotion battles.
Fostiras: Tavros (Attica)
Attica is the largest district of Greece with a population of almost 4.000.000 people. The capital, Athens (Panathinaikos, Atromitos, Panionios and Apollon Smyrnis) and the port of Piraeus (Olympiakos) are the largest cities with a total of five representatives in Super League. Considering the size of the area there is always room for more teams.
At this moment, Apollon Smyrnis is struggling to avoid relegation and they are not expected to make it. Maybe another team for Attica can take their place. Fostiras happens to have a long history (est. 1926) and carries the nickname "killer of the giants" mostly because of unexpected wins in the Cup competition. On August 2013, investors from Belgium took over the club. At that point Fostiras was coming from two consecutive promotions. There is a lot of work going on in their academies and the stats of the second round (10W-3D-0L, goals 17-1) show they are very interested in a third promotion no matter how hard it will be.
Iraklis Psachnon: Psachna (Euboea)
Euboea is the second most populous island in Greece with a population of almost 200.000. This region has not been represented in A' Ethniki or Super League since season 1967-68. In fact only two clubs have made it; Olympiakos Chalkidas (1963-64) and AO Chalkis (1967-68). Iraklis Psachnon has never promoted in the top Greek competition since 1936 when the club was established.
With a record of 7W-3D-4L (goals 19-6) during the second round they got the fourth place in Group 1 at the last minute after Panaigialeios committed suicide with a draw in the last match of the season. They might look like the underdog of the Playoffs but they are expected to have a lot of support in their matches from everyone in the area. After all, it has been almost half a century (46 years) since a club from Euboea participated in the top competition and this fact alone can be a huge motive for everyone in the team.
My conclusion
For all the above I will risk saying the following:
-I find it highly unlikely to see both Olympiakos Volou and Niki Volou getting the promotion. Considering their results in regular season, I believe Niki Volou is more capable of achieving this goal at the moment.
-Chania is a tough team but their second round performances tell me they are not that motivated. After all four clubs from Crete in Super League are way too many.
-The second round of Fostiras and Aiginiakos tell me that one of them will manage (one way or another) to enter the top three places. I have greater faith in Fostiras mainly because of the new investors who have great plans for this club. They do not necessarily have to promote this season but they do seem to be in the right direction of reviving this historic club.
– In theory, Super League would love to see clubs like Iraklis 1908 (second representative of Thessaloniki) and preferably only one team from Volos promoting. Right now I am troubled about the third place that can easily be occupied by Fostiras (a glorious name of the past) or Iraklis Psachnon (first time for Euboea after so long).
Regardless of what will happen at the end, I hope you found this article useful.