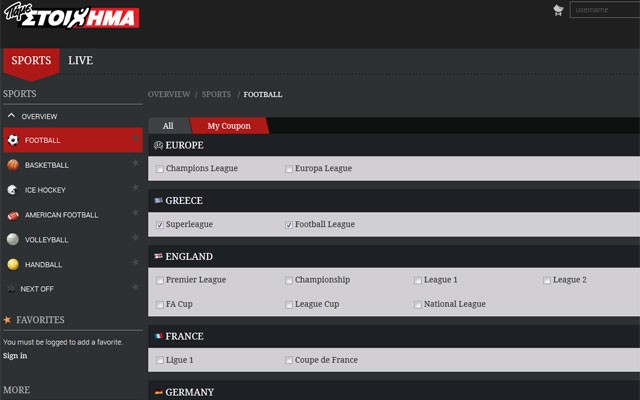 OPAP left only 4 matches
I have been avoiding Football League over the last two seasons mainly because it is rather pointless waste any time when you do not even know how many teams will actually make it to the finish. Most of them barely afford the finances needed to be in the second best domestic competition in Greece. Only two of them qualify and, naturally, roster values do make the difference in the long run. Last season we knew from day 1 that AEK and Iraklis would qualify one way or another. This season the rosters look more competitive in theory but still, only 4-5 teams (if not less) will fight for promotion until the end.
Although I am still close to this league, I do not have enough free time to comment on all matches. What I can do is offer you a glance on how the local bookmaker, OPAP, sees the matches on Thursday night (when their betting coupon is printed) and how this radically changes by kickoff (online odds). You will notice that some matches are not event offered while others suddenly disappear. The reason is only one. There is too much action on them mainly from Greek punters and OPAP will do anything to prevent large wins like any other bookie. Let's have a look at the matches of this weekend.
Local odds for Sunday matches
Acharnaikos – Zakynthos
Printed coupon: Not offered
Online: Not offered
Agrotikos Asteras – Kissamikos
Printed coupon: 2.05-3.00-3.00

Online: 1.72-3.30-3.75
Lamia – Panserraikos
Printed coupon: 1.70-3.20-4.00
Online: Not offered
Panaigialeios – Anagennisi Karditsas
Printed coupon: Not offered
Online: Not offered
Larissa – Trikala
Printed coupon: 1.95-3.15-3.15

Online: 1.68-3.25-4.00
Local odds for Monday matches
Kallithea – Olympiacos Volou
Printed coupon: 2.55-3.30-2.20

Online: 2.05-2.90-3.15
Panachaiki 2005 – Apollon Smyrnis
Printed coupon: 3.35-3.35-1.80
Online: Not offered
Panelefsiniakos – Chania
Printed coupon: 2.40-3.15-2.40

Online: 4.80-3.50-1.52
Kassiopi – Ergotelis
Printed coupon: 1.55-3.30-4.80
Online: Not offered
Foreign bookies are more daring in Football League. They might delay publishing their sets of odds until 12 hours before kickoff but they usually offer most of the matches. If you intend to place a bet in this league I advise you to double check the odds of your bookie with the ones of OPAP. Usually OPAP is more accurate as they have more sources in Greek soccer than anyone else. Important: Usually matches from this league are not allowed to be played in singles or doubles. Furthermore, there are only a couple of betting options available; fixed odds (1X2) and Under/Over 2.5 goals.
The printed version of the coupon is availble in this link and their betting website is www.pamestoixima.gr.
This time they have left only four matches (red highlight) although they were forced to change their odds. This usually means they consider the original set accurate and they gladly accept the money spent by the punters. Of course, they will adjust the set a bit, just in case they are wrong.