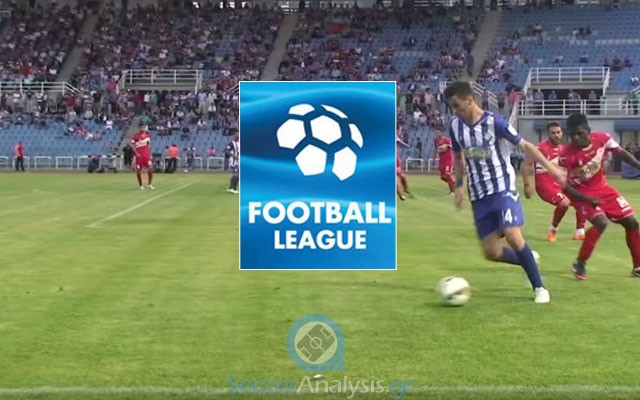 Interesting battles
Football League continues today one match from each group. Chania look motivated and capable to challenge AEK in Crete for Group 1 (South) while Olympiakos Volou and Apollon 1926 are still in search of their first win In Group 2 (North). Let's have a look at the previews and some value bets:
*Attention: The weather conditions (rain everywhere in Greece) are not expected to help the teams today.
Analysis Group 2 (North): Olympiakos Volou – Apollon 1926
Olympiacos Volou lost the away match against Iraklis 1908 (1-0). The home team was in control, they scored first at 66' (Perrone) and held on to their win without problems. Coach Pantelis stated the reason for the defeat was that his players were not as creative as they should.  The two consecutive defeats (three if we add the Cup match against Panathinaikos, 0-1 at home) have influenced the morale of the team. Olympiakos Volou cannot afford a new negative result at this point and naturally Pantelis is under pressure.
Absences: Karras (DEF/0), Hintzidis (DEF/1), Rokas (MID/0), Kornelatos (MID/1)
Apollon 1926 was in total control of the home match against Pierikos (0-0) but they failed to turn one of their many chances into a goal. Not even when Pierikos was left with a man down at 77'. Coach Grafas congratulated his players for their dominant performance and said that sometimes you just do not get what you deserve. There are two problems reported for the next difficult match against Olympiakos Volou.
Injured: Qose (MID/0)
Doubtful: Kapetanos (MID/0)
Betting Pick: The draw at halftime @ 1.90
Both teams have failed to score in their two matches until now they are under a lot of stress for the win. I expect them to be very careful in their defense, at least for the first half.
Analysis Group 1 (South): Chania – AEK
Chania were in control of the last home match against Fostiras (1-0) with their opponent concentrating mainly on defense.  The players of Papadopoulos proved their winning attitude when they were left with a man down at 71' (second yellow at Pagonis). Despite their disadvantage they took the lead at 76' (Manolas). Fostiras was also left with a man down at 84' (second yellow at Biris) and the score did not change until the end.
Banned: Pagonis (DEF/2)
Injured: Konteon (DEF/1)
AEK got a stressful win last week in the home match against Apollon Smyrnis (2-1). Their opponents proved to be tougher than the bookies anticipated and took the lead at 45' with a penalty kick (Gonsalez). The red card at Wanderson at 53' gave AEK an extra advantage. They added more pressure and scored the equalizer at 61' (D'Akol) and Mandalos scored the winning goal with a penalty kick at 85'. Traianos Dellas was satisfied with the efforts of his players and he pointed out that no match will be easy for them in Football League.
Injured: Anakoglou (MID/1), Soleidis (DEF/0), Tzanetopoulos (DEF/0)
Not ready: Brecevic (FWD/0)
Betting Pick: 1X Double chance @ 2.00
Aren't you wondering why AEK was suddenly offered at 1.60-1.65? How did the bookies decide to change their usual 1.10-1.20 for AEK's win? This will not be an easy match for them, that's why. Papadopoulos and his players will resist and my guess is they can avoid the defeat. The win of Chania @ 5.00 is a value bet, especially so early in the season.