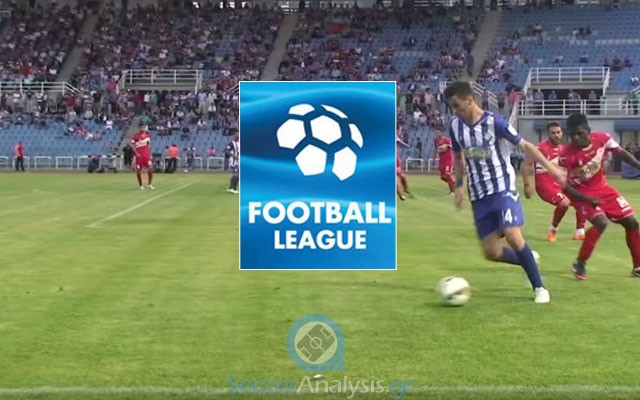 Larissa has a chance for revenge
Group 2 has a total of five matches available this Sunday but there is no doubt the last one, the rivalry battle of Olympiacos Volou against Larissa, will get all the attention. The two teams have already played two matches for the Greek Cup with Olympiacos Volou qualifying to the Group Stage. Larissa seeks revenge and what better chance that will leave the hated opponent lower in the battle for a top three placement. The previews and betting picks:
Analysis: Lamia – Pierikos
Lamia has a good roster and a very experienced coach. This explains how the newcomers of Football League have 3W-1D-0L so far. I must say I am impressed of their recent two wins against Larissa (1-0 at home on Day 3) and Gazoros Serres (0-1 away on Day 4). Especially in their home match against Larissa they showed extreme determination for the win. Pierikos is more experienced in theory but only their recent away defeat from Larissa (2-0 on Day 4) is enough to compare the two clubs.
Betting pick: The win of Lamia
Only one bookie was offering this match when this article was written but in ridiculously low odds (1.15). If I see any other offers until kickoff I will reconsider my options. Anything above 1.50 will be fine.
Analysis: Zakynthos – Fokikos
Zakynthos was the free team of Day 4 and we cannot possibly know if the short break will have a negative impact on them. Their 3/3 wins so far were no coincidence and they deserve to be this high in the standings. Fokikos does not have a win yet (0W-2D-1L, goals 3-4) but they are fighting their matches having scored and received goals in all of them.
Betting pick: The win of Zakynthos @ 1.80
The morale of the home team is superb and they had some time to rest. It will not be easy to expand their winning streak as Fokikos is the closest team of all to their island in terms of location. This means they will not be as tired as the other teams. Nevertheless, Zakynthos is traditionally stronger at home and they can last for one more week in a top placement.
Analysis: Tyrnavos – Agrotikos Asteras
Tyrnavos has not even scored yet and this explains their poor record (0W-1D-3L, goals 0-4) and their place in the standings. The match against Agrotikos Asteras is a must win situation for the club as they have not been playing that bad. If they will score they can get the win against Agrotikos Asteras. Their opponent has a similar record (0W-1D-3L) but their defense is a bit more vulnerable (1-6). They come from a home draw against Olympiakos Volou which was a positive result.
Betting pick: The win of Tyrnavos @ 2.55
Home matters a lot in Football League and this is why I believe Tyrnavos has good chances for the win here. Their opponent comes from a positive result but so far they have not shown capable of getting a second one in a row.
Analysis: Aiginiakos – Apollon 1926
The home defeat of Aiginiakos from Iraklis (1-2) was the end of Theodoridis at the bench of the club. They are under a new coach, Stavros Diamantopoulos, who will have his debut today. Apollon 1926 comes from the first win of the season (1W-1D-2L) against Tyrnavos (1-0 at home). They were under the guidance of their temporary coach that day, Vassilis Chavos. He will be in charge for one more match as the officials are still in search of the new coach.
Betting pick: The draw @ 3.00
This result seems logical for two teams that are in transition period. The reason I am not going after the home win is that Apollon 1926 has a lot of experienced players capable of any result (ex. the win against PAOK for the Cup).
Analysis: Olympiacos Volou – Larissa
*Attention: This match is a rivalry battle.
*This season for the Cup: Larissa – Olympiakos Volou 0-1, Olympiakos Volou – Larissa 0-0 (behind closed doors).
The two teams had a bizarre reaction after their two matches for the Cup. The players of Olympiakos Volou thought they would have an easy season in Football League just because they won the best team of their Group. They were proven wrong by having 1W-1D-2L after 4 matches and naturally coach Pantelis is under pressure.
The players of Larissa reconsidered after the slap they got in the Cup and they have already 3W-0D-1L and a top three placement. The supporters of the club were not pleased with the sudden change at the bench (Grafas replaced Panagopoulos who was doing great).The team that wants this match more will get it.
Betting pick: Both to score @ 2.05
The bookies are right to feel confused here. The only reason for my pick here is the bad defensive behavior of Olympiakos Volou. They have received at least one goal in all their matches and I doubt they will change their bad habit.