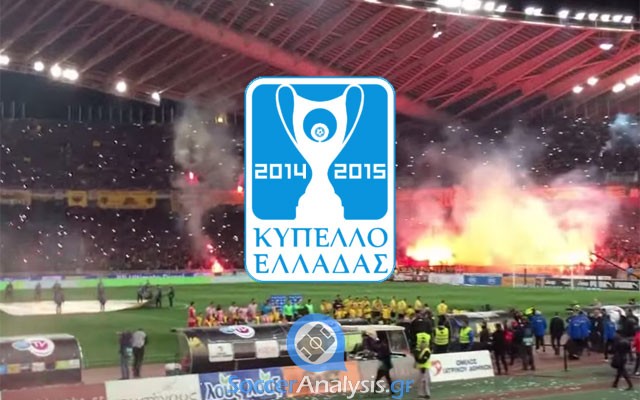 Interesting results so far
There are three matches left for Day 1 of the Group Stage in Greek Cup. I do not know if you have noticed it but 6 out of the 8 groups had one winner and one draw meaning everything is still open for at least three of the teams in each one of them. I wonder if we'll see the same today in Groups 2 and 8. The previews and value bets:
Analysis (Group 2): PAS Giannina – AOK Kerkyra
*Group 2: AOK Kerkyra, Apollon 1926, PAOK, PAS Giannina
*This season (21/09/14): AOK Kerkyra – PAS Giannina: 2-0
PAS Giannina was defeated in the last away match against AOK Kerkyra (2-0). The draw would probably be a fairer result but the players of Mr. Petrakis have not solved their defensive issues yet. This was the third time in four matches they conceded a goal first (26' own goal by Michail). Their performance was better in the second half as usual but this time they did not score despite the many chances they had. They received the second goal at 94' when the match was practically over.
Injured: Korovessis (MID/4/2 assists)
Other: Vellidis (GK/4), Tzimopoulos (MID/4/1 goal), Lila (MID/4)
AOK Kerkyra returned to wins last Sunday in the home match against PAS Giannina (2-0) and gave an ended to a negative history that was holding for 43 years! They were in control during the first half and their pressure gave them the lead after an own goal by Michail at 29'. Giannina became more dangerous (attempts on goal 6-10) but they never got back in the match. Zorbas locked the win for AOK Kerkyra at 94'; in his effort to hold the ball and delay the game he showed his good dribbling skills and scored one of the most beautiful goals of Day 4.
Injured: Paraskevaidis (MID/0), Cardozo (MID/3)
Betting Pick: Giannina to win @ 1.90
I find it extremely difficult to see Giannina losing a second match in a row from AOK Kerkyra. They are always stronger at Zossimades and one way or another they should be able to get the win. After all they did not deserve to lose on Sunday and this is expected to motivate them.
Analysis (Group 8): Panetolikos – Chania
*Group 8: Chania, Olympiakos Volou, Panathinaikos, Panetolikos
Panetolikos was defeated at home from PAOK (0-1) last Monday. Coach Chavos was not pleased with the performance of his team and characterized the result as fair. A penalty kick by Mak at 36' was proven enough for PAOK who was in control and did not allow Panetolikos to cause any problems in defense. The two teams had almost the same attempts on goal (8 vs. 9) but the home team was less dangerous having a total of 6 attempts outside the box. This can be enough to understand why Mr. Chavos was not satisfied.
Injured: Villafáñez
Chania made it to the Group Stage after their two wins against AOT Alimos (4-0 at home, 2-3 away). The first test of their new coach Mr. Soulis Papadopoulos was successful but their matches in Group 8 will be more difficult. In his recent statements he said that if his team will manage to get a positive result against Panetolikos they will have good chances to qualify to the Round of 16. There are two absences reported.
Injured: Economopoulos (MID)
Other: Sikalias (DEF)
Betting Pick: Over 2.5 goals @ 2.00
This match looks a great chance for Panetolikos to get the first win of the season (0W-2D-2L in Super League) and boost their confidence. I find the odds too low for the risk involved since it is almost certain we will see changes in their lineup. Chania scored 7 goals in two matches against AOT Alimos and I cannot underestimate their offense. The option that both teams will score @ 2.30 looks fine.
Analysis (Group 2): Apollon 1926 – PAOK
*Group 2: AOK Kerkyra, Apollon 1926, PAOK, PAS Giannina
*Attention: Apollon 1926 decided to use National Stadium Kaftatzoglio for revenue purposes. This match is a domestic battle of Thessaloniki (no rivalry) and a lot PAOK's fans are expected to attend it.
Apollon Kalamarias 1926 qualified to the Group Stage of the Greek Cup without a match. Their opponent, Doxa Dramas, was unable to participate and their two scheduled matches were won by 3-0 after the decision of the Hellenic Football Federation. Their defeat (3-0) and overall performance in the last friendly match against Agrotikos Asteras was not well accepted by the officials of the club. Coach Alexiou stated this was just a training match and that his players did not want to risk an injury. He was sacked and Mr. Dandikas will be temporarily in charge until the new coach is announced.
Absences: Kristi Qose (DEF) and Papadopoulos (FWD). The two players belong to PAOK (loan) and they will not be used in this match.
PAOK comes from an away win against Panetolikos (0-1) after a penalty kick by Mak at 36'. The players of Mr. Anastasiadis were in control and their excellent defensive behavior did not allow Panetolikos to show their usual home strength. The winning streak was expanded to five matches (18-1 goals!) and the morale of the players is superb after reaching Olympiakos to the first place in Super League.
Injured: Tzavelas (DEF/3), Konstantinidis (DEF/0), Maduro (DEF/2)
Other: Glykos (GK/4), Katsikas (DEF/3), Rat (DEF/4/1 assist), Vitor (DEF/4), Mak (MID/4/3 goals/2 assists), Kace (MID/3), Salpiggidis (FWD/3/1 goal/1 assist) and Pereyra (FWD/3/2 goals) are out to rest.
Betting Pick: The win of PAOK (-1.5) @ 2.10
The criticism towards Mr. Anastassiadis is fading out. The experienced coach continues to give answers in the field and I cannot help wondering what would have happened last season (when the team had a budget of €50 million) if he was in charge.The two teams have excellent relations and there is no motive for PAOK to humiliate Apollon 1926. My guess is that a score like 0-2 or 1-3 will satisfy both sides.
The bookies are right for their low odds on the away win (@1.35) which is a banker for high stakes. It is too early to understand if PAOK can keep up with Olympiakos in Super League BUT the Cup is a different story. It is an excellent chance for a domestic title that will satisfy the demanding supporters. After all, the last time PAOK won the Greek Cup (2003), Mr. Anastasiadis was in charge…