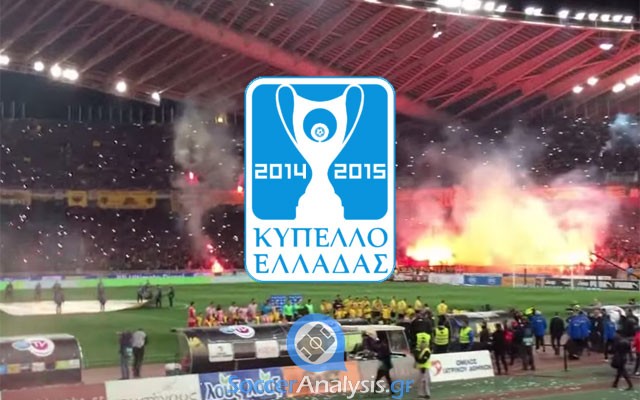 Special attention to the two late matches
I decided to break the previews for the Wednesday matches of the Greek Cup in two parts. The reason is that it would take longer to complete a single article with all of them. The first five are already published and this new article will be gradually updated with the rest:
Analysis (Group 6): Apollon Smyrnis – Ergotelis
*Group 6: Apollon Smyrnis, Ergotelis, Ermionida, Veria
Apollon Smyrnis got the draw in the first away match against Kallithea (1-1) and they made it to the Group Stage after their home win (2-1) in the rematch. They have the third most expensive roster in Football League (€5.95 million) after AEK (€10.7 million) and Larissa (€6.70 million) and this is why they are among the favorites for promotion. Their two official matches for the Cup made it clear there is room for improvement but the important thing is that the first test of the new coach, Mr. Kostenoglou, was successful.
Banned: Lagos (MID/2)
Ergotelis finally got the first win of the season in Super League in the away match against Niki Volou (1-4). The debut of Mr. Dermitzakis against Platanias was a disaster (0-3 at home) but the team recovered with a very important win against an opponent with the same goal that is to avoid relegation. There are four absences reported for the next match.
Injured: Fideleff (DEF/1), Allan da Silva (MID/2), Hanti (MID/2), Kasnaferis (MID/3)
Analysis (Group 7): Kalloni – Tyrnavos
*Group 7: Aiginiakos, Asteras Tripolis, Kalloni, Tyrnavos 2005
Kalloni was defeated for the first time this season in the away match against Asteras Tripolis (1-0). The home team scored first at 3' (Mazza) and lost important chances for a second goal. Coach Matzourakis was not satisfied with the performance of his team but a defeat would come sooner or later. The 2W-1D-1L is a positive record considering the opponents they faced so far (PAOK 1-1 away behind closed doors, Ergotelis 2-0 at home, Panathinaikos 1-0 at home and Asteras Tripolis).
Absences: Hog (GK/4), Llorente (DEF/4/1 goal/1 assist), Anastasiadis (DEF/4), Valios (DEF/4), Keita (MID/4), Kaltsas (MID/4/1 goal), Leozinho (MID/4/1 goal/1 assist), Navarro (FWD/3) and Delgado (FWD/3) are out to rest.
Tyrnavos qualified to the Group Stage with two wins against Pierikos (1-0 away and 2-1 at home). The rematch turned out to be more difficult because Pierikos scored at 35' but the players of Mr. Dighozis saved the best for the end. They scored twice (74' Solferino and 90' Tsoukalos) and made it to the next round. There are three absences reported.
Injured: Kiskavanis (DEF), Skatharoudis (FWD)
Other: Paligeorgos (MID)
Betting Pick: Under 2.5 goals @ 1.80
Coach Matzourakis left a lot of starting lineup players out so I cannot accept low odds like 1.35 for Kalloni. They are still a favorite but this option looks better. The draw at halftime @ 2.10 is another interesting bet.
Analysis (Group 7): Aiginiakos – Asteras Tripolis
*Group 7: Aiginiakos, Asteras Tripolis, Kalloni, Tyrnavos 2005
The matches between Aiginiakos and Agrotikos Asteras in Round 1 had no winner (0-0 at home, 1-1 away) but the away goal in the rematch gave the players of Mr. Theodoridis what they wanted. It will not be easy to repeat their last season's achievement to enter the Play-Offs but their roster looks strong enough to stay away from problems in Football League. There are two absences reported.
Absences: Popović (MID), Rikka (MID)
One goal at 3' was enough for Asteras Tripolis to get the win in last home match against Kalloni. The players of Mr. Verghetis were in control and had many chances for more goals. Their 2W-0D-2L in Super League is not exactly a good record considering the strength of their roster but they pay the price of their obligations for the Europa League where they are doing very well for the first time in their history. Coach Verghetis is forced to make changes in the lineup to rest key players for the important upcoming matches.
Injured: Sankaré (DEF/2), Tormena (MID/0), Kourbelis (MID/2), Badimanga (MID/2)
Other: Košický (GK/2), Mazza (DEF/4/1 goal/1 assist), Goian (DEF/3), Lluy (DEF/3), Usero (MID/3), Rolle (MID/4/2goals/2 assists) are out to rest.
Betting Pick: 1X Double Chance @ 2.25
The players of Asteras Tripolis prefer the Europa League matches for good performances. The changes in their lineup are logical since they cannot afford to give too much energy in the Cup. Not at this moment. The win of Aiginiakos @ 6.00 is a value bet.
Analysis (Group 1): Panionios – Fostiras
*Group 1: Fostiras, Olympiakos, Panachaiki 2005, Panionios
*The two clubs met again for the Greek Cup in season 2012-13. Fostiras had lost the match at Nea Smyrni (2-1) but their home win three weeks earlier (1-0) was enough to take them to the Round of 16.
Panionios had a poor performance in the last away defeat from Panthrakikos (1-0) forcing coach Terezopoulos to say his players did not deserve anything in that match. They are considered a hot favorite for relegation because of their weak roster. In their 2W-0D-2L until now they look more reliable at home (2W-0D-0L) but the Cup is less important for them.
Banned: Hatziisaias (DEF/3)
Other: Giannakopoulos (GK/4), Argyropoulos (DEF/2), Ibagaza (MID/4), Mitropoulos (MID/4/1 goal), Boumale (MID/4/2 goals/1 assist)
A lot of things have changed for Fostiras this season but their goal remains the same. They will be after the Play-Offs in Football League. The first test of their new coach, Mr. Warzyha, against Acharnaikos was positive. His players got a draw in the first away match (0-0) and one goal in the rematch at Tavros was enough to take the team to the Group Stage. There are two absences reported.
Banned: Bastanis (DEF/2)
Injured: Ivanov (FWD/0)
Betting Pick: Both to score @ 2.20
The odds on the home win are way too low when we do not even know if Panionios will be interested in the Cup. Their defense is not reliable and my guess is they will concede at least one goal again. There is nothing else for me here.
Analysis (Group 8): Olympiakos Volou – Panathinaikos
*Group 8: Chania, Olympiakos Volou, Panathinaikos, Panetolikos
*The two clubs met again in the Cup last season. Panathinaikos got a very easy home win in the first match (4-0) and lost at Volos (1-0).
*The officials of Olympiakos Volou are not fond of the referee, Mr. Sidiropoulos. He was appointed in the knock out match against Xanthi (1-2, they lost the promotion to Super League) and he failed to see the offside at the first goal of their opponent (they were on the lead by 1-0).
Olympiakos Volou passed the first test of the season against the hated rivals of Larisa. Their away win in the first match at Alkazar (0-1) was celebrated by their supporters. The second match was held behind closed doors and the draw (0-0) was enough to take them to the Groups stage. Coach Pantelis and his players will try to take advantage of their home strength because this will be the only home match for them (they will face Chania and Panetolikos away). There is one problem reported.
Injured: Karras (DEF)
Panathinaikos got a very important away win last Sunday against Platanias (2-3). The players of Mr. Anastassiou have not solved their defensive issues which caused the recent defeats from Kalloni (1-0 away) and Dynamo Moskva (1-2 at home). Their tight schedule (Super League, Cup, Europa League) leaves no room for mistakes and the Cup Holders of 2013-14 must find a way to get a new win that will boost their confidence.
Injured: Spyropoulos (DEF/0), Mendes (MID/3), Berg (FWD/1, key player – 4 goals in Europa League)
Out to rest: Schildenfeld (DEF/4), Zeca (MID/4/1 goal/1 assist)
Betting Pick: Over 2.5 goals @ 2.10
Coach Anastassiou was furious after the defeat from Olympiakos Volou last season and I doubt he will allow it to happen again. Panathinaikos may have defensive issues but I cannot underestimate the fact they have more official matches than their opponent. The win against Platanias was a good sign and my guess is that will manage to win this match, probably by conceding a goal again. The odds on their win do not worth any attention.