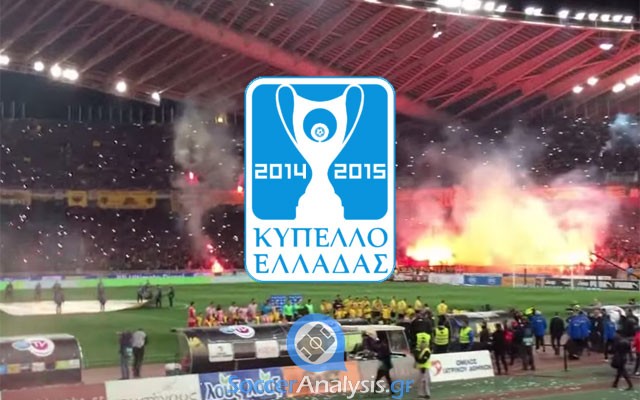 Only Football League clubs today
I was forced to stay away for almost three days for personal reasons and I had to skip every Greek match that took place since Saturday afternoon. There is a lot of midweek action ahead with 16 matches for the Greek Cup. Five of them are held today and you have probably already noticed that only Football League clubs are involved. The previews and value bets:
Group 7: Tyrnavos 2005 – Aiginiakos
*Teams in this Group: Asteras Tripolis (3pts), Kalloni (1pts), Tyrnavos (1 pts), Aiginiakos (0pts)
Tyrnavos has not managed to score in the first three matches in Football League. Since their draw against Karditsa (0-0 away in Day 1) they suffered to consecutive home defeats (Zakynthos 0-1, Iraklis 0-2). Their defeat from Iraklis 1908 was 100% fair but they do a lot better in the Cup where they have already got two wins (against Pierikos in the First Round) and one important draw against Kalloni (1-1 away). Aggelos Digozis has three problems for today but if his team will get the win they will make a very important step towards the next round.
Banned: Pehlivanopoulos (MID/2)
Not ready: Kiskabanis (DEF/1), Samaras (DEF/2)
Aiginiakos comes from an away defeat against Zakynthos (1-0). Their opponent scored an early goal and the players of Alekos Theodoridis spent the rest of the match looking for an equalizer than never came. They could not cause any real problems to the defense of their opponent and Zakynthos missed important chances for a safer winning margin. Their defeat in Day 1 of the Greek Cup (Asteras Tripolis 1-4) has left them out of the competition as it is almost impossible to win both remaining matches to qualify. Theodoridis is expected to rotate his lineup in order to test players that have not been used in official matches yet.
Out for different reasons: Tolios (GK/2), Giazitzoglou (DEF/2), Rikka (MID/0), Kynigopoulos (MID/0), Itsios (MID/0), Koutsospyros (FWD/2), Kostikos (FWD/0)
Betting Pick: Tyrnavos to win @ 2.70
I do not see why Aiginiakos should give any attention in the Cup when they need a miracle to qualify. The odds offered on the home side worth the risk.
Group 8: Chania – Olympiakos Volou
Teams in this Group:  Chania (3pts), Panathinaikos (3pts), Olympiakos Volou (0pts), Panetolikos (0pts)
Chania had a good start this season but on Friday they lost for the first time in the home match against AEK (0-2). They were one of the surprised in Day 1 of the Cup as they managed to get the win against a Super League club (Panetolikos 0-1 away) and take the lead in Group 8. Soulis Papadopoulos and his players look interested to qualify to the next round and even a point maybe enough for them. There seven absences reported.
Out: Konteon (DEF/1), Manikos (DEF/0), Andreou (DEF/0), Tabakis (MID/0), Ganotis (MID/0), Karagiannis (MID/3), Evaggelou (FWD/0)
The losing streak of Olympiakos Volou (Panathinaikos 0-1 at home for the Cup, Zakynthos 0-2 at home, Iraklis 1908) ended last Friday. The players of Nikos Pantelis got their first win in Football League in their home battle against Apollon 1926 (3-2) after a thrilling match where they got the lead (1-0 at 7'), but they received two goals (26', 56') that brought them close to a new defeat. Their determination was rewarded with two new goals (57', 59') and we should point out that they spent the rest of the match playing with a man down (second yellow at Barbas at 63'). Pantelis was pleased with the efforts of his players but he is expected to make changes in the lineup as the main goal of his team is the promotion to Super League. After all it will be very difficult to win both remaining matches against Chania and Panetolikos (Super League).
Banned: Barbas (DEF/3)
Injured: Hintzidis (DEF/1), Karras (DEF/0), Rokas (MID/0), Kornelatos (MID/1)
Betting Pick: Chania to win @ 2.00
I see a lot of action on the home win but do not bother to place your money in it for anything less than 2.00. Do not forget that a draw might be as good.
Group 1: Fostiras – Panachaiki
Teams in this Group: Olympiakos (3 pts), Fostiras (1pts), Panionios (1pts), Panachaiki (0pts)
Fostiras comes from a defeat against Acharnaikos (0-2 at home, they won the same team in the First Round of the Cup, 1-0 at home) which caused the reaction of the supporters. It was their third consecutive defeat in Football League and they are now the only team in Group 1 (South) without a point. Warzyha stated his intentions to quit after the match but the officials of the club talked him out of it. The players promised they will use their short break (Fostiras is the free team of Day 4 in Football League) to improve. They have one point in the Cup after the away draw against Panionios (0-0) and theoretically they have chances to qualify. However, their priorities may have changed after their weak start in their league.
Injured: Sakellariou (DEF/1), Cebeci (MID/2), Psychogios (FWD/1)
Panachaiki is the team with the fewer matches in domestic competitions. They were the free team of Day 1 in Group 1 (South) and their match in Day 3 was postponed. Their only official matches so far are the two for the First Round of the Cup against Paniliakos (3-0 at home, 1-1 away), their defeat in the Group Stage from Olympiakos (0-1 at home but they should have won that match) and the emphatic win against Iraklis Psachna (3-0) for Group 1. They look dangerous but we need a few more matches to understand what they are really capable of. Dimitris Spanos and his players still have chances to qualify as neither Fostiras nor Panionios look so interested in the Cup at this moment. There are seven absences reported.
Injured: Tsonis (DEF/0), Gadiaga Serigne (MID/1)
Other: Baroutas (DEF/0), Kontochristos (DEF/0), Maziotis (DEF/0), Skerletidis (MID/0), Kostoulas (FWD/0)
Betting Pick: Both to score @ 1.90
Warzyha will make changes in the lineup again as he is still in search of a good performance in offense. The players of Fostiras want him in the team and I do expect them to risk a little more today. From what I have seen Panachaiki is a dangerous team and the least I expect is to see is a result of Over 2.50 goals @ 2.20.
I would not really risk on the winner as both teams have a very difficult schedule. The next match of Fostiras is against Olympiakos while Panachaiki needs to win both of their away matches (Fostiras and Panionios) to qualify.
Group 4: Gazoros – Iraklis 1908
Teams in this Group: Platanias (3pts), Iraklis 1908 (1pts), Levadiakos (1pts), Gazoros (0pts)
Gazoros has played 5 official matches so far in all competitions and 4 of them ended as draws. The last one was against Fokikos at home (1-1) where they took the lead at 65' and they received the equalizer only two minutes later (67'). Makis Katsavakis and his players are still in search of their first official win. The experienced coach sounded very confident in his statements for the match against Iraklis 1908. He said he is aware their opponent has higher goals for this season however he is convinced his players can get the win. The next match of Gazoros will be at home against Levadiakos (Super League).
Absences: None, full roster
Iraklis 1908 struggled to qualify to the Group Stage against Lamia (1-0 at home, defeat 2-1 away) but they keep improving since then. They started their season in Football League with an excellent record (3W-0D-0L, goals 4-0) and the morale of the players is superb. Their home draw against Levadiakos (1-1) in Day 1 of Group 4 was a positive result but they need a win today if they really want to make it to the next round. The reason is their next match in this tournament is also held away (Platanias, Super League). Nikos Papadopoulos decided to leave two of his key players out.
Out to rest: Huanderson (GK/2), Perrone (FWD/2/2 goals)
Betting Pick: The win of Iraklis 1908 @ 2.50
This match is open to any result and I really cannot blame the bookies for offering for the sets of odds they are offering. I picked Iraklis 1908 for three reasons. The first is their good history against Gazoros (3W-1D-0L). The second is that in theory they have more chances for a top two placement because they have already got one point (Gazoros has 0). Finally, the third is that they do have superb morale after their recent positive results.
Group 5: AEK – Iraklis Psachnon
Teams in this Group: Atromitos (3pts), AEK (1pts), Panthrakikos (1 pts), Iraklis Psachnon (0pts)
AEK is leading the standings in Group 1 (South) as they were expected. They do have the stronger roster in Football League and a top favorite for promotion but so far their performances (mainly stressed wins) are not enough to explain why the bookies keep offering them in very low odds. Their away draw against Panthrakikos (0-0 away) in Day 1 has kept everything open for them in this tournament but they will need the win today because their last match will be against Atromitos at home and they cannot be sure they will win it. I remind you the club is interested in the Cup and this is why their officials invested a lot in the roster of this season. Traianos Dellas is expected to make changes in the starting lineup today but he has a lot of good players available.
Absences: Nothing important reported
Georgios Koutsis was troubled with the performance of Iraklis Psachnon in the last home match against AOT Alimos (0-0). In his statements that followed he said some of his players had an average performance and this is why his team failed to get the three points. They were a bit unlucky at 84' when Posinković came very close to score but Bantikos (GK of Alimos) managed to stop him. The match against AEK was expect to be difficult anyway but things got a lot worse for Iraklis Psachnon as four players were suddenly left out for disciplinary reasons.
Injured: Melissas (GK/0), Vassilios Patsatzoglou (DEF/0), Christos Patsatzoglou (DEF/0)
Other: Randi (MID/2), Hatzistamou (FWD/0), Nakas (FWD/2/1 goal) and Politis (MID/0) were left all out because of a disciplinary breach.
Betting Pick: AEK (-1) to win @ 1.65
AEK is more confident at OAKA and my guess is they can get a win by 2 goals against an opponent that has a lot of issues to solve at this period. I will not be surprised if I will see and emphatic win here that will help their confidence before the upcoming match against the hated rivals of Atromitos.