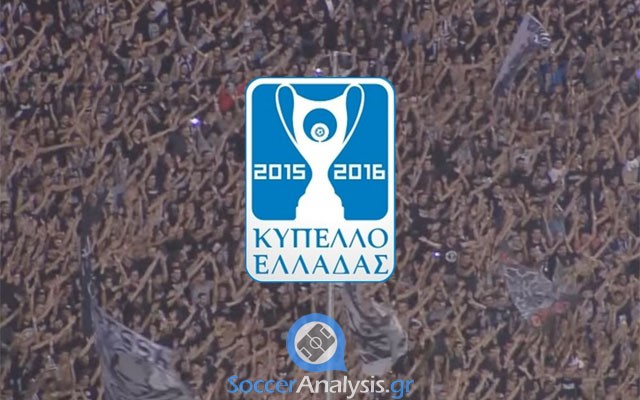 Two Greek Cup matches this Tuesday
The Third Round of the Greek Cup (or Round of 16) starts today with two battles. Larissa (one of the three Football League teams) will face Asteras Tripolis while Veria will play against Iraklis 1908. I remind you this round has double matches (away goals rule). The teams that finished second in the Group Stage will play the first match at home which means that the strong teams (the ones that finished first) have an advantage for the rematch. Let's have a look at the previews.
Important notice for the Cup
*The stats of the players include only league appearances in order to show you how important they are to their teams until now.
*Changes in the odds of OPAP (Greek bookmaker) are available here.
Analysis: Larissa – Asteras Tripolis
Larissa is among the few teams that have won this tournament twice (2006-07 and 1984-85) and they have reached the Final four times (1981-82, 1983-84, 1984-85 and 2006-07). This season, their goal of promoting to Super League looks closer than ever. They had a great start and they currently hold the first place with Apollon Smyrnis. Their last match was on 20/12/15 when they won the home battle against Trikala (2-0) that is currently third. December was not a good month for them (1W-1D-2L in both competitions). Do not pay attention in their last humiliating defeat in the Cup from AEK (0-5) as they rotated their lineup and their (stronger) opponent did not. Higher attendance numbers are taken for granted today and I do expect them to give their best for anything they can get. Ratko Dostanić will have to deal with two problems.
Injured: Vertzos (DEF/11), Kapos (FWD/5/1 goal)
Asteras Tripolis ended a losing streak of four games in the recent home win against Panthrakikos (4-0) last Saturday. They looked very tired before the break due to their European obligations. Their journey in the Europa League is over, they got some rest and normally they will secure their place in the Play Offs very soon. The Cup tournament is within their goals as they are always aiming at the Final (finalists 2012-13). The next match against Larissa is not as easy as it looks. These two met again for the Cup in season 2012-13; Larissa was not as strong back then but they did manage to get a draw (0-0). Coach Verghetis will not have 10 players available.
Injured: Košický (GK/5), Bertoglio (MID/8), Massa (MID/13)
Out to rest: Bantis (GK/4), Goian (DEF/8/1 assist), Lluy (DEF/14/1 assist), Panteliadis (DEF/8), Zissopoulos (MID/10), Iglesias (MID/14/1 goal), Lanzarote (MID/9/1 assist)
Betting Pick: The handicap win of Larissa (+0.5) @ 1.65
The emphatic win of Asteras Tripolis against the unpaid players of Panthrakikos can be a little tricky. Larissa will fight hard today and we should not forget the re-match will be held at Tripoli where Asteras is a lot stronger. I believe the home team can get a positive result today and, considering the strange away behavior of Asteras in Super League (3W-1D-4L) I am ready to risk on the home win @ 3.20.
Analysis: Veria – Iraklis 1908
*This season in Super League (23/11/15): Veria – Iraklis 1908 0-0 in a match that was later investigated for match fixing by the Greek authorities.
Veria finished the Group Stage of the Cup with two wins (Kallithea 1-0 at home and Lamia 0-1 away) and one draw (Atromitos 2-2 away). Their strange behavior in Super League continues as they have 1W-2D-5L at home and 3W-4D-1L away. They suffered their first away defeat from Giannina (2-0) last Saturday. The home team scored first at 10' and Veria spent the rest of the match looking for an equalizer (total attempts 11-13). The red card at Giannoulis (82') was followed by a new goal for Giannina at (84') ending any hopes for a point although Veria probably deserved it. Georgiadis will not have the services of 7 players.
Banned: Giannoulis (MID/13)
Injured: Kali (DEF/0), Balafas (MID/0), Verghonis (MID/8), Youssouf (MID/9)
Out to rest: Lopez (GK/11), Mallon (DEF/11)
Iraklis 1908 comes from a home win over Kalloni (3-0) which was not as easy as the final score shows. Believe it or not, the total number of chances was 6-13 (!) but Iraklis had 24 year old forward Vellios on a great day. His hat trick (15', 43' penalty kick and 70') combined with the inefficiency of Kalloni in offense explain how they got the three points. Do not get me wrong, Iraklis was more serious and efficient. All I am saying is that a win like 2-1 would be more accurate. So far the players of Papadopoulos are dangerous both at home (3W-3D-2L) and away (2W-3D-3L) in Super League. My guess is they do have good chances for a positive result today. There are 5 problems reported.
Injured: Lazăr (MID/6/1 assist), Karassalidis (DEF/7), Passas (FWD/14/2 assists), Perrone (FWD/10/1 goal/1 assist)
Doubtful: Bulut (FWD/8/1 goal/1 assist)
Betting Pick: The draw at 3.00
Let me put it this way. From all the pairs that we have in this round, Veria and Iraklis are the most probable to reach a penalty shootout. They are both safe in the standings and capable of avoiding the defeat when playing away. This is why I chose the draw today. If I will be proven right, I will do it again in the rematch.