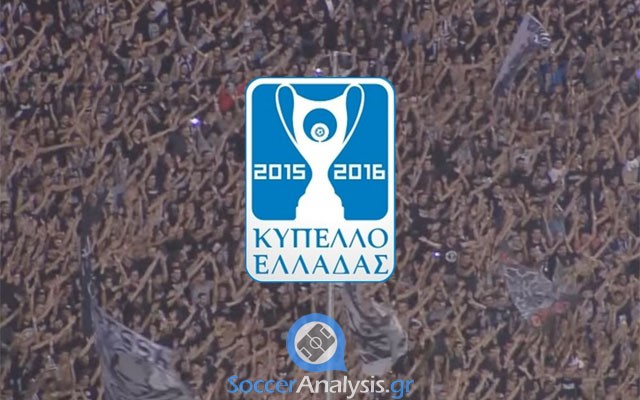 The Semi Finals are finally here.
I was too busy in February and I had to leave you on your own at the Quarter Finals of the Greek Cup. My tight schedule is getting back to normal and I found some unexpected time to write this article on how I see the four candidates of the Semi Finals. I hope you will find it useful.
*The titles contain the records of the 4 teams in Greek Cup 2015-16 since the tournament started in a total of 7 matches they have played.
AEK: 7W-0D-0L, goals 20-1
AEK concentrated on the Cup because they knew since Day 1 this would be the only way for them to satisfy their (many) fans. Let's not forget they were promoted to Super League this season after the bankruptcy they filed three years ago (which lead them to Football League2). They look like they have learned their lesson and they are taking slow but steady steps. The unexpected weak performances of PAOK and Panathinaikos allowed AEK to hold the second place with ease and their morale is superb after the recent wins over Olympiacos and Panathinaikos (both with the same score, 1-0). They want the Cup trophy badly and they hope to run into Olympiacos in the Final.
Olympiacos: 5W-2D-0L, goals 24-5
For one more year Olympiacos dominated Super League. They mathematically ensured one more easy title last Sunday and became the first team to win a competition in Europe so early. Their roster cannot be compared to any of the rest domestic teams. The fans were hoping for a good season in Europe as well but Olympiacos showed up weaker than expected in crucial matches (Arsenal 0-3 in the last day of the Group Stage when they needed any result, even a defeat by one goal and, Anderlecht 1-2 in overtime at the Round of 32 in Europa League). In theory they are pissed off with AEK after the recent defeat at OAKA (1-0, first defeat of the season). Their statements show they want to meet them again in the Cup Final but it will be a huge mistake to underestimate PAOK. Their matches since mid-January show they have lost part of their energy and their motive.
Atromitos: 4W-3D-0L, goals 11-5
A disastrous year for Atromitos. The quick end of the Europa League obligations (last summer) was supposed to be a warning. They started the season with 2/2 wins in Super League over Levadiakos (1-0) and Platanias (1-2 away) and then blacked out with a negative record of 1W-0D-9L! This explains why they are stuck between places 13 and 14 right above relegation. They take the Cup tournament very seriously in general. This is why they reached the final twice in seasons 2010-11 (defeat from AEK, 0-3) and 2011-12 (unfair defeat from Olympiacos in overtime, 2-1). Right now, reaching the Cup Final will be a perfect way to revenge the hated rivals of AEK for lost Cup title of 2010-12. Then they can hope for the best in the Final. Double motive here as coach Dellas (Atromitos) feels betrayed for the way his former team (AEK) sacked him after 2 successful seasons which brought AEK back in Super League…
PAOK: 3W-3D-1L, goals 13-6
In past seasons PAOK had many good excuses (debts, weak roster etc.) for disappointing their (demanding) fans but this time they have run out. The owner of the club, Mr. Savidis, paid all past debts and PAOK became the second strongest team in Greece (financially). The choices they made for one more time were not enough, at least not for they goals they have set. The Europa League journey was supposed to last longer but it did not. Then they focused in Super League (where they struggle to keep their Play Off place) and the Cup (where they lost from Kalloni and moved to the Semi Finals with two draws against Panionios, 1-1 away, 0-0 at home). No wonder the fans are often furious at many of the players while coach Tudor is constantly criticized. Normally, they should be the most motivated team of the Semi Finals. The big question is if they can be trusted after so many failures especially when everyone on the team is under so much pressure…