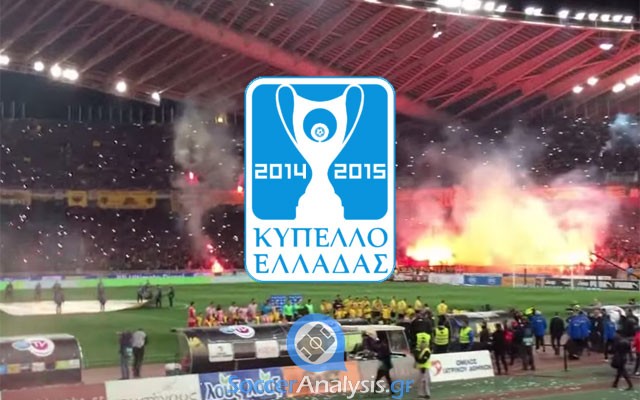 Everything looks vague
The opening day of Football League was postponed due to the financial problems of all clubs. The officials are negotiating with the hope to increase their revenues from the sponsors and the next possible starting date is 11/10/2014. Most teams are a mystery at this moment and it is impossible to know if they are ready for official matches. Super League clubs seem to have the advantage but we should keep in mind many of them are expected to be less interested in the Cup competition. With four teams relegating it is logical to focus on how to stay away from problems. The brief previews and betting picks for Tuesday:
Analysis (Group 4): AEP Iraklis 1908 – Levadiakos
*Group 4: AEP Iraklis 1908, Gazoros, Levadiakos, Platanias
Iraklis 1908 won the first match against Lamia (1-0 at home) but they were under a lot of pressure in the rematch. They got the lead at 15' (Toskas) but Lamia scored at 42' and got the lead at 78' (Yenga, penalty kick) turning the match into a thriller. The score did not change and Iraklis 1908 made it to the Group Stage because of their away goal. Their summer transfers showed their intensions to be after the Play-Offs of Football League again.
Absences: Coach Papadopoulos left seven players out but only Bartolini and Bamba (injured) are considered important.
Levadiakos had a superb start in Super League with a draw against Panathinaikos (1-1, neutral ground) but their record after 4 matches (0W-2D-2L) shows they still need work. They come from an away defeat from Xanthi (2-0). The home team was in control and scored during the first half (37' Kapetanos) and things became more difficult when Levadiakos was left with a man down at 77'. Their efforts for a late equalizer were not successful and they were punished for their risk with a second goal at 90' (Cleyton). Coach Pantelidis stated their defeat was fair and that his players never responded to the needs of this match.
Banned: Zito (MID/4)
Injured: Ortega (FWD/3)
Out to rest: Stratilatis (GK/4), Pinter (DEF/4), Georgiadis (MID/3), Mantzios (FWD/3)
Betting Pick: 1X double chance @ 1.60
I cannot explain the favoritism the bookies show to Levadiakos. They are less confident when playing away (0W-1D-16L on 2013-14 and 0W-0D-2L this season) and I doubt they will be any different tonight with 6 key players out. The win of Iraklis 1908 @ 3.20 looks like a value bet. After all, Levadiakos must concentrate on how to avoid relegation instead of chasing the Cup.
Analysis (Group 5): Iraklis Psachnon – Atromitos
*Group 5: AEK, Atromitos, Iraklis Psachnon, Panthrakikos
Iraklis Psachnon failed to win Episkopi at home (1-1) and entered the Group Stage after their away win at Crete (0-2). Both goals were scored during the first half (28', 45' penalty kick) and their good performance in defense prevented Episkopi from getting back in the match. Coach Koutsis was not happy with the results of the draw for the Group Stage but he stated his players will give their best in all three matches. There are four absences reported.
Injured: Patsatzoglou (DEF), Sikalias (DEF), Kotitsas (MID)
Other: Košutić (FWD)
Atromitos was expected to have a better start in Super League this season because they started their preparation earlier (Europa League obligations). Their failure to qualify in Europa League was supposed to motivate them to do better. Their (2W-1D-1L) with a relatively easy schedule and their last away defeat from OFI (1-0) made the owner of the club, Mr. Spanos, furious with the players. Coach Paraschos decided it would be better for him to leave and the club is very close to sign Mr. Sa Pinto (former coach of OFI) before the difficult upcoming match against Olympiakos. Mr. Korakakis will be at the bench today.
Absences: Cennamo (GK/4) is out to rest. Napoleoni (FWD/4) is banned for two matches (disciplinary breach). Aguazi (MID/0) is not ready yet.
Betting Pick: Atromitos to win @ 1.70
Atromitos has many good players and one way or another they will find their way as long as they solve their scoring problem. It is strange to watch them struggle but this match looks great for a new start. After all, they are always interested in the Cup Competition and they have reached the final twice in seasons 2010-11 and 2011-12. As I said earlier, Atromitos does not have obligations in Europe and, with their roster, this is a great chance to watch them reaching the final again.
Analysis (Group 1): Panachaiki 2005 – Olympiakos
*Group 1: Fostiras, Olympiakos, Panachaiki 2005, Panionios
*Panachaiki faced Olympiakos in two Cup matches on 2012-13. They lost the first match (2-0 at Karaiskakis) after a good performance. The second match was abandoned at 87' while the score was 1-1 because of the riots that took place between the supporters of the two clubs.
*The officials of Panachaiki were hoping for a sold out in this match but the authorities denied the presence of Olympiakos' supporters for safety reasons.
*Mitroglou did not obey the instructions of his coach and executed the penalty kick that gave Olympiakos the lead on Saturday (33'). Dominguez was supposed to do it and the two players came very close to a fight but everything was solved during the break for halftime.
The home win of Panachaiki against Paniliakos (3-0) was more than enough to get them to the Group Stage. Their away draw (1-1) made no difference and now they will face the best club in Greece, Olympiakos, with the hope a good performance. Coach Dimitris Spanos is pleased with the progress of his players during the preparation period. The relations between the two clubs used to be tensed because of the constant accusations of Mr. Koughias (owner of Panachaiki) that Mr. Marinakis (owner of Olympiakos) is fixing matches in both Super League and Football League. This season the interest of Olympiakos for player Pleghas changed the hostile attitude of Mr. Koughias. He actually stated he will do anything within his power to make this match a celebration of Greek soccer…
Absences: Kontopidis (GK), Tsonis (DEF), Karghas (DEF), Skerletidis (MID)
The last home win of Olympiacos against Veria (3-0) was not as easy as the final score shows. The Champions rotated their lineup after their important home win against Atletico Madrid (3-2) and they had to wait until 88' to lock their win. The third goal came at 92' when Veria had surrendered. Mr. Míchel will rotate the lineup but this does not change the fact Olympiakos is a top favorite for both domestic competitions. Even their substitute players look like a luxury for any other Greek club.
Injured: Salino (DEF/1), Dossevi (MID/2)
Out to rest: Roberto (GK/4), Abidal (DEF/3), Maniatis (DEF/1), Elabdellaoui (DEF/3/1 assist), Masuaku (DEF/4/1 assist), Kasami (MID/4/3 goals), Milivojević (MID/2/1 assist), Afellay (MID/2/1 goal), Dominguez (MID/4/1 goal) and Mitroglou (FWD/2/1 goal).
Betting Pick: Olympiakos to win by one goal @ 4.00 and by two goals @ 3.85
Even the secondary lineup of Olympiakos can be enough for a win here. Most of the bookies are afraid to offer handicap options but you should be able to find bets like this one and double the amount of money you spent with equal bets.