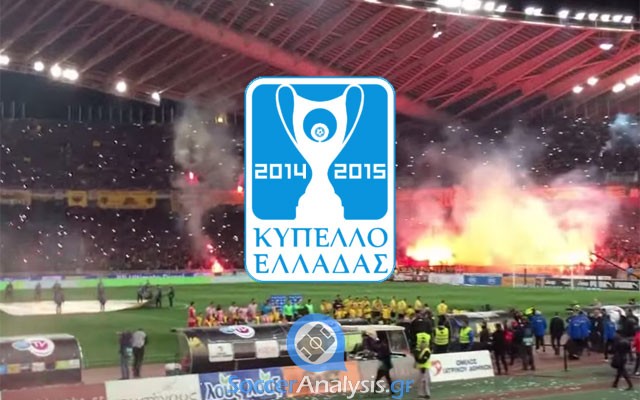 Crazy odds again
Tuesday turned out to be a good day since most of the information we collected was accurate. The reason I am using the word "most" is because Olympiakos won the away match against Panachaiki after an own goal by Karghas who was supposed to be out of the roster…
We have ten more matches available today for the Group Stage of the Greek Cup and I cannot help wondering why the bookmakers insist on offering odds which do not depict the risk involved for us. We'll soon find out if I am right or not. The previews and value bets for Wednesday:
Analysis (Group 3): Skoda Xanthi – Niki Volou
*Group 3: Niki Volou, OFI Crete, Skoda Xanthi, Zakynthos
Skoda Xanthi had a weak start Super League and coach Tsiolis was sacked after Day 3 (0W-2D-1L). The change at the bench is not completed yet but Xanthi looked improved in the home win against Levadiakos (2-0) last Sunday. Mr. Nentidis is in charge until further notice and he called up 18 players for Cup match. The next away match against Panionios (Saturday) may be a good chance for Xanthi to recover some of the lost points so changes in their starting lineup should be expected.
Injured: Triadis (MID/0)
Other: Wallace (DEF/2), Karypidis (DEF/3), Calvo (MID/0)
Niki Volou was unlucky to have a very difficult schedule in their first season in Super League. They have 0W-0D-4L after facing Olympiakos (3-1 away), Atromitos (0-1 at home), PAOK (3-0 away) and Ergotelis (1-4 at home). Sven Vandenbroeck (assistant coach) replaced coach Vloet before the last match against Ergotelis but nothing changed. Their defense was poor again and now they are officially the ONLY team with zero points after 4 matches. The officials of the club have called for an urgent meeting on Friday and the least that is on their mind right now is the Greek Cup.
Absences: Marinakis (DEF/4) is ill. Changes in the lineup are expected.
Betting Pick: Xanthi to win 1.55
The home team is theoretically in a better moment and they are usually interested in the Cup. Logically Niki Volou should start to show signs of improvement but this does not change the fact Xanthi is the favorite for the win here.
Analysis (Group 3): Zakynthos – OFI Crete
*Group 3: Niki Volou, OFI Crete, Skoda Xanthi, Zakynthos
Zakynthos qualified to the Group Stage of the Greek Cup without a match. Their opponent, Doxa Dramas, was unable to participate and their two scheduled matches were won by 3-0 after the decision of the Hellenic Football Federation. Their roster has changed a lot since last season and they are also under a new coach, Mr. Aquino. Their only strong test in their friendly matches was on 17/09/14 against Panaigialeios (2-0 defeat).
Absences: Nothing reported. Coach Aquino will announce the roster a few hours before the match.
OFI has 2W-0D-2L after four matches in Super League. Last Saturday they got a very important home win against Atromitos (1-0) after a goal by Perogamvrakis at 46'. Mr. Gatuzo was pleased with the efforts of his players as they were very careful in defense against a dangerous opponent. The two teams had almost the same number of attempts on goal (9-8) but OFI wanted the win more. Mr. Gatuzo was furious in his statements after the match. The reason was an inaccurate article which triggered rumors about him leaving OFI because of the many problems he is facing. The club's officials supported him 100% with a press release on Monday. A total of 18 players were called up for the next match.
Injured: Šišić (MID/0), Razak (MID/2)
Other: Ghiagiozis (GK/0), Bolakis (DEF/0), Fernández (DEF/1), Meite (DEF/4), Apono (MID/0), Merebashvili (MID/0), Manidakis (FWD/0), Petropoulos (FWD/3/1 goal).
Betting Pick: 1X Double chance @ 2.30
Zakynthos was deeply influenced by the home ground effect last season with 9W-1D-3L (goals 21-8) in 13 matches. Their away record was 1W-0D-12L (goals 4-27)… I do realize OFI is a Super League team but they not as strong when playing away and they also have difficulties in scoring. No matter what happens, the real value bet in this match is the win of Zakynthos @ 6.50.
Analysis (Group 4): Platanias – Gazoros
*Group 4: AEP Iraklis 1908, Gazoros, Levadiakos, Platanias
Platanias has 1W-0D-3L in Super League after 4 matches but my overall impression is they keep improving. Their performances away from Perivolia were good (defeat from Atromitos 1-0 but they deserved more, away win against Ergotelis 0-3) but they were unlucky to face PAOK (0-4) and Panathinaikos (2-3) at home. Their last match against the Greens was not bad but their defense was their weakness. Coach Christopoulos is expected to make changes in the lineup.
Absences: The last training was completed without problems. Olimpa (GK/2), Nepliakh (DEF/4/1 assist), Coulibali (DEF/3/1 goal), Mahamat (MID/4), Aguilera (MID/4), Gomes (MID/2/1 goal/1 assist) and Torres (FWD/4/2 goals) were left out.
Gazoros did not manage to win Karditsa in any of the two matches of Round 1. It was their away goal in the draw of the first match (1-1, re-match at home: 0-0) that made all the difference for them. Coach Katsavakis has an average roster which is expected to stay away from relegation problems in Football League. There are two absences reported.
Injured: Savidis (MID), Hatzidimitriou (MID)
Betting Pick: Both to score @ 2.10
My guess is that the defensive problems of Platanias will not be solved in one day. They are fond of using counter attacks instead of gaining the control of a match (like they will attempt today) and Gazoros should be able to take advantage of this. My next option is a result of Over 2.5 goals @ 2.40 because I do not want risk on a winner.
Analysis (Group 5): Panthrakikos – AEK
*Group 5: AEK, Atromitos, Iraklis Psachnon, Panthrakikos
*Season 2012-13 (Match Day 29): AEK is desperate for points in the home match against Panthrakikos at OAKA. A late goal of their opponent causes the reaction of the supporters and the match is abandoned at 87′ and AEK is officially relegated.
Panthrakikos got the first win of the season in the last home match against Panionios (1-0) and they currently have 1W-2D-1L. Coach Mantzios is pleased to see the team improving and this is why he is not expected to make many changes in the starting lineup. Higher attendance numbers are taken for granted because of AEK.
Absences: Fernandes (GK/3), Romeu (MID/0)
AEK had no problems against Fokikos in Round 1 and they qualified with two wins, 4-0 at home and 0-1 in Amfissa. Coach Dellas has the most expensive roster in Football League and the goals for this season are two. The first is the return of the club in Super League where it belongs. The second is to go as far as possible in the Greek Cup (always with a hope to run into a hated opponent). Only two teams will qualify in each group which means that AEK must get at least one win against Panthrakikos (away) or Atromitos (at home) to get the job done. Logically Iraklis Psachnon is too weak to get in the way.
Injured: Brečević (FWD)
Betting Pick: The draw @ 3.20
Atromitos got the win against Psachna yesterday (0-1 away) and this is expected to add more stress to Panthrakikos and AEK. I believe they are both interested in the Cup and I cannot understand why the bookies favor AEK so much. Panthrakikos might have a lower market value (€7.90 million, AEK has €10.7 million) but their roster has not changed a lot. They are more reliable at home and they do have one of the best coaches in Greece at this moment. I just do not think the home team will be as easy as the bookies want us to believe.
Analysis (Group 6): Veria – Ermionida
*Group 6: Apollon Smyrnis, Ergotelis, Ermionida, Veria
Veria had a superb start in Super League (3W-0D-1L) and they do not intend to repeat their last poor season. They were defeated for the first time in the away match against Olympiakos (3-0). The Champions scored the first goal with a penalty kick (33') and they actually had to wait until 88' to lock their win. The third goal at 92' came to set the final score at a point where Veria had given up. Coach Granero is expected to make changes in the lineup to rest key players for the upcoming match against Giannina.
Injured: Kali (DEF/3) Esparja (MID/new transfer), Ben (FWD 2/1 goal/2 assists)
Ermionida was one of the greatest surprises of Round 1. The newcomers of Football League lost the first home match against Panaigialeios (0-1) but they managed to get an away win in the rematch (1-2) which brought them to the Group Stage. What is really interesting is that they received a goal in the first half (8') but they found the strength to turn everything around (46', 53') and punish their opponents for underestimating them. They are considered they weakest team in Group 6. Coach Bolano and the players hope for a new positive result but their task will not be easy.
Injured: Bousinakis (FWD)
Betting Pick: Veria to win (-1) @ 2.05
Veria is doing great and the rest of the teams in Group 6 make it highly probable to see them qualifying to the Round of 16. I cannot see why they should fall in the same trap with Panaigialeios. They have the experience and the roster to get a professional win.