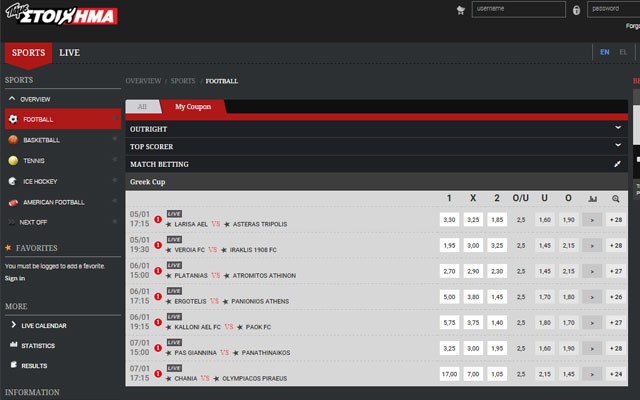 Greek Cup: The Odds of the Third Round
For those of you who may not know it, OPAP used to monopolize the Greek betting industry (not any more) and they have a deep knowledge of all domestic competitions like the Greek Cup.  I always look for changes in their sets of odds before placing my bets by comparing the printed version of their coupon (it is released 24-72 hours before kickoff) with their online odds, usually 5-8 hours before kickoff.
Keep in mind that OPAP always offers lower sets compared to the fixed odds (1X2) of any online bookie (3-5%). A set like 2.10-3.10-3.40 in Bet365, will look like 1.95-3.00-3.25 at OPAP. Why do you need to know this? In our example, if you see Bet365 reducing the odds on the home win to 1.90 while OPAP insists on 1.95 (or maybe increases it to 2.00) it is highly probable OPAP will be proven right in the end.
Attention: I only use this comparison trick in Greek competitions. Furthermore the changes that you see below (highlighted in red) were true when this article was published. I advise you to check them again before placing your bets. Their online odds are available at www.pamestoixima.gr.
Larissa – Asteras Tripolis (05/01/16)
Printed version: 3.30-3.25-1.85
Online: 3.15-3.10-1.95
Veria – AEP Iraklis 1908 (05/01/16)
Printed version: 1.95-3.00-3.25
Online: 1.95-3.00-3.25
Platanias – Atromitos (06/01/16)
Printed version: 2.75-3.00-2.20
Online: 2.50-2.90-2.45
Levadiakos – AEK (06/01/16)
Not offered
Ergotelis – Panionios (06/01/16)
Printed version: 5.00-3.80-1.45
Online: 7.00-4.30-1.28
Kalloni – PAOK (06/01/16)
Printed version: 4.30-3.65-1.55
Online: 6.25-3.90-1.35
Giannina – Panathinaikos (07/01/16)
Printed version: 3.25-3.00-1.95
Online: 3.25-3.00-1.95
Chania – Olympiacos (07/01/16)
Printed version: 14.50-6.25-1.08
Online: 17.00-7.00-1.05
As you see, four matches are already under pressure by the punters and OPAP has changed the odds to reduce probable payouts. I will do my best to update this article again as the Cup matches will be played until Thursday.
05/01/16 (16:20). New changes updated.