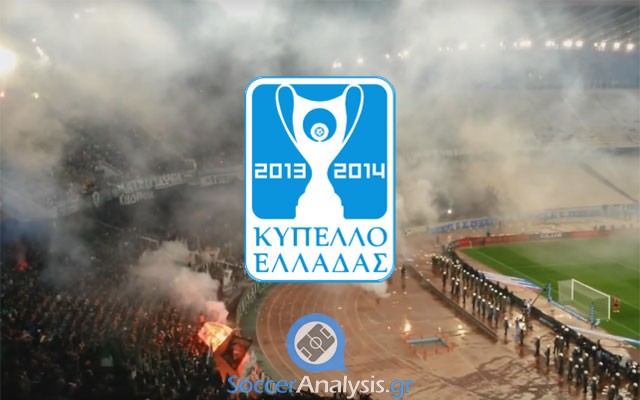 The authorities will be very busy tonight
Athens is having a hard time today. Almost 22.000 fans of PAOK are arriving to support their team and the rivalry that holds for decades between teams from Athens and Thessaloniki has turned this match into a time bomb. More than 4.000 policemen will be at OAKA today and the stadium will be turned into a fortress with the fear of new hooliganism acts. Things are more complicated as the officials of both clubs are afraid that fanatics of other clubs (they mostly imply Olympiakos') would love to set this match on fire. I am not optimistic things will be calm but I sincerely hope the authorities will prove me wrong.
The preview and betting pick for the Cup Final:
PANATHINAIKOS vs. PAOK
Note 1: This match is a domestic rivalry battle. The fans of PAOK are not fond of any team located in Attica and especially the ones that are more popular (Olympiakos, Panathinaikos and AEK).
Note 2: Attention. The final will be held at Olympic Stadium of Athens (OAKA). It is a single match where away goals DO NOT count. In the case of a draw there will be overtime and a penalty shootout if needed.
Note 3: Panathinaikos is more familiar with OAKA because it was their home for many seasons in the past.
Note 4: The referee of the match, Mr. Kakos, is considered by many the best active referee. He was also voted by the players on February as the best referee of season 2012-13. He has a strong personality and he is usually not biased by the name of any team. He has attended three Cup finals:
2008-09: Olympiakos vs. AEK: 3-3 (4-4 overtime, 15-14 penalty shootout)
2009-10: Panathinaikos vs. Aris: 1-0
2010-11: Atromitos vs. AEK: 0-3
Panathinaikos had a weak start in the regular season in Super League and many experts harried up to say they could be involved in relegation battle having in mind the recent example of AEK. The lower budget combined with the presence of many young players and a new coach with no experience at the bench of a major club, were not good signs. Mr. Anastassiou and his youngsters had the support of the officials and the fans at all times and the result was very satisfying. Panathinaikos kept improving from match to match. Their tactic is simple. Teamwork, constant pressure and fast executed attacks (or counter attacks). The most important thing of all is that the team follows this tactic everywhere. It doesn't matter where they play or who they face. They will do their thing and they will look for the best. They were not the stronger home team in Super League (12W-2D-3L, goals 31-14) but they managed to be the second most dangerous away opponent (8W-4D-5L, goals 26-14). Mr. Anastassiou sounded very optimistic in his statements for the Final and he will have to deal with one absence for this match.
Banned: –
Injured: Bajrami (MID/8) long absent
The officials of PAOK were hoping this would be the season their team would end the domination of Olympiakos in Super League but they were proven wrong. PAOK was unable to keep up with the Champions mainly because of the poor away performances (5W-5D-7L, goals 26-29). Things were a lot different at Toumba (16W-1D-0L, goals 41-8) where the team is traditionally stronger. They used their home strength to qualify to the Final against Olympiakos (1-0, they lost first match at Karaiskakis by 2-1). Unfortunately a lot of bad things took place in that match as a result of the fanatic behavior of the supporters and the players. Mr. Georgiadis is doing his best at the bench after the termination of Mr. Stevens' contract almost two months ago but he has not been able to change the negative away streak of PAOK. The team has not won in the last 8 away matches (0W-3D-5L) regardless of how strong of weak the opponent was. The Semi Final against Olympiakos was successful but on Monday the disciplinary committee of the Hellenic Football Federation will decide the penalties for PAOK and they are expected to be heavy. There are important absences reported for this match.
Banned: Katsouranis (MID/26/2 goals/3 assists), Natkho (MID/11/2 goals/4 assists), Athanassiadis (FWD/24/9 goals/3 assists)
Injured: Maduro (DEF/9/2 goals)
Betting Pick: Panathinaikos to win @ 2.50
Any odds on the win of the Greens at 2.50 or more are a value bet. PAOK has a better roster but they also have important absences that could make the difference in this match. The two teams have met twice so far (they will also meet twice in the Playoffs) with PAOK winning the match at Toumba (2-1 with Panathinaikos taking the lead by 0-1) and the Greens winning the match at Apostolos Nikolaidis a lot easier than the 2-1 score shows (they should have scored at least 4 goals that day).
PAOK has built an interesting negative streak against teams from Attica this season. They lost from Olympiakos (4-0), Panionios (2-0), Panathinaikos (2-1) and they had draws against Atromitos (1-1) and Apollon (3-3 after taking a lead by 0-3!). Their only positive result in Athens came in their emphatic away win against Kalloni (2-5) that was using OAKA as a home ground because their venue at Mytilini was under maintenance works. The two rivals had a total of three goals in both of their matches this season therefore a result of Over 2.5 goals @ 2.10 is highly probable to come up again.
P.S: The authorities will have a lot of work today. Have a look at what I am talking about…
ΕΡΧΟΜΑΣΤΕ!!!! #paok pic.twitter.com/TGa3gUJngt

— Γιαγιά Ντακ (@deskaras) April 26, 2014
Procesión PAOK hacia Atenas, la autovia ocupada 🙂 pic.twitter.com/gf2p2UPe6e — Ibai Trebiño (@errusiarzalea) April 26, 2014