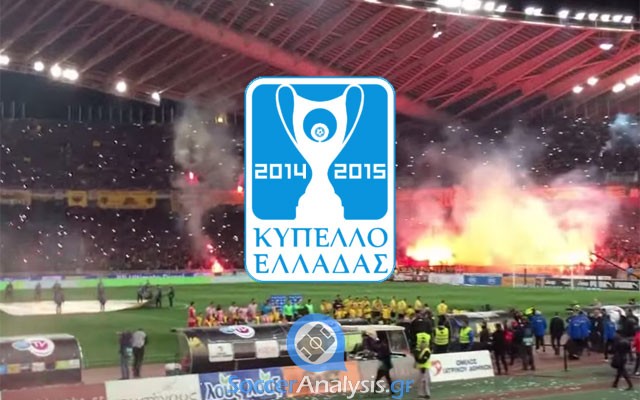 Chania and Xanthi look promising but…
Our main bets for the Wednesday matches of the Greek Cup were 100% accurate and proved once again why it is important to focus only in a few competitions. Things make a lot more sense when we pay more attention and we only get a few chances each season which can determine our profit or loss. There are two matches available today for the Quarter Finals, our time is limited, so let's see what we've got:
*Attention: Double matches, away goals rule.
Analysis: Chania – Apollon Smyrnis
*This season: Apollon Smyrnis – Chania 1-0 (Football League, Group South)
Chania have not won in Football League (Group South) in their last three matches (Ermionida 1-3 at home, Fostiras 0-0 away, AEK 4-1 away) but they are doing a lot better in the Cup where they have a huge chance to reach the Semi Finals as long as they survive the two battles against Apollon Smyrnis (same group in Football League). The return of Soulis Papadopoulos on 28/01/15 was combined with the amazing away win against Giannina (Super League club, 1-2 away) and a thrilling penalty shootout (3-5). He may be still in search of his first league win but it looks like Chania are more interested in the Cup in this period. There are four problems reported.
Banned: –
Injured: Pagonis (DEF/11), Papatzikos (DEF/3), Karagiannis (FWD/12/1 goal)
Other: Papakonstantinou (DEF/0, new transfer)
Apollon Smyrnis had no obligations in Football League last weekend as their away match against Paniliakos was cancelled. Three easy points were added to their efforts to ensure a place in the Play Offs and their undefeated streak was expanded to five matches (4W-1D-0L). Their last official match was against AEK (1-1) where they proved they deserve their place in the standings (third). Coach Vosniadis decided to rest some players as the Cup is less important than securing a place in the Play Offs.
Banned: –
Injured: –
Other: Pashaj (GK/0), Georgiou (DEF/4), Hatzizisis (DEF/13), Karademitros (MID/5/2 goals), Farinola (FWD/13/3 goals), Bambam (FWD, new transfer)
Betting Pick: The win of Chania @ 2.40
Chania are not the kind of team we can trust but they had some good results in the previous rounds of the tournament. The absences of Apollon Smyrnis can help us get paid here. The odds are fair and I would take this bet any day especially when the home team looks more interested in the Cup than Apollon.
Analysis: OFI Crete – Skoda Xanthi
*This season: OFI Crete – Xanthi 1-0 (Greek Cup Group Stage, 30/10/14), Xanthi – OFI Crete 2-1 (Super League, 08/11/14)
OFI is struggling to stay alive and I must say I am impressed by their efforts. Their home win against PAOK (3-1) was not enough to give them the boost they needed to get more points. They lost the following match against Ergotelis (3-2) which was very critical for their future and I really wonder where on earth they will find the points they need! That is of course, if the keep finding the money needed to survive. Their two wins against Panthrakikos in the previous round of the Cup mean nothing to me as it became obvious that their opponent wanted to exit the tournament. Coach Anastopoulos will have the exact same roster available for this match.
Banned: –
Injured: –
Other: The Hellenic Football Federation has not approved the licenses of all winter transfers. Most of them are young players (OFI has age restrictions because of debts) and Mr. Anastopoulos is forced to use the same 15-16 players.
Skoda Xanthi has built a very interesting undefeated streak in Super League with 1W-5D-0L and their tendency to draws is more than obvious. I am under the impression they have already made their calculations to ensure a safe finish and they just raise the points they need instead of going after the Play Offs. In theory they only need 6-7 points until the end of the season which means they can concentrate 100% in the Cup which may give them a European ticket if they reach the final. This scenario is not so difficult if they qualify against OFI and run into Chania or Apollon Smyrnis. Lucescu has only one absence today.
Banned: –
Injured: –
Other: Karypidis (DEF/15) is not ready to play yet.
Betting Pick: Both to score @ 2.00
There is no doubt in my mind Xanthi is a stronger team but I hate the odds that I see especially when there is a re-match ahead. OFI is more confident at home and hopefully they will score like they usually do in front of their crowd. At the same time all Xanthi needs is an away goal and a safe score (1-1 or even a defeat by 2-1) to end everything in the re-match.