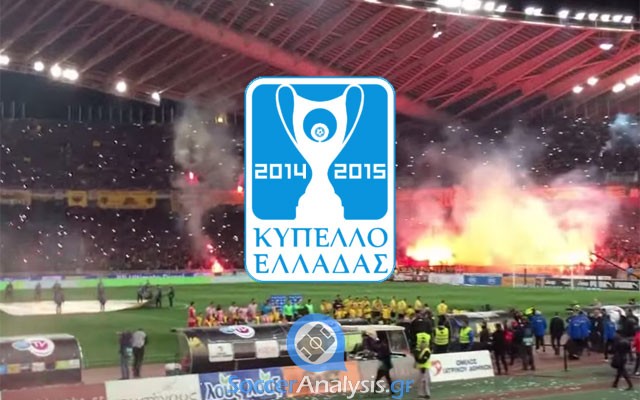 Iraklis and AEK want more
This period has been quite busy but I found some time to comment on the Greek Cup matches. As you probably already know, a total of 4 Football League clubs have exceeded all expectations by reaching the Quarter Finals. Whether we like it or not they are now too close to the Semi Finals and this is why I strongly believe they will all give their best to be there. The brief analysis and some value bets for the two Wednesday games:
Things to consider before your bet
*The cold weather conditions (it was snowing on Tuesday) are expected to influence all teams.
*I remind you Iraklis and AEK have played a total of 15 league matches when Panionios has 22 and Olympiacos has 23 (the Champions also play in Europe).
*Attention: Double matches, away goals rule.
*The player stats do not include Cup matches mainly because all teams rotate their lineups in this tournament.
Analysis: Iraklis 1908 – Panionios
Iraklis 1908 is still undefeated in Group 2 (North) of Football League, having a total of 12W-3D-0L (goals 22-3). Coach Papadopoulos was pleased to see his team getting a new win, this time against Tyrnavos (3-0). Their last defeat was recorded on 12/09/14 in another Cup match against Lamia (2-1 away) but it was not enough to leave them out of the tournament. Since then they have built a spectacular undefeated streak (14W-6D-0L) in both domestic competitions. Their two matches against Asteras Tripolis for the Round of 16 (1-1 at home, 0-1 away win at Tripoli) prove they are not just a Football League club but a team that would probably be in a safe placement in Super League.
Banned: –
Injured: Kyriakidis (DEF/9/1 goal), Siatravanis (MID/15/1 goal)
Panionios is still involved in relegation battle in Super League but their recent performances tell me they will not surrender easily. The important home win against Panthrakikos (2-1) was followed by two consecutive draws against Skoda Xanthi (0-0 away) and AOK Kerkyra (0-0 at home). Their postponed away match for Day 18 against Ergotelis will take place on 18/02/15 and if they win things will be more promising for their main goal (avoid relegation). They keep proving they are interested in the Cup and the good news is the rematch will be held at home where they are stronger.
Banned: –
Injured: –
Other: Argyropoulos (DEF/14), Boumale (MID/22/3 goals/1 assist) and Kolovos (FWD/19/6 goals/1 assist) are out to rest.
Betting Pick: The win of Iraklis @ 1.90
When I saw this match, the first thing that I thought was Iraklis will win it. Unfortunately the bookies have realized how dangerous this team is after the two positive results they got against a strong club like Asteras Tripolis. I will choose the home win but I must warn you the odds do not worth the risk. After all, the stats of Iraklis in Football League tell us they are more reliable away (8W-0D-0L, goals 13-1) than they are at home (4W-3D-0L, goals 9-2).
Analysis: Olympiacos – AEK
*Attention: This match is one of the strongest rivalry battles in Greece. The supporters of the two clubs hate each other and a win will be celebrated accordingly. By the way, Marinakis (owner of Olympiacos) and Melissanidis (owner of AEK) have already started a war of statements as they have a conflict of interests not only in soccer but in their line of business as well.
Olympiacos did not lose the difficult match against PAOK at Toumba (0-0) which gave an end to their winning streak (10 wins). There is no doubt they are the stronger club in Greece from every aspect. The only difference is they play according to their potential lately and it looks like the arrival of Pereira was exactly what they needed. Their schedule is not easy at all as their Europa League obligations start soon (19/02/15, Dnipro away) and they will be followed by other difficult matches like the ones against Panathinaikos (22/02/15 away), Dnipro (26/02/15 at home, rematch), Asteras Tripolis (02/03/15 at home), AEK (05/03/15 away) etc. They do have the luxury of rotation but this is a critical month where they must do their best to keep up with all their goals.
Banned: –
Injured: Botía (DEF/10), Benitez (FWD/11/3 goals/2 assists), Bouhalakis (FWD/8/1 goal/2 assists)
AEK is still undefeated this season in all competitions having 18W-4D-0L. I wrote many times all their pre-season planning was based on two goals. The first is their return to Super League. The second is to go as far as possible in the Cup competition. Now that they have gone this far, everything is possible. Their two matches against Olympiacos will not be easy but they do have a stronger motive than their opponent and less fatigue. Even a draw against the stronger and hated rival will be celebrated like a win. Coach Dellas will have to deal with five absences.
Banned: –
Injured: Kolovetsios (DEF/8/1 goal), Faye (MID/5), Cordero (MID/8), D'Akol (FWD/4/3 goals), Brečević (FWD/9/8 goals)
Betting Pick: Both to score @ 2.00
AEK will look for a safe score (a draw or a defeat by one goal) in order to stay alive for the rematch at OAKA. Dellas and his players are aware they need to score and my guess is they will do it. The draw @ 5.50 is a value bet for such a special match especially when Olympiacos has too many obligations and sooner or later they will have to choose where they will use most of their energy.