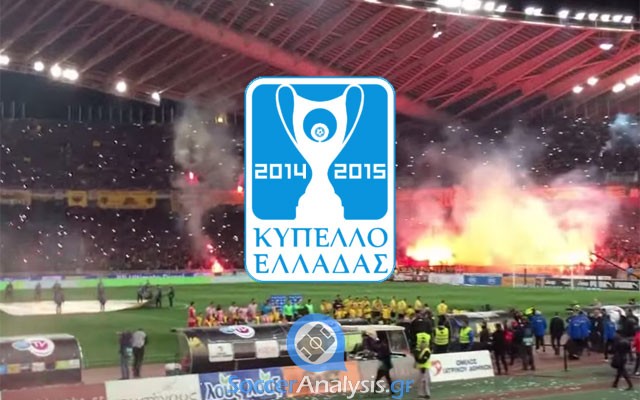 Different approach today
The unexpected results keep on coming in the Greek Cup. The Round of 16 was a disaster for more Super League teams like Levadiakos, Asteras Tripolis and Giannina who saw their opponents from Football League qualifying to the Quarter Finals. If AEK will make it to leave out AOK Kerkyra today we'll witness a special record of 4 Football League teams making it very far in the tournament. And believe me when I say all of them have the right to start dreaming of the semi-finals and, why not, the final. The previews and value bets for today's matches:
Important information
*A total of 20 Match Days have been played in Super League
*A total of 14 Match Days have been played in Football League. Each team had one free day meaning they all have played a total of 13 league games.
*Round of 16 will have double matches (away goals rule)
*DO NOT FORGET to chek the weather! The rainy weather conditions infuenced most of last weekend's results.
Analysis: AEK – AOK Kerkyra
*On aggregate: 1-1
AEK was expected to dominate Group 1 in Football League (12W-1D-0L, goals 38-5) as their roster could easily occupy the top half of Super League standings. They come from a new win against Aiginiakos (3-0 at home) having the best offense and defense. I wrote many times the Cup is within their goals for this season and they want to go as far as possible with the hope they will soon run into a rivalry battle (Olympiacos, Panathinaikos) to satisfy their loyal supporters. Coach Dellas stated the match against AOK Kerkyra will not be easy in his efforts to keep the players on alert. There are three problems reported.
Banned: –
Injured: Kolovetsios (DEF/8/1 goal), Faye (MID/5), Cordero (MID/8)
AOK Kerkyra demolished Veria (4-0) in their last home match. The players of Grigoriou wanted this win badly and the score was at 3-0 at 22'! They were a lot more accurate than usual and all Veria did was improve during the second half to level the stats (attempts 12-13). The fourth goal came at 85' to set the final score. Everyone in the team is aware the next match against AEK will not be easy as their opponent has a better roster (€7.75 mil. vs. €14.55 mil.). There are two problems reported.
Banned: –
Injured: Zouboulakis (DEF/2), Nayar (MID/14/3 goals/1 assist)
Betting Pick: The win of AEK @ 1.70
I tried to see this match from every possible angle. AEK has a great chance to take to qualify to the next round and bring higher attendance numbers to OAKA. Their supporters cannot wait for the next match and if the weather allows it I am certain they will have the extra advantage of their very warm crowd that helped got the emphatic win over Atromitos (3-0) in the most important match of the Group Stage.
I do not mean to underestimate AOK Kerkyra but their opponent carries an important name and they just do not look capable to get on their way. The only thing that may ruin this match is a 0-0 draw that will also get AEK to the Quarter Finals. After all, we had so many surprises in this round. It is about time to see a logical result, don't you think?
Analysis: Panathinaikos – Skoda Xanthi
*On aggregate: 1-1
Panathinaikos is doing a lot better at home, there is no doubt about it. They got what they were after in their last match against Kalloni (1-0) at Apostolos Nikolaidis. They were in total control (attempts 18-3) but the defensive strategy of their opponent and their great goalkeeper (Hog made 5 saves) forced the Greens to wait until 78' to score the winning goal. Normally this match would have ended 2-0 or 3-0 but I believe the players of Panathinaikos had their minds on Xanthi sooner than they should. Coach Anastassiou is pleased to see more players available for the next match.
Banned: –
Injured: Bouy (MID/11)
Skoda Xanthi deserved the win in the last home match against Giannina (1-1) but they paid the price for not turning their many chances (attempts 16-6) into more than one goals. For one more home match they were in control and they scored first (54'). A goal by Giannina at 75' changed their plans for a new win but the players of Lucescu do have an excuse of playing in a ruined field because of the rain. The draw against Panathinaikos in their first match (1-1) makes the Greens a favorite but they are expected to give their best to steal the ticket to the next round from them. There are two problems reported.
Banned: –
Injured: Karypidis (DEF/15), Ranos (FWD/7)
Betting Pick: The win of Panathinaikos @ 1.60
The Greens are very reliable at Apostolos Nikolaidis this season (9W-0D-1L in Super League, 1W-0D-0L in the Cup) and I doubt they will disappoint their fans. Especially now that more than 10.000 of them will attend this match. Xanthi is not as strong when playing away (1W-3D-5L, goals 5-16 in Super League) and the best they can do is help us get paid the option of Over 2.5 goals @ 2.00.
I believe the Greens will be highly motivated to revenge the humiliating away defeat they suffered from Xanthi last November (4-2). They came very close to win the first match in the Cup (1-1) and now it is about time for them to get the job done and take another step towards the final of the tournament. Let's not forget they are the Cup Holders.