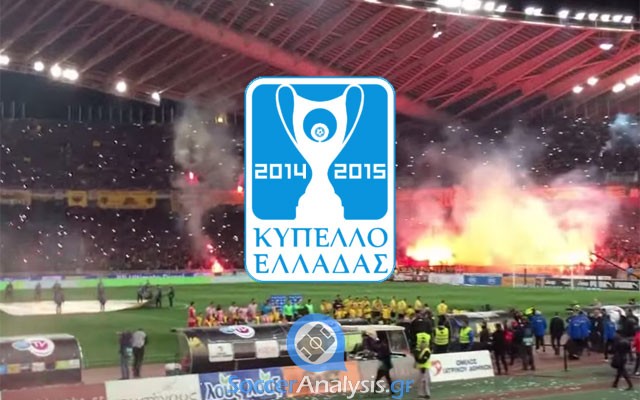 Trust no one
Only three matches are being held this Tuesday for the second day of the Round of 16 in Greek Cup. The bookies decided to leave OFI out of their coupons as their amazing unexpected win (0-4) last week was a shock to everyone. Unlike us, they had not done their "homework" on that specific match. The tight schedule continues for the Super League clubs that are still in the tournament and this reason alone is enough to give us some more unexpected results. Let's have a look at the previews and value bets for Tuesday:
Important information
*A total of 20 Match Days have been played in Super League
*A total of 14 Match Days have been played in Football League. Each team had one free day meaning they all have played a total of 13 league games.
*Round of 16 will have double matches (away goals rule)
*DO NOT FORGET to chek the weather! The rainy weather conditions infuenced most of last weekend's results.
Analysis: OFI Crete – Panthrakikos
*On aggregate: 4-0
*This season in Super League (02/11/14): Panthrakikos – OFI Crete 0-0
It is almost 10 hours before kickoff and no bookie has offered any odds for any option in this match. It looks like OFI is still alive although no one can vouch they will make it until the end of the season. One player returned in their last home defeat against Olympiacos (0-3) and their roster has reached the exciting number of 15 men. It is practically impossible to talk about a rotation in their lineup and their emphatic win in the first match allows them to lose even with a three goal difference.
At the same time, Panthrakikos is coming from a very important home win against Levadiakos (1-0) which did not come easy. The two teams had almost the same number of chances (attempts 10-8) and the draw would probably be fairer. One goal at 19' gave the players of Cases three golden points in their efforts to avoid relegation. The team is not safe yet as the match of Ergotelis against Panionios is still pending. If there will be a winner in that match their distance will change to 2-3 points. Last week they made it very clear they are not interested in the Cup and they are expected to use a secondary lineup again.
Betting Pick: N/A
As I said earlier, the bookies left this match out today. If they change their mind, the only bet that will look interesting will be option that both teams will score in odds 2.00+. I would not waste money or time on anything else.
Analysis: Levadiakos – Apollon Smyrnis
*On aggregate: 1-1
*A lot of strange things took place last season, especially at the end, with some teams making favors to others in order to secure a safe finish. Levadiakos was one of them and some of their results are responsible for seeing Apollon Smyrnis in Football League today. The roster of Apollon has changed a lot but their supporters have not forgotten what happened…
Levadiakos comes from an away defeat against Panthrakikos (1-0) in a match that was destroyed by the rain and the poor condition of the field. The two teams had almost the same number of chances (attempts 10-8) but one goal at 19' was enough to give the win to the home team. Coach Pantelidis stated he was pleased with the efforts of his players despite the defeat. There is only one problem reported but the final 18 players will be announced on Tuesday noon.
Injured: Macheras (MID/12)
Apollon Smyrnis came very close win Levadiakos last week (1-1) in a match that had three penalty kicks, two for Apollon (11', 54') and one for Levadiakos (20'). The two first (11', 20') were successfully executed to set the final score very early in match that was characterized by the physical play of both teams. Wanderson missed the second (very doubtful) penalty lick and the opportunity to give his team a serious advantage for the rematch. Apollon was left with a man down at 88' when Arsic (new transfer) was sent off. Coach Vosniadis is pleased to see his team coming from consecutive positive results (3W-1D-0L in Football League) and they will expand it next weekend as their away match against Paniliakos is canceled and they will get three easy points (0-3 awarded). There are five absences reported.
Absences: Hatzizisis (DEF/12), Karademitros (MID/4/2 goals), Alipio (MID/4), Farinola (FWD/12/3 goals), Kyvelidis (FWD/11/4 goals)
Betting Pick: Both to score @ 1.90
The final roster of Levadiakos is not announced yet but I am under the impression they will be forced to rotate their lineup. They will play three out of the four next Super League matches at home (Xanthi, Giannina and Veria) and they need to concentrate on them to start raising the points they need so badly. On the other hand Apollon Smyrnis has nothing to lose and my guess is they will look for an away goal that will add pressure to the home team.
Apollon Smyrnis has already left Veria out of the tournament and I will not be surprised if they will do the same against another team that is responsible for their relegation from Super League last season. Their motive is too strong and we must not forget they are not as tired.
Analysis: Asteras Tripolis – Iraklis 1908
*On aggregate: 1-1
*Attention: This is a very special match! Asteras Tripolis came very close to relegation in season 2010-11. In fact they were relegated but they later won a court fight against Iraklis who had finished tenth. The decision sent Iraklis 1908 to Football League 2 and allowed Asteras Tripolis to take their place…
Asteras Tripolis comes from a professional win (2-0 at home) against Panionios in another match that was ruined by the rain last weekend. The two teams had many difficulties playing in the mud but for one more time the quality of Asteras' roster was enough to make the difference. Verghetis watched his players giving an end to their mini no win streak (PAS Giannina 2-2 at home, Levadiakos 3-1 away, Iraklis 1908 1-1 away) and there is no doubt they are a favorite for a win each time they play at Tripoli, especially against weaker opponents. Changes in the lineup are needed to protect players from the tight schedule.
Banned: –
Injured: –
Other: Bantis (GK/0), Mazza (DEF/19/5 goals/4 assists), Lluy (DEF/19/1 assist), Kourbelis (MID/13/1 assist), Munafo (FWD/19/2 assists), Gianniotas (FWD/17/4 goals/1 assist)
Iraklis 1908 comes from a home draw against Pierikos (2-2) which was an unexpected result. It became more than obvious they had their minds set on Asteras Tripolis. Coach Papadopoulos apologized for the performance of his team in the second half where they wasted their early lead (3', 14') by conceding two late goals (77', 86'). He also said he believes this bad result will work on the benefit of the team. There are no important problems reported for the match at Tripoli.
Banned: –
Injured: –
Betting Pick: Both to score @ 2.00
I have written many times about the reasons behind the strange results of Asteras Tripolis. There is no doubt they have a great roster but how can anyone expect these players to be in form when they have been involved in official matches since last July? Verghetis has no other solution. He must constantly rotate the lineup to protect his key players for the Play Offs. On the other hand, Iraklis 1908 is a very dangerous team. They conceded the first goal after 799 minutes (!!!!) last weekend and it is obvious they are among the favorites for promotion. Furthermore they are fond of away matches where they have an amazing record (7W-0D-0L in Football League and 1W-1D-1L in the Cup).
Now you know why the win of Asteras is offered at 1.55-1.70 when their most recent match against a Super League club like Panionios closed at 1.40-1.45… The least I expect is to see goals from both sides especially when Iraklis 1908 is so motivated for revenge. By the way, this game looks great for live betting. If Asteras will not be as strong as they can be on a good day, I will definetely consider a bet on the win of Iraklis 1908 when the second half starts.