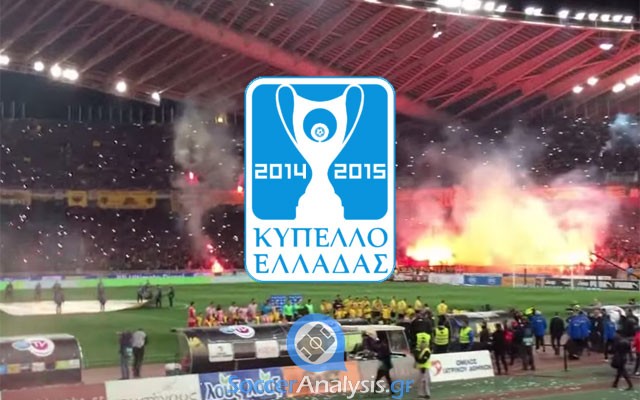 Only one Wednesday match is still open
I hope the results we have seen so far, especially on the Round of 16, have convinced you Greek Cup is a tournament that cannot be trusted. Like every season, some teams made their choice for a quick exit. Three more matches are held today and only one, the one of Veria against Panionios, looks open for both sides. The previews and betting picks:
Important information
*A total of 20 Match Days have been played in Super League
*A total of 14 Match Days have been played in Football League. Each team had one free day meaning they all have played a total of 13 league games.
*Round of 16 will have double matches (away goals rule)
*DO NOT FORGET to chek the weather! The rainy weather conditions infuenced most of last weekend's results.
Analysis: Veria – Panionios
*On aggregate: 1-2
*The two teams raised a lot of negative comments last week. The reason was the halftime/fulltime option (Veria/Panionios @ 30.00) which came true. While this match was still at 60' (0-1) a major bookie was offering the win of Panionios @ 1.80 and the win of Veria (who was already on the lead) @ 4.00. Twelve minutes later the score was 2-1…
Veria was humiliated in the away match against AOK Kerkyra (4-0) after a poor performance mainly in defense. The home team was obviously more determined for the win (the score was 3-0 at 22'!) and the game ended sooner than expected. Veria tried to get back in the match (attempts 12-10) but nothing was working for them. They did not deserve to lose like this but their opponent was a lot more efficient than usual. The statements of Granero and the players show they did not even care about the final score and they immediately moved on to the next Cup match. Some players were left out to rest because Veria has a very difficult schedule ahead which starts this weekend against Olympiacos.
Banned: –
Injured: –
Out to rest: Kantimiris (GK/20), Raul Bravo (DEF/16/1 goal), Bation (MID/16/1 goal/2 assists), Bargan (MID/17/1 assist), Ben (FWD/18/6 goals/6 assists)
Not ready: Neto, Nazlidis, and Maragos (new transfers)
Panionios lost the last away match against Asteras Tripolis (2-0) with the rain turning the field into a mud hole. The two teams had an average number of chances (attempts 10-7) but the better quality of Asteras' roster was enough to give them a professional win. Coach Ouzounidis will make changes in the lineup of Panionios because the upcoming match against Panthrakikos is very important for their future in Super League. According to his statements after the Group Stage, his team is interested in the Cup but the big question is if a secondary lineup can be enough to qualify.
Banned: –
Injured: Risvanis (DEF/4, winter transfer), Ibagaza (MID/17/2 assists), Boumale (MID/19/3 goals/1 assist)
Other: Tassoulis (DEF/16), Mitropoulos (MID/18/1 goal/1 assist), Giannou (FWD/19/7 goals)
Betting Pick: Veria (-1) to win @ 1.75
Veria is a stronger team than Panionios and I believe they are safe enough in Super League to spend some of their energy in the Cup. Normally they can win this battle by two goals and qualify even in their average day. Panionios has already got lucky earlier this season in this venue (2-2 on 01/11/14) and I doubt they can repeat it.
Analysis: Giannina – Chania
*On aggregate: 2-1
Giannina have built a very interesting streak in Super League with 5 draws (0W-5D-0L, goals 5-5). Their most recent was against Xanthi (1-1 away) last Saturday in match that came very close to be postponed because of the rain. The home team was in control (attempts 16-6) and they took the lead at 54'. Chavez scored the equalizer for Giannina at 75' adding one more point to his team. My overall impression was that Xanthi deserved the win but they paid the price of their defensive mistakes in a very difficult field. Coach Petrakis was pleased with the point and he decided to leave 3 key players out.
Banned: –
Injured: Korovessis (MID/13/3 goals/2 assists)
Other: Chavez (MID/18/6 goals/3 assists) and Tsoukalas (MID/19/1 goal/1 assist) are out to rest
Chania were defeated last weekend at home from Ermionida (1-3). They were down by two goals by halftime (18', 43'). Their opponent was left with a man down at 45' and Chania got back in the match (51') and started looking for an equalizer. A third goal by their opponent at 67' made things more difficult and everything was over when Siligardakis was also sent off. Coach Soulis Papadopoulos returns at the bench of the team for the second time this season and he will have his (second) debut today.
Absences: Papoutsogiannopoulos (DEF/0), Pagonis (DEF/11), Manolas (DEF/12/1 goal), Papatzikos (DEF/3), Siligardakis (MID/13), Tabakis (MID/0), Martsakis (FWD/6/1 goal), Evaggelou (FWD/4), Nyktaris (FWD/1)
Betting Pick: Both to score @ 2.10
As far as I know, Soulis Papadopoulos is not afraid to risk in Cup matches. He already did it once when Chania won Panetolikos (0-1 on 25/09/14, Round 1). The change at the bench of Chania can motivate the players although I find it difficult to see them finding the strength to leave Giannina out or stop them from scoring in their own venue. For all the above, I decided to take my chances in this option.
Analysis: Olympiacos – Tyrnavos 2005
*On aggregate: 3-0
Olympiacos got a new away win last weekend against OFI (0-3). The players of Pereira did not even try hard (attempts 8-14) and their quality was enough to give them an easy win against a troubled and weak opponent. The score of the first match against Tyrnavos (0-3) allows Pereira to test unused players and decide which of them will stay after the end of the winter transfer period. Even the third lineup of Olympiacos is enough to get the job done at Karaiskakis.
Banned: –
Injured: Roberto (GK/18), Botía (DEF/10)
Other: Many key players are out to rest. Coach Pereira will use players with less official matches like he did in the first match.
Tyrnavos got a new win last weekend, the third consecutive, this time against Karditsa (1-0). It was not an easy game for them but things became easier when the opponent was left with a man down (53'). Thirteen minutes later Solferino scored (66') to expand the undefeated streak of his team to 8 matches (4W-4D-0L). The players of Charalabidis were unlucky to run into Olympiacos in the Round of 16 and they have already stated they see these two matches as a chance to gain experiences for the future. Their next away match against Zakynthos is more important and this is why they will rotate their lineup.
Absences: Priftis (GK/13), Labropoulos (DEF/3), Kyriakos (MID/3), Milutinović (MID/13), Ntatidis (MID/13), Paligeorgos (MID/11), Pokong (FWD/10)
Betting Pick: Over 3.5 goals @ 2.05
We already know who the favorite is here. The absence of handicap options has left us with only one bet. Many players of Olympiacos are competing at this moment to gain the trust of Pereira. Needless to say my confidence in such an indifferent game is average.