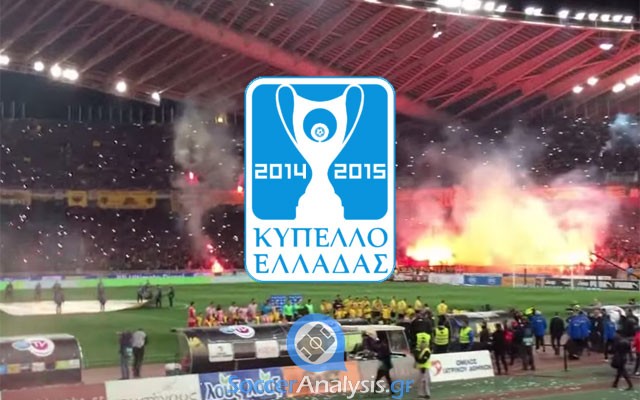 OFI is left with 14 players!
We have a lot more matches to deal with this Wednesday. The remaining 7 battles for the Round of 16 of the Greek Cup will not be easy as the tight schedule of all Super League clubs is expected to influence their lineups and their performance. Do not forget this stage has double matches (away goals rule) which means the favorites can afford negative results. The previews and value bets for the early matches (15:00):
Some things to consider
Note 1: A total of 19 Match Days have been played in Super League
Note 2: A total of 11 Match Days have been played in Football League
Note 3: Round of 16 will have double matches (away goals rule)
Greek Cup Analysis: Panthrakikos – OFI Crete
*This season in Super League (02/11/14): Panthrakikos – OFI Crete 0-0
Panthrakikos comes from a very positive result in the away match against Giannina (2-2). Their opponent took a lead twice (10', 57') but the players of Cases never gave up. In fact they answered both goals (49', 84') and kept up with the good performances of the last month. Ladakis will probably be out for the rest of the season and the match against OFI offers Panthrakikos a chance to test more players and tactics.
Banned: –
Injured: Ladakis (MID/17)
OFI Crete is not expected to last too long in Super League. The severe financial problems have forced most key players to leave and look for their new team while the winter transfers are still open. The last away match against Veria (4-1) came to verify the poor condition of the historic club. Coach Anastopoulos is doing his best under the circumstances but only 14 players are left and 3 of them may not even be in the next match! The Cup tournament is the last thing they can possibly have in mind…
Absences: Only 14 players are left in the roster.
Betting Pick: NO BET
Panthrakikos can even afford a defeat today because it is unlikely OFI will make it until next week for their re-match! It is that simple! Normally the home team should be interested in a good win (2-0 or 3-0) that will boost their confidence but the bookies are not offering any handicap options. This is exactly why I decided to stay away.
Greek Cup Analysis: Chania – PAS Giannina
*Coach Petrakis was at the bench of Chania in season 2010-11 when the club was playing in Football League 2. The officials of the home team want to honor him before kickoff for his services.
Chania come from an away win in the domestic battle against Episkopi (0-1) where they scored the winning goal at 83' (Mantakis) three minutes after their opponent was left with a man down (80'). The club is under a temporary coach since 07/01/15. Markos Stefanidis is in charge while the search for a new coach continues and he doing fine. Chania have got two wins in Football League and one draw in the Cup (against Panathinaikos 2-2, they were losing by 0-2) since he took over and it would be better not to underestimate them (or their coach).
Banned: –
Injured: Pagonis (DEF/11)
Other: Karalis (FWD/11/4 goals) and Kaminiotis (MID/8) will leave the club very soon and they were left out.
Giannina come from three consecutive draws in Super League. The ones against Panetolikos (0-0) or Asteras Tripolis (2-2 away, they were down by 2-0 at 25') came after good performances in very difficult venues. I cannot say the same for their last home match against Panthrakikos (2-2) where they got the lead twice (10', 57') but allowed a relatively weak opponent to escape from Zossimades (5W-4D-1L, goals 18-9). Their record is not as strong when they play away (1W-5D-3L, goals 6-10) but they did seem more motivated in the Cup. In fact, they left PAOK out of the tournament after surviving a very difficult match at Toumba (1-1). Coach Petrakis intends to rotate his lineup today and he has left three key players out to rest.
Banned: –
Injured: –
Out to rest: Vellidis (GK/19), Chavez (MID/17/5 goals/3 assists), Ilić (FWD/18/4 goals/5 assists)
Betting Pick: 1X Double Chance at 1.55
Until this article was written, none of the popular bookmakers was offering handicap options for this match. I believe Chania can avoid the defeat mainly because the opponent is tired from the consecutive matches in Super League. Giannina also happen to have a very difficult upcoming away match at Xanthi. Petrakis has much better roster in his hands which can even afford a defeat by one goal. Unfortunately I cannot risk on the win of Chania for anything less than 4.00.
Greek Cup Analysis: Skoda Xanthi – Panathinaikos
*This season in Super League (18/12/14): Xanthi – Panathinaikos 4-2
Skoda Xanthi comes from an away draw against AOK Kerkyra (0-0) after an average performance for both sides (total attempts 8-9). Xanthi lost the most important chance of the match at 80' when Cleyton aimed at the bar. My overall impression was that the two sides neutralized each other and settled with a convenient point. Lucescu and his players are interested in the Cup and their recent emphatic win over Panathinaikos makes them confident they can qualify to the Quarter Finals as long as they get a win with a safe score (1-0, 2-0). Full roster.
Banned: –
Injured: Ranos (FWD/7)
Panathinaikos comes from an away draw against Panionios (1-1). The Greens were in control but the unexpected goal of the home team at 33' changed their plans. They added more pressure in the second half, they scored the equalizer at 78' (Berg) and missed some more great chances (attempts 6-16) for the win. I believe they deserved it but they should also thank their luck Panionios missed a (doubtful) penalty kick at 87' (save by Steele). Anastassiou was criticized a lot for not using Karelis, Donis and Klonaridis earlier (all of them were subsitutions during the second half). The team has not forgotten the recent humiliation from Xanthi and this is why the coach has asked all players to be on alert.
Banned: –
Injured: Koutroubis (DEF/11), Ninis (MID/1, new transfer), Bouy (MID/11)
Other: Bajrami (MID/4)
Betting Pick: Both to score @ 2.00
The home strength of Xanthi (Super League 6W-3D-1L goals 19-11, Cup 2W-0D-0L goals 4-1) is more than obvious and their fans are finally enjoying what they watch after a long time. My guess is Xanthi will try to win but Panathinaikos rarely does the same mistake twice.
Of course, I cannot trust the Greens for the win. I am not only talking about their away records (Super League 3W-4D-3L goals 11-12, Cup 1W-1D-0L, goals 3-2) but the fact they have not won an away match since 04/12/14 having 0W-4D-1L in both competitions.
The overall stats of the two teams combined tell me we can expect to see at least on goal from them. Do not forget that Panathinaikos needs it more to feel safer even in the case of a draw or a (new) defeat and we must not forget they are the Cup Holders. Their recent experience on the tournament cannot be ignored.