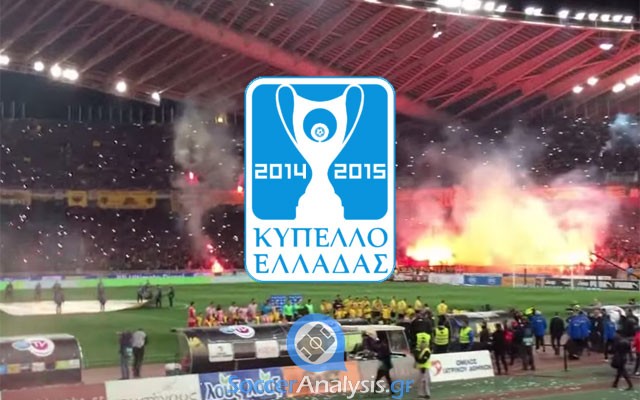 Extreme rotation for the favorites
I did my best to gather all necessary information (problems, absences, rotation plans and background info) for all matches but it took me a lot longer than I anticipated. For this reason I am forced to keep my comments for the late matches (17:15 to 19:30) as short as possible. The second part with the previews and value bets for the Wednesday matches of the Greek Cup:
Read this first
Note 1: The statistics for all players in this article include ONLY league matches. Their Cup performances are not included as most rosters rotate a lot more in the early stages. The Round of 16 is considered more important therefore key players have more chances to be used.
Note 2: A total of 19 Match Days have been played in Super League
Note 3: A total of 11 Match Days have been played in Football League
Note 4: Round of 16 will have double matches (away goals rule)
Greek Cup Analysis: Tyrnavos – Olympiacos
Tyrnavos (Football League) is doing great having built an interesting undefeated streak (3W-5D-0L in all competitions) that started last December. Their home draw against Asteras Tripolis (1-1) in the Group Stage got them this far but now they will have to face the stronger team in Greece (at least in theory). Coach Charalabidis was very pleased with the away win against Gazoros (0-1) which was fair and the second consecutive for his team. They have absolutely nothing to lose today and they consider this match as one of the greatest moments in their history.
Banned: Kyriakos (MID/2)
Injured: Tsoukalos (MID/8)
Olympiacos had difficulties overcoming the obstacle of Panetolikos last weekend. Their win at Karaiskakis (2-0) did not come easy no matter what the stats say (total attempts 15-3). Their opponent concentrated on defense and the Champions had to wait until 69' to score the first goal. Panetolikos had to risk for the equalizer and they paid it by conceding a second goal one minute before the final whistle (93'). Pereira has only two problems with injuries but he intends to rotate his lineup a lot to test players he has not watched in an official match yet.
Banned: –
Injured: Roberto (GK/18), Fuster (MID/8/2 goals/1 assist)
Betting Pick: Both to score @ 2.80
Do not trust the odds that you see. Olympiacos will use a secondary lineup again like they did in all their previous Cup matches. I remind you all of them had unexpected results of under 2.5 goals. The reason for my bet here is the motive of the home side for a good performance against a top club like Olympiacos.
Can Tyrnavos go for more? We'll have to wait until kickoff to see if Olympiacos shows the usual boring face. If they do, I will consider investing some money on the live betting options that will be available.
Greek Cup Analysis: Iraklis 1908 – Asteras Tripolis
*Attention: This is a very special match! Asteras Tripolis came very close to relegation in season 2010-11. In fact they were relegated but they later won a court fight against Iraklis who had finished tenth. The decision sent Iraklis 1908 to Football League 2 and allowed Asteras Tripolis to take their place…
Iraklis 1908 is doing great in Football League where they are still undefeated having a record of 10W-2D-0L (goals 16-1). They do have the best defense in both groups and what really amazes me is the fact they are stronger away (7W-0D-0L, goals 12-1) than they are at Kaftatzoglio (3W-2D-0L, goals 4-0). Nikos Papadopoulos has every reason to feel proud of his players who are expected to be highly motivated today. A win and especially the qualification to the next round will satisfy their supporters who seek for revenge. There are no important problems reported.
Banned: –
Injured: –
Asteras Tripolis is not doing very well in 2015. The break for the Christmas holidays has influenced the team and their only good moment was the first half of their amazing home win against PAOK (3-0). The players of Verghetis do have the excuse of the many matches they have played until now. Do not forget their obligations started last July and it is normal to see them running out of energy. There is no doubt they have a stronger roster capable to reach the Cup Finals and it is really up to them to decide what they want. The only sure thing is that if they will repeat the performance they had in the last away match against Levadiakos (defeat 3-1, they scored first) they can get into trouble. Verghetis intends to rest many key players.
Banned: –
Injured: Košický (GK/14), Sankaré (DEF/14/2 goals/1 assist), Mazza (DEF/18/5 goals/4 assists)
Betting Pick: 1X Double chance @ 2.00
The motive of Iraklis 1908 is too strong to be ignored. Furthermore, their stats show they perform better when they wait for the opponent to attack and they become a lot more efficient. My guess this is very probable to happen as Asteras Tripolis is the favorite and they will try to be in control.
The option that both teams will score @ 2.00 makes sense even if Asteras Tripolis will not win. After all, the re-match at Tripoli will not be easy and we must not forget the important absence of Košický (GK). He has been out for two matches and the team has already conceded 5 goals.
Greek Cup Analysis: AOK Kerkyra – AEK
AOK Kerkyra comes from a draw against Skoda Xanthi (0-0) in a match where anyone could have won (attempts 8-9). For the record, Xanthi missed the most important chance of the match at 80' (bar, Cleyton) however my overall impression was that none of the two teams was willing to take any real risks. They waited patiently and when they realized the win was not easy, they settled with a draw. Coach Grigoriou and his players have already exceeded all expectations by leaving PAOK out at the last day of the Group Stage. They will not say no to a new triumph but we should consider their main goal is to stay away from relegation in Super League. So far, they are safe but 6 points are nothing when there are so many more matches ahead.
Banned: –
Injured: –
AEK dominates the South Group of Football League and they deserve to be a top favorite for promotion. Their 11W-1D-0L (goals 35-5) prove their pre-season planning was correct and their return to Super League is just a matter of time. The Cup is within their goals; Dellas and his players want to satisfy the fans of the club who follow them everywhere by qualifying to the Quarter Finals. Their win in the Group Stage against Atromitos (3-0) got them here and everyone is anxious for the next great opponent (preferably Olympiacos or Panathinaikos). There five absences reported.
Banned: –
Injured: Cordero (MID/8), Kolovetsios (DEF/8/1 goal), Faye (MID/5)
Other: D'Akol (FWD/4/3 goals), Barbosa (FWD/7/2 goals)
Betting Pick: The draw @ 3.10
AOK Kerkyra must not be underestimated although they are not as interested in the Cup as their opponent. On the other hand, AEK is the only team in this tournament that has kept a clean sheet in all matches (4W-1D-0L, goals 11-0). Their roster could easily compete in Super League and they are capable for a positive result. My guess is a draw will leave everything open for the re-match at OAKA where AEK can hope not only for a win (and the Quarter Finals) but also for great attendance numbers…
Greek Cup Analysis: Apollon Smyrnis – Levadiakos
*A lot of strange things took place last season, especially at the end, with some teams making favors to others in order to secure their place in the standings. Levadiakos was one of them and some of their results are responsible for seeing Apollon Smyrnis in Football League today. The roster has changed a lot but the supporters are the same and they want revenge.
Apollon Smyrnis comes from an emphatic home win against Ermionida (4-2) which kept them close in the third place (Play Offs) of Group South. Coach Vosniadis and his players have built a strong home streak (6W-0D-0L, goals 13-4); if the team was a bit more careful away (1W-2D-3L, goals 6-6) they would feel a lot safer in the standings. Regardless of their goals and their priorities, they are capable for a positive result against an average Super League club like Levadiakos. Coach Vosniadis is ill and he did not attend the last training. He is expected to be at the bench today.
Banned: –
Injured: Angulo (MID/10/4 goals)
Other: Lagos (MID/10/2 goals) is ill
Levadiakos comes from an amazing win against Asteras Tripolis (3-1) which helped them feel a lot safer in the standings of Super League. Their opponent scored first at 12' but the quick answer at 18' (Mantzios) boosted the morale of the team. Pantelidis was very pleased to see his players determined to get the points they needed so badly. Two more goals (46', 80') secured the win in a very critical part of the season. Levadiakos is now allowed to feel safer five points away from relegation places. Their battle to save the season is not over yet and it is up to them to decide what they want to do with the Cup which is less important.
Banned: –
Injured: –
Out to rest: Sifakis (GK/13), Kotsios (DEF/15/1 goal), Zito (MID/14), Kone (MID/14/4 goals/2 assists)
Betting Pick: Both to score @ 2.00
The home performances of Apollon Smyrnis (Super League 6W-0D-0L, Cup 1W-1D-0L) tell me they will not give up that easily. Levadiakos is not reliable when playing away (Super League 3W-1D-5L, Cup 1W-1D-0L) but we must not forget we are talking for a Super League roster that happens to be in a good moment. I believe the best option for this match is that we'll see goals from both sides. A winner can only come with a result of Over 2.5 goals @ 2.35.