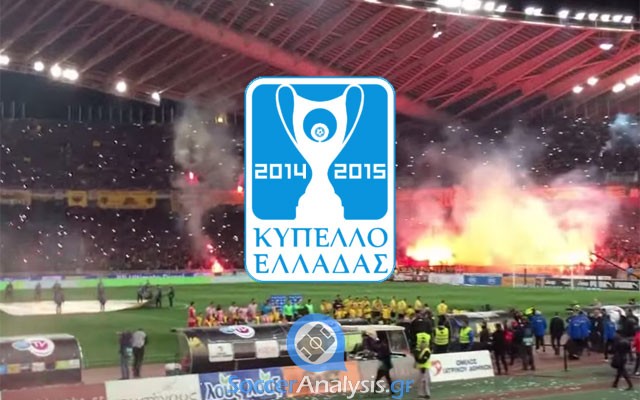 Be smart; consider every scenario
We have reached Day 3 of the Group Stage in Greek Cup and there are two things we must have in mind before placing a bet. The first is that most Greek clubs are not used to (or fond of) midweek obligations. The second is that we must be extremely cautious with the odds we see. In some cases there is more than one scenario which can allow the so called favorite to qualify (even a defeat). The first part with the previews and value bets for the early matches of Wednesday:
Analysis (Group 3): Niki Volou – OFI Crete
*Group 3: OFI Crete (7pts), Zakynthos (4pts), Skoda Xanthi (3pts), Niki Volou (0pts)
Niki Volou has abandoned all domestic competitions because of past debts. The regulations dictate OFI wins this match by 0-3 (these points have already been calculated our standings).
For the record, OFI is also in danger of abandoning all domestic competitions for the same reason. They are currently on a search for investors that will save the club. The two consecutive matches against Niki Volou (Super League and Cup) came in a perfect moment as the last thing the players have in mind is their obligations.
Analysis (Group 4): Gazoros – Levadiakos
*Group 4: Levadiakos (4pts), Iraklis 1908 (4pts), Platanias (3pts), Gazoros (0pts)
Gazoros is already out of the next stage of the Greek Cup. The debut of their new coach, Mr. Kokotovic against Pierikos (defeat 1-0 away) was not successful but he sounded confident in his statements about the future of the club in Football League. Changes in the lineup are taken for granted as the new coach is still getting to know his team.
Levadiakos needs only one point to qualify to the Round of 16 but we must keep in mind they can afford a defeat as long as Platanias will not win in the other match Group 4. They come from a home draw against Ergotelis (1-1) which was not a positive result if we consider their overall performance in the last two months of 2014.
Betting Pick: The win of Levadiakos at halftime @ 2.00
It will be very difficult to see Levadiakos out of the next stage. The reason behind my pick is their tough schedule in Super League (Panathinaikos away, Asteras Tripolis at home). I believe they will look for a quick goal and then save their energy and, believe me, they will need it. The fixed odds on the away win do not have any value for the risk involved.
Analysis (Group 4): Platanias – Iraklis 1908
*Group 4: Levadiakos (4pts), Iraklis 1908 (4pts), Platanias (3pts), Gazoros (0pts)
Platanias lost the last away match against Olympiacos (2-1) but coach Christopoulos has every reason to feel proud of his players. They did not surrender to the Champions as easily as the bookies anticipated. On the contrary they proved once again that the weak start of this season belongs to the past. They have improved their stats at Perivolia lately by running an undefeated home streak of 4 matches in Super League (3W-1D-0L). They need only a win to qualify to the Round of 16 so the big question is if they really want it. Do not forget that their main goal it to keep a safe distance from relegation placement.
Iraklis 1908 comes from an away win against Apollon 1926 expanding their undefeated streak in Football League to 10 matches (8W-2D-0L) which become 12 if we add the ones for the Group Stage of the Greek Cup. The administration changes have brought back the confidence for one of the most historic clubs in Greece. Their main goal are the Play-Offs which will offer them a chance to return in Super League. They qualify to the next round of the Cup with any positive result (win or draw).
Betting Pick: Both to score @ 2.05
I believe Platanias can win this match but I am not sure they want it. Iraklis 1908 is having a good season and right now they are the best away team in both Groups of Football League with 6W-0D-0L (goals 11-1). I am aware stats can be irrelevant when we deal with clubs from different leagues but this option came true in both of their Cup matches in this stage. I have no intensions to look for a winner in a match that is open in every result.
Analysis (Group 6): Ermionida – Ergotelis
*Group 6: Veria (6pts), Apollon Smyrnis (4pts), Ergotelis (1pt), Ermionida (0pts)
Ermionida was the great surprise of the First Round but their two defeats in the Group Stage have already left them out of the competition. They are out of motive but they can cause problems to any team. Coach Bolano is expected to make rotate his lineup but some late news want the club to be interested in a last good game in this competition.
Ergotelis got one more point in the last away match against Levadiakos (1-1). The two quick goals (Levadiakos 7', Ergotelis 10') were a promising start but the two sides looked nervous for the rest of the game and I must say the final result can be characterized as fair. Mr. Tsaousianis (temporary coach) is still in charge but many insist the he will continue at the bench of the club. The only way to see Ergotelis in the next stage is a win (preferably by three goals) combined with a defeat of Apollon Smyrnis.
Betting Pick: 1X double chance @ 2.00
This is the most important part of the season for Ergotelis. They have a very difficult away match on Sunday (Panathinaikos) but then their schedule becomes easier with two home matches against Panionios and Kalloni which can make a huge difference in their place in the standings. Personally, I do not believe they are willing to spend any more energy in the Cup. After all, even if they will win, it is not 100% sure they will qualify.
Analysis (Group 6): Veria – Apollon Smyrnis
*Group 6: Veria (6pts), Apollon Smyrnis (4pts), Ergotelis (1pt), Ermionida (0pts)
*Apollon Smyrnis was relegated from Super League after the end of season 2013-14. Their former owner Mr. Vellis complained a lot as some results of other teams (including Veria) as it was coming to an end had nothing to do with their previous performances. For the record, Veria raised 19 points (!!!) in their last 10 matches (5W-4D-1L) pushing Apollon Smyrnis to Football League although they did not deserve it.
Veria lost the first match of 2015 against Panetolikos (1-3) giving an end to their undefeated home streak (6W-1D-0L). The efficiency of their opponent made a huge difference to the final score which cannot be explained by the stats of the two teams (attempts 12-5). Veria has already qualified to the Round of 16 after their two consecutive wins in the Group Stage and it is really up to them to decide what they want to do in this match. A rotation in their lineup is expected before the difficult home match against Kalloni on Sunday.
Apollon Smyrnis comes from an away defeat against Panachaiki (1-0) which made the officials of the club furious at the referee who awarded a very doubtful penalty kick (29') to the home team. Da Costa (Panachaiki) missed it but then managed to score on the rebound forcing Apollon Smyrnis to the third defeat of this season in Football League. The main goal of the club are the Play-Offs and hopefully the return in Super League. They only need a draw to secure their qualification to the next stage.
Betting Pick: Apollon Smyrnis (+0.5) to win @ 2.00
Veria has no motive for a win unlike Apollon Smyrnis who must not lose this match. Their roster has changed a lot since last season and most of the players who were present in Super League have left but this is a great chance for revenge. A positive result, especially a win, will satisfy the fans of the club who witnessed many strange events taking place last season. The win of Apollon Smyrnis @ 5.00 is not bad at all.
Analysis (Group 7): Tyrnavos – Asteras Tripolis
*Group 7: Asteras Tripolis (6pts), Tyrnavos (4pts), Kalloni (1pt), Aiginiakos (0pts)
*Rumors want Verghetis (Asteras Tripolis) to be on the list of candidate coaches for Olympiacos. The Champions announced late on Tuesday (06/01/15) the termination of Michel's contract.
Tyrnavos was the free team of Group 2 (Football League) last week so this will be their first official match for 2015. Their last game was two weeks ago when they got a draw against Aiginiakos at home (0-0). They only need one point to qualify to the next stage and this match has been characterized by their officials as the most important challenge in the history of the club. Coach Charalabidis is expected to use every available player, including the ones who just arrived through the winter transfers.
Asteras Tripolis comes from a defeat against AOK Kerkyra which was a negative result if we consider what we have seen this team do this season. Their overall performance, especially in defense was below their usual average and I must say they deserved to lose. Coach Verghetis stated this was one of the worst performances he has seen. It looks like the break had a negative impact on the team and we should also keep in mind that the bad weather conditions in Tripoli have not allowed Asteras to follow their training schedule. They have already qualified to the next stage with two wins and it is certain we'll see a rotation in their lineup before the important home battle against PAOK on Saturday.
Betting Pick: 1X double chance @ 2.10
The timing is excellent for Tyrnavos. Their opponent is not looking very well after the break and they have to motive to waste any energy. After all, the next against the leaders of Super League (PAOK) is far more important.
The draw @ 3.40 looks way more probable as it will be very difficult to see Asteras Tripolis having two consecutive defeats in a row. Furthermore, it will not change the place of the two teams in the standings of Group 7.
Analysis (Group 7): Kalloni – Aiginiakos
*Group 7: Asteras Tripolis (6pts), Tyrnavos (4pts), Kalloni (1pt), Aiginiakos (0pts)
*Attention: If Kalloni will win by 1-0 and Tyrnavos will lose by 1-0, the two teams will have to play a knockout match.
Kalloni comes from an away draw against Atromitos (0-0) which was the only positive result for them since 29/11/14. In fact they have been away from wins since then with a record of 0W-4D-3L. Coach Matzourakis stated his satisfaction with the point they got in a very difficult venue. They now need only a win, preferably with two goals or more, combined with the win of Asteras to qualify. We must point out though, they do have a very difficult schedule ahead in Super League (Veria away, PAOK at home, Ergotelis away, Panathinaikos away and Asteras Tripolis at home).
Aiginiakos comes from an away defeat against Lamia (2-1) which pushed them in a relegation placement in Group 2 (North). The home team surprised them with a quick goal (1') and scored again before halftime (43'). Coach Diamantopoulos watched his team getting back in the match at 67' but the score did not change until the final whistle. In his statements he complained for the overall performance of the referee by saying he did not respect them at all. Aiginiakos is practically out of the next stage as they have lost both their matches until now. This explains their decision to have a roster of only 13 players in this away game.
Betting Pick: The win of Kalloni (-1) @ 2.00
Kalloni will have to wake up at some point and I believe this match is perfect for a win that will add some more confidence to them. Aiginiakos is out of motive and I see no point in wasting their energy when they are involved in relegation battle so soon.
By the way, I believe Kalloni will win but I still doubt they will qualify as Asteras Tripolis looks too out of form to serve their interests.