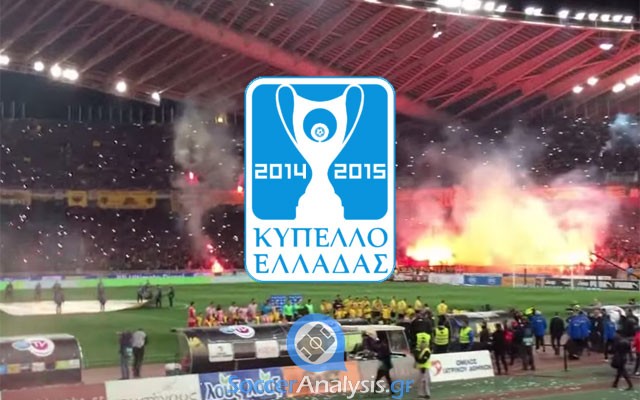 The puzzle is almost over
The results of the Greek Cup on Wednesday proved (again) why we must avoid bets of high confidence in such a "special" competition where everything is possible. The finalist of season 2013-14, PAOK, was the first major victim and I am under the impression they will not be the last. Do not forget the Round of 16 will not be easy for any of the qualifying clubs. Our task for the last six matches of the Group Stage remains the same; that is locate the best possible value bets, so let's see what we 've got for today:
Analysis (Group 3): Skoda Xanthi – Zakynthos
*Group 3: OFI Crete (7pts), Zakynthos (4pts), Skoda Xanthi (3pts), Niki Volou (0pts)
*Attention: Niki Volou has abandoned the competition. Their match against OFI is still pending for an official decision but the 3 points will be awarded to OFI. This is why we have already included them in our database.
Skoda Xanthi ruined my Pick of the Day last Monday with a home draw against Panthrakikos which can only be characterized as unexpected. I still cannot believe how the same team that scored 8 goals against PAOK and Panathinaikos (same score, 4-2) failed to win the worst away team in Super League. Someone could say they were unlucky as they did have two attempts at the bar (3', 67') but their overall performance (attempts 10-1) was too predictable for the defenders of the opponent. In theory, a win will take Xanthi to the next round but be careful as their players might have their minds set on the upcoming great home match against Olympiacos.
Zakynthos surprised everyone with a very strong start in Football League (Group 2, North, 5W-1D-0L in the first 6 matches) but three consecutive defeats brought them in the fourth place. They come from an away draw against Agrotikos Asteras (1-1) in a match that was ruined by strong winds. They took a quick lead (4') but spent most of the second half under a lot of pressure. A late goal at 92' prevented them from getting the win, however the draw was a relatively fair result. Coach Aquino decided the team must stay in Northern Greece before the critical match against Xanthi instead of returning at home. The win against Niki Volou (0-3, awarded) was an unexpected gift which allows Zakynthos to hope they can make it to the next stage of the Cup as long as they do not lose. There are no reports for important problems or absences.
Betting Pick: Both to score @ 2.10
Xanthi looks too strong this season at home (6W-2D-0L, goals 16-6) and my guess is that the players of Zakynthos are aware of their need to score in this venue. A goal by any side will immediately open the match. I will take my chances on the option they will both score but I do not want to risk on the winner. Normally Xanthi can win but the upcoming match against Olympiacos (Super League) can easily turn this one into a good trap.
Analysis (Group 5): AEK – Atromitos
*Group 5: AEK (4pts), Atromitos (4pts), Panthrakikos (2pts), Iraklis Psachnon (0pts)
*Crazy scenario: a draw in this match (scores 0-0 or 1-1) combined with a win of Panthrakikos by exactly one goal (1-0 or 2-1) will send Atromitos and Panthrakikos to a knockout match!
*Cup Final 2010-11: AEK – Atromitos 3-0. Seven minutes before the final whistle, a group of fanatic supporters of AEK enter the field ecstatic. They do not hesitate for a moment to attack the referee and the players of the opponent. They even go to the gate where the few supporters of Atromitos (mainly family members and friends) sit. The police and the security staff do nothing about it. The players of Atromitos decide to defend their friends and families on their own. Another history of violence and disgrace takes place, a new rivalry is born. This is how simple it was to turn a domestic battle of Athens into a rivalry full of hate.
AEK is an undisputed favorite for the first place in Football League this season. I am not only talking about their 9W-1D-0L until now but also about the investments that have been made in this club. Their return to Super League is just a matter of time and we must never forget they are one of the most popular clubs in Greece. My overall impression is they will get the promotion easily as no one dares to get on their way (not even the referees). Their roster was built having in mind their Cup obligations as well and their demanding supporters are anxious to watch battles against hated rivals like Olympiacos or Panathinaikos in OAKA. The next match against Atromitos must be won at all cost.
Atromitos comes from a new draw, this time at home against Kalloni (0-0). They wasted one more chance that was given to them to get closer to Panathinaikos and Asteras Tripolis (who did not win) and rumors want coach Sa Pinto to be under pressure. The officials of the club complained for a cancelled goal (wrong referee decision) but the truth is Atromitos is not the team we knew last season. A win against a hated opponent like AEK can improve the confidence of the team but we must their opponent will have a lot of support on their side.
Betting Pick: AEK to win @ 2.50
Any result is possible here. The only reason I picked AEK is because I believe they will be highly motivated to satisfy their fans. Atromitos is not doing well despite the change at their bench and I cannot see how they will find the confidence needed to win such a special battle.
Analysis (Group 5): Panthrakikos – Iraklis Psachnon
Panthrakikos comes from an away draw against Xanthi (0-0) last Monday. The players of Cases concentrated on defense (attempts 10-1, their only attempt was a header!) to get what they were after. They also got very lucky as their opponent had two more attempts stopped by the bar (3', 67'). Panthrakikos is still in relegation placement so the big question is if they are willing to go for a win with the risk of a probable extra knockout match (check the two scenarios above). They are more confident at home (2W-5D-0L in Super League) but their schedule tells me it is their time to decide what they really want to do with their future.
Iraklis Psachnon is already out of the competition (two defeats) but they are interested in leaving the competition with a good performance. They have nothing to do with the team that entered the Football League Play Offs last season. In fact their 3W-2D-6L until now are keeping them too close in relegation. They come from two consecutive defeats against AEK (5-1) and Acharnaikos (0-2). Coach Firos left only three players out but it is not known yet if he is planning to rotate his lineup.
Betting Pick: Live Betting
Forgive me but I cannot take any chances on Panthrakikos at this point. They have many important matches ahead which can determine their future in Super League. Niki Volou may have already got one of the four relegation places but there three more left and Panthrakikos is constantly in them. I believe it would be a huge mistake for them to add more matches and fatigue by qualifying.
By the way, have you noticed that IF Panthrakikos will not win, AEK and Atromitos will keep their places? This means that if AEK actually wins (like I wrote above), Atromitos will owe a favor to Panthrakikos which can be paid back this Sunday as the two clubs face each other (Panthrakikos – Atromitos at Komotini). I love conspiracy theories and I just cannot wait to watch this match live!
Analysis (Group 8): Chania – Panathinaikos
*Group 8: Panathinaikos (6pts), Chania (4pts), Olympiacos Volou (1pt), Panetolikos (0pts)
Chania hold the third place in the standings of Group North (Football League) but they are not doing so well lately as they have not won in the last three matches (0W-2D-1L). They come from a home draw against Acharnaikos (2-2) which was the end of coach Papandreou at the bench. An official announcement informed us Markos Stefanidis will temporarily take his place until a new coach is found. The roster for the match against the Panathinaikos will be announced before kickoff so we cannot be sure about their intensions. Any positive result will take Chania to the next stage but we must keep in mind they do have a very difficult upcoming match against Panachaiki.
Panathinaikos comes from an away draw against Giannina (0-0) in a match that started on Sunday (19:30) but it was interrupted at 31' because of a fog. It continued on Monday (15:00) with the two sides giving us a crazy second half where they lost important chances to score. In fact, any of them could have stolen the win in the last 10-15 minutes but, considering the efforts, the final result was fair. The two wins in the Cup allow coach Anastassiou to experiment with his lineup as his team can afford any result, even a defeat.
Betting Pick: The draw @ 3.50
There is only one team with a motive here and it is Chania. I do not think they want to piss off the Greens by going after the win but the draw can keep both sides satisfied. The players of Panathinaikos need to focus on their next match against Ergotelis. Keep in mind they are expected to have a new chance to get closer to the top 2 places or gain some more distance from Asteras Tripolis (This Sunday: Asteras Tripolis – PAOK, Skoda Xanthi – Olympiacos).
Analysis (Group 8): Panetolikos – Olympiacos Volou
*Group 8: Panathinaikos (6pts), Chania (4pts), Olympiacos Volou (1pt), Panetolikos (0pts)
Panetolikos is already out of the competition after their two consecutive defeats from Chania and Panathinaikos. Things are quite different in Super League where they come from a very important away win against Veria (1-3) which brought them in the fifth place (Play Offs). Some of their performances lately were more than promising and the only reason they are not higher in the standings is that coach Chavos constantly has to deal with important absences. The players were rewarded with a bonus of €30.000 for their last win and their morale is superb. Like Panathinaikos (see my comments above) they have their upcoming match against Giannina in mind. A new win may even bring them to the third place (defeat of Panathinaikos, draw or defeat of Asteras). This explains why Mr. Chavos decided to rest five important players today including Martinez (MID/15/1 goal/8 assists) Villafáñez (FWD/9/5 goals/1 assist).
Olympiacos Volou is not doing well in Football League (4W-2D-4L) despite the overall expectations they would be after a Play Off placement. In fact they are already 5pts away from the third place having the second worst defense in Group North. The last away draw against Fokikos (1-1) was the end of coach Koutsis at the bench and Dimitris Eleftheropoulos (former coach of AEK Larnakas and Panionios) was announced to take his place. The Cup seems like a luxury Olympiacos Volou cannot afford. They need only a win and hope for a win of Panathinaikos at Chania.
Betting Pick: Both to score @ 1.75
If Mr. Chavos had not left so many key players out, I would easily place bet on any handicap win (-1.5 or even -2.5). Unfortunately, he decided the Cup is over for his team. I expect to see an open match and I believe the recent change at the bench of Olympiacos Volou will help us see goals from both sides.
My next option will be a result of Over 2.5 goals @ 1.85. For the record, I do not think Olympiacos Volou is interested in the win but even if they are I do not think they can get it.