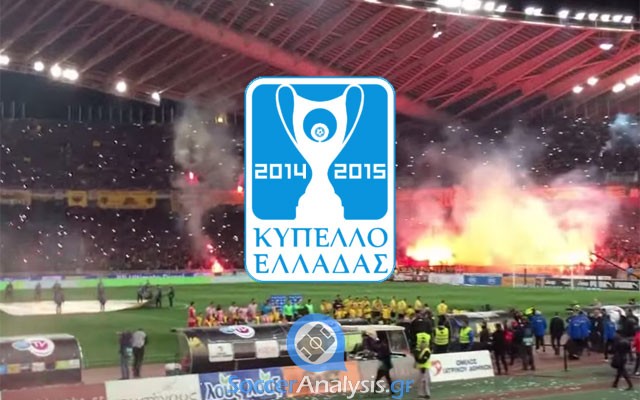 More risk in the late matches
I decided to publish the betting previews for the Group Stage of the Greek Cup in two separate articles today. You see, I have a bad habit of writing too much and, with a total of 10 matches, the last thing I needed was a long article. It would probably confuse you by forcing you to scroll down way more than usual. Anyway, the early matches (15:00) are already in place so let's have a look at the rest followed by some more value bets:
Analysis (Group 2): AOK Kerkyra – PAOK
*Group 2: Giannina (4pts), AOK Kerkyra (3pts), Apollon 1926 (3pts), PAOK (1pt)
*This season (14/12/14): PAOK – AOK Kerkyra 2-1
AOK Kerkyra got a very important home win against Asteras Tripolis (1-0) in the first match of 2015. They deserved the three points 100% and it is a coincidence they did not score more goals. In fact, their opponent was just a shadow of the team we know, having important problems in defense. The players of Grigoriou have now built a safe distance from relegation places (6pts) and their morale is superb. A win against PAOK will take them to the next stage but they can settle with a draw if Apollon 1926 will not win the away match against Giannina.
PAOK struggled to get the win against Panionios (3-2) with their weaker opponent taking the lead twice (0-1 and 1-2) and complaining a lot for a cancelled goal at the end (doubtful offside). The problems in defense still hold but Anastassiadis and his players must look for a win combined with a home win for Giannina against Apollon 1926. It is not a crazy scenario but the recent performances of the team and especially the performance of AOK Kerkyra in their recent match at Toumba, show they must be careful.
Betting Pick: The win of PAOK @ 1.70
The odds are ridiculous but I doubt a motivated and concentrated PAOK can lose this match. They are already out of the Europa League so there are only two goals left. The first and most important is the title in Super League (very difficult as Olympiacos has a stronger roster and more experience). The second is reaching a new Cup Final where everything is possible. PAOK must end this season with a title and my guess is they will do it even if it will be only the Cup.
I wrote on Day 1 about the excellent relations of PAOK with Apollon 1926. My guess is their good friend will get on their way. After all these two clubs already tricked us once with the super unexpected win of Apollon 1926 in their own match.
Analysis (Group 2): Giannina – Apollon 1926
*Group 2: Giannina (4pts), AOK Kerkyra (3pts), Apollon 1926 (3pts), PAOK (1pt)
Giannina come from a home draw against Panathinaikos (0-0) adding one more positive result in their stats at Zossimades (5W-2D-1L in Super League). In case you do not know it that game started on Sunday (19:30) but it was interrupted at 31' because of a fog. It continued on Monday (15:00) with the two teams offering us a great second half. It was a coincidence we did not see goals in it as it was like a rodeo of chances from both sides (especially in the last 15 minutes). They kept failing to score so the draw can be characterized as fair. Giannina can qualify to the Round of 16 with a win or a draw regardless of the result in the other match (AOK Kerkyra – PAOK).
Apollon 1926 was defeated in the last home match against Iraklis 1908 (0-1) after an average performance and the truth is they deserved to lose (probably with more goals). They need only a win combined with a win of AOK Kerkyra against PAOK. I will risk saying the Cup is a luxury for this club because their main goal this season is too avoid relegation in Football League. Despite their spectacular home win against PAOK for the Cup (1-0 in neutral venue) their results show they are not safe yet.
Betting Pick: Giannina to win @ 1.45
I rarely give any attention to odds below 1.55 but this time I decided to make an exception. Giannina are very confident when they play at home and they can win this match with more than one goal even with a secondary lineup. I just cannot accept any other result when I know they got a draw at Toumba (1-1) showing their interest in the Cup. The handicap win of Giannina (-1) @ 2.20 is fine by me.
By the way, I am aware Giannina can settle with a draw but I doubt they will risk ruining what they have accomplished so far by allowing a weaker opponent to stay in the match until the end.
Analysis (Group 1): Fostiras – Olympiacos
*Group 1: Olympiacos (4pts), Panachaiki (3pts), Panionios (2pts), Fostiras (1pt)
Fostiras needs a win with two goals or more against Olympiacos to qualify to the next stage. Although everything is possible in soccer, I cannot see how a club with financial problems and unpaid players can stand up to the most expensive roster in Greece. Especially when they have to save their energy to avoid relegation.
Olympiacos comes from a new average performance in the home win against Platanias (2-1) which was the end of Michel at the bench of the club. The total number of chances for the two teams (attempts 11-11) prove the Champions had a difficult evening and we should keep in mind they scored the winning goal shortly after Platanias lost a great chance to take a lead by 1-2! My overall impression is the players wanted to get rid of Michel although I really do not know why. Any other result than a win with by 2-3 goals will be a total failure. Even in a field as poor as Tavros.
Betting Pick: Live Betting
I am sorry guys… I am not willing to risk on a handicap win when even a draw is enough for the spoiled players of Olympiacos. I will wait to watch them live and IF they will look motivated enough I might spend some money on them. If not, I will just stay away.
Analysis (Group 1): Panionios – Panachaiki
*Group 1: Olympiacos (4pts), Panachaiki (3pts), Panionios (2pts), Fostiras (1pt)
Panionios looks a lot more dangerous since Ouzounidis took over. They come from a new good performance, this time at Toumba against PAOK (3-2 defeat). They took the lead twice (0-1 at 2' and 1-2 -penalty kick- at 10') and PAOK answered both their goals before halftime (8' and 30') and scored with a penalty kick at 72' to get the win. The officials of Panionios complained for a cancelled goal in the end (very doubtful offside). The club from Nea Smyrni needs only a win to make it to the next round.
Panachaiki scored with a doubtful penalty kick (32') and got a new win in the home match against Apollon Smyrnis (1-0). Their opponents have not stopped complaining since then and the replay shows they are probably right. Regardless of how they got their last win, they have been defeated only once this season (8W-1D-1L) from AEK (1-3 on 30/11/14) and they never looked back with 4W-1D-0L since then. Any positive result will take them to the next stage as it is highly unlikely to see Fostiras winning Olympiacos by two goals or more.
Betting Pick: Panachaiki (+0.5) to win @ 1.95
I am not convinced Panionios is interested in the next stage of the Cup. Their schedule in Super League is not easy (Platanias away, Ergotelis away, Panathinaikos at home, Asteras Tripolis away) and they cannot feel safe yet although they have shown signs of improvement.
On the other hand, Panachaiki is already in a safe distance of the fourth place in Group South (+8pts) and they can afford the extra fatigue of a couple more matches in the Cup. My guess is the Draw @ 3.40 looks more logical than any other result.