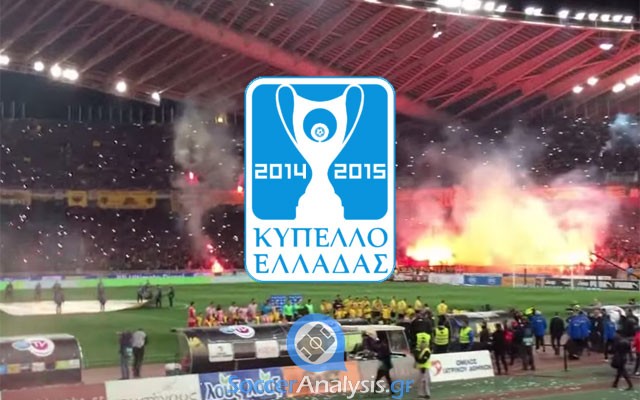 Difficult matches
There three matches available for the First Round of the Greek Cup this Saturday and all of them are quite difficult to predict. None of the teams involved managed to get a win in the first leg (three draws) which means all of them have a good chance to claim their presence in the next round today. Due to the weekend matches in Super League, all previews will be in brief. Let's see what we have:
Analysis: Fostiras – Acharnaikos
*On aggregate: 0-0
*Fostiras had three friendly matches since two teams met against Ethnikos (2-3 at home on 01/09/14), Alimos (0-1 on 05/09/14 at home) and Eolikos (1-1 away on 06/09/14)
*During the same period Acharnaikos had two friendly matches against Iraklis Psachnon (5-0)  and Atromitos (Super League club, 0-0). Coach Vazakas was satisfied with the performance of the players he used.
Fostiras had no difficulties getting the draw in the first match although Acharnaikos was considered a favorite for the win. In fact Fostiras had the best chance of the match at Mr. Warzyha and his players will now look for a win at Tavros where they are stronger. Both teams had two more weeks of preparation but their friendly matches tell me Acharnaikos is probably in better shape at this moment.
Betting Pick: Draw no bet – Acharnaikos to win @ 2.00
The behavior of the two teams over the last two weeks tells me Acharnaikos is still a favorite. Their win @ 2.90 is not bad either.
Analysis: Episkopi – Iraklis Psachnon
*On aggregate: 1-1
* Episkopi had a friendly match against Platanias Super League on 07/09/14 and they lost 3-2 after an overall good performance.
*Iraklis Psachnon comes from two defeats in friendly matches against Acharnaikos (5-0, neutral ground) and Apollon Smyrnis (0-1 at home).
Iraklis Psahcnon is expected to be after the Play-Offs again this season but so far they do not seem ready. They failed to win Episkopi in the first match despite the fact they got the lead at 23' (their opponent answered at 63') and the players do not seem to respond very well to what Mr. Koutsis asks them to do.
Betting Pick: Episkopi to win @ 2.00
Episkopi had a good performance in the friendly match against Platanias and they are usually stronger when playing at home. I believe they have an advantage for the win, especially if Psachna will keep up receiving goals that easily.
Analysis: Apollon Smyrnis – Kallithea
*On aggregate: 1-1
*Apollon Smyrnis comes from a friendly away win against Iraklis Psachnon (0-1) on 06/09/14.
*Kallithea had two friendly matches against Doxa Koropiou (6-0 on 31/08/14), Panerythraikos (2-3 away win 05/09/14) Loutraki (0-1 away win on 06/09/14).
To my eyes, the draw in the first match was a fair result. None of the teams was able to convince they deserved more but Apollon Smyrnis has the advantage before of their away goal. Kallithea is a very experienced team in Football League but in theory Apollon Smyrnis has a better roster because they will be after their return in Super League. Do they really want to be after the next round in Greek Cup as well? I have no idea. What I do know is they usually are stronger at home.
Betting Pick: No Bet
I expected better odds for the win of Apollon. I would only bet on this match if it was offered at 2.10+.