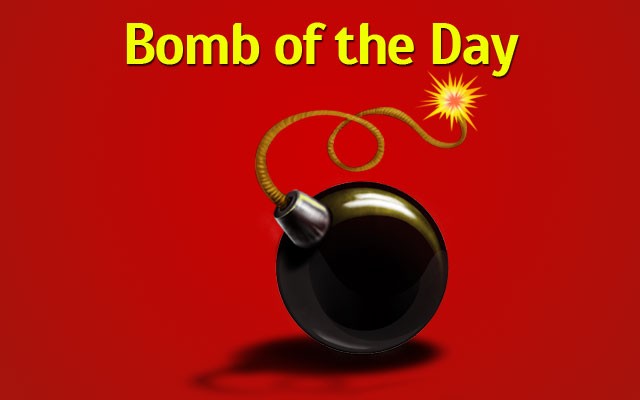 Bookies do make mistakes
The main purpose of the Bomb of the Day is finding matches where a win is possible to come true in odds +4.00. Bookmakers consider a lot of variables until they offer their final odds and they would not get so rich if they were not usually right. My approach on underdogs is very simple. Every time the information I have collected (current form, important absenses,recent history, background info etc.) show a strong motive for the underdog I go after the huge odd.
Odds do not always tell the truth for a difficulty of a match and I am sure you know it. There must have been times when you did not bet on the win of the X team because 1.35 was too cheap and then you went on to find another favorite in similar odds. When I run into matches like this, I do not search for the next cheap favorite; I just bet on the underdog. It takes patience and a lot of time but it sure pays better.
Season 2016-2017
| Date | Odds | Status | Match | Pick | Result |
| --- | --- | --- | --- | --- | --- |
| – | – | – | – | – | – |
| – | – | – | – | – | – |
Season 2015-2016
Season 2014-2015
Season 2013-2014
Season 2012-2013
| Date | Odds | Status | Match | Pick | Result |
| --- | --- | --- | --- | --- | --- |
| 24/04/13 | 4.50 | D | Gazoros – Thrassyvoulos | Away | 1-1 |
| 24/04/13 | 6.50 | L | Kavala – Vyzas Megara | Away | 1-0 |
| 14/04/13 | 10.00 | L | Aris – Asteras Tripolis | Away | 5-1 |
| 10/04/13 | 5.50 | L | Fokikos – Apollon Smyrnis | Home | 1-2 |
| 07/04/13 | 5.50 | D | Pierikos – Kavala | Away | 1-1 |
| 22/03/13 | 4.33 | L | Bosnia Herzegovina – Greece | Away | 3-1 |
| 17/03/13 | 5.50 | D | Ergotelis – Kalloni | Away | 0-0 |
| 10/03/13 | 5.25 | L | Kallithea – Olympiacos Volou | Home | 0-2 |
| 23/02/13 | 7.50 | L | Panathinaikos – OFI Crete | Away | 3-1 |
| 17/02/13 | 6.00 | L | Xanthi – Olympiacos | Home | 0-2 |
| 27/01/13 | 5.25 | W | Panetolikos – Iraklis Psach. | Away | 1-2 |
| 26/01/13 | 5.50 | L | AEK – OFI Crete | Away | 2-1 |
| 14/01/13 | 5.65 | D | Iraklis 1908 – Kallithea | Away | 0-0 |
| 13/01/13 | 4.00 | D | Panionios – Veria | Away | 1-1 |
| 12/01/13 | 8.00 | L | Levadiakos – Olympiacos | Home | 0-1 |
| 29/12/12 | 11.00 | L | Manchester U. – West Bromwich | Away | 2-0 |
| 20/12/12 | 7.50 | W | AEK – Nea Kavala | Away | 0-1 |
| 12/12/12 | 4.00 | D | Larissa – Asteras Tripolis | Home | 0-0 |
| 09/12/12 | 4.50 | L | Fokikos – Pierikos | Away | 1-0 |
| 03/12/12 | 4.00 | L | AEK – PAS Giannina | Away | 2-1 |
| 29/11/12 | 4.00 | L | Tyrnavos – Kerkyra | Home | 0-2 |
| 28/11/12 | 5.00 | W | Fostiras – Panionios | Home | 1-0 |
| 18/11/12 | 4.30 | D | Xanthi – Panthrakikos | Away | 0-0 |
| 12/11/12 | 4.75 | D | Kerkyra – Panathinaikos | Home | 0-0 |
| 11/11/12 | 4.50 | L | Atromitos – Panionios | Away | 1-0 |
| 04/11/12 | 6.50 | L | Asteras Tripolis – PAS Giannina | Away | 2-0 |
| 01/11/12 | 8.00 | L | Kavala – Panaigialeios | Away | 2-0 |
| 31/10/12 | 4.00 | W | Ethnikos Sidirokastro – Tyrnavos | Away | 1-4 |
| 15/10/12 | 4.50 | D | Olympiacos Volou – Kallithea | Away | 1-1 |
| 29/09/12 | 4.75 | L | Atromitos – Olympiacos | Home | 0-1 |
| 23/09/12 | 4.50 | D | Mancester City – Arsenal | Away | 1-1 |
| 22/09/12 | 7.00 | L | Asteras Tripolis – Platanias | Away | 2-1 |
| 31/08/12 | 7.00 | D | Ceará – Guaratinguetá | Away | 1-1 |
| 19/08/12 | 4.30 | W | Luzern – Grasshoppers | Away | 0-2 |
| 14/08/12 | 8.00 | L | Joinville – Bragantino | Away | 1-0 |
| 04/08/12 | 7.50 | D | HJK – VPS | Away | 3-3 |
| 01/08/12 | 6.50 | D | Goias – ABC | Away | 1-1 |
| 31/07/12 | 6.00 | L | Dinamo Kiev – Feyenord | Away | 2-1 |
| 29/07/12 | 4.75 | L | Kongsvinger – Ull Kisa | Away | 1-0 |
| 28/07/12 | 5.25 | L | Gefle – Malmo | Home | 0-2 |
| 01/07/12 | 4.38 | L | Spain – Italy | Away | 4-0 |
| 28/06/12 | 5.00 | W | Germany – Italy | Away | 1-2 |
| 18/06/12 | 5.50 | L | Italy – Ireland | Draw | 2-0 |
| 10/06/12 | 5.25 | D | Spain – Italy | Away | 1-1 |