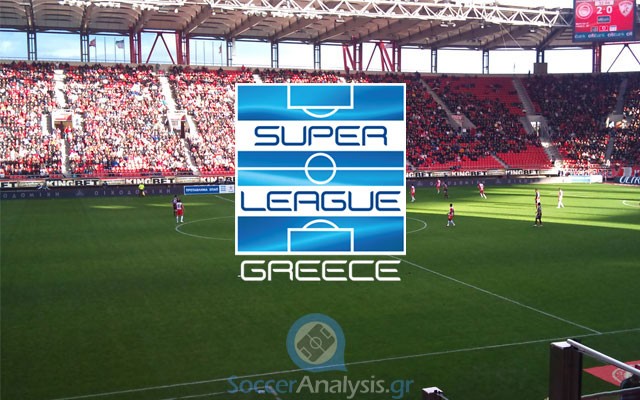 Nothing will change
Regardless of what will happen tonight in the battle of Olympiakos vs. PAOK for the first place, I seriously doubt we can see something changing in the match days that will follow. I will be very surprised if Olympiakos will not get the first place at the end of the season and the same will happen if PAOK will fail to get the second one. Those two teams have the best rosters of the league and they already depict this in the standings. I just hope they will offer us a good match that will make us hope that better days will come in Super League.
To today's previews and betting picks:
PANIONIOS vs. ATROMITOS
Panionios took the lead in the score twice (13', 57') in their last away match against Kalloni but their opponent was more determined for the win and managed to get it in the end (23', 75', 79'). The coach, Mr. Pantelis, is under a lot of pressure after the defeat from the newcomers of Super League and there are rumors that a new defeat from Atromitos will probably be his end at the bench of the team. There are no absences reported for today however Mr. Pantelis is expected to make changes in the starting lineup to improve the defensive performance of Panionios.
Atromitos comes from a home draw (1-1) against Panetolikos where they scored first (36', Papadopoulos) but their opponent answered five minutes later (41') making things difficult for the home side. The players of Mr. Paraschos were in control for most of the match and they added a lot of pressure for the winning goal with 14 attempts on goal, 7 of which were long distance shots but Panetolikos was good on defense once again allowing them to get only one point from this match. There are no absences reported today.
Betting Pick: The win of Atromitos @ 2.10
All eyes are on Olympiakos, PAOK and Panathinaikos this season and Atromitos has built and undefeated streak of six matches (4W-2D) without anyone noticing it. Having the third best offense and third best defense of the league, it is not a surprise they hold the third place at this moment. Panionios has a defensive problem which has caused the defeats from Aris (1-2 at home) and Kalloni (3-2 away) while they struggled to get the home win against Apollon (2-1, but 0-1 at halftime). I doubt Panionios can improve that much in only one week and this is why I believe Atromitos will manage to win one way or another. Considering that the only match where Panionios did not score was when they faced Olympiakos at home, I will also include the options of both teams to score @ 2.10 and Over 2.5 goals @ 2.50.
PANETOLIKOS vs. LEVADIAKOS
The good defensive behavior of Panetolikos allowed them to get one more difficult point, this time against Atromitos. The home team scored first at 36' but Panetolikos answered on 41' and from that point and on they concentrated on defense. The players of Mr. Chavos are undefeated against the top 3 teams of Super League but the experienced coach stated recently that their points are not enough to keep them safe from relegation. Koutromanos (DEF/1) and Poy (FWD/1) are still injured and they will not be available today.
Levadiakos got a very important home win against Xanthi last week (2-0) but things were not as easy as the final score showed. Xanthi lost a penalty kick at 53' while the score was 1-0 from the goal of Mantzios at 35'. The home team felt a lot safer after the second goal at 58' (Martins) but even then they were under a lot of pressure by Xanthi who had two more attempts stopped by the bar at 71' (Ranos) and 84' (Soltani). Mr. Karageorgiou will not have the services of Labropoulos (MID/8/1 goal), Macheras (MID/5) and Kapo (MID/4/1 goal) because of injuries.
Betting Pick: Panetolikos to win @ 1.70
Panetolikos has a solid defense this season and they also have a lot of confidence when they play at home. Levadiakos did not deserve to win Xanthi (especially by 2-0) last week and I seriously doubt they can get so lucky again. The odds on the home win are fair and I believe that the home team can win with two goals or more like they did against PAOK (2-0), Giannina (2-0) and Kalloni (4-0). The win of Panetolikos (-1.5) @ 3.00 if a fine bet under these circumstances.
ERGOTELIS vs. PANTHRAKIKOS
Ergotelis surprised PAOK last Sunday by taking the lead in the score but the home team added pressure and managed to get the win at the last minute with a foul kick by Vukić.  The players of Mr. Petrakis deserved at least the point of the draw with their performance but they were unlucky at the end. This was their second consecutive defeat in Super League (and third if we add the Cup match between them) but now they will have two matches at home where they will try to get more points. Mejía (DEF/6) and Pitsos (DEF/8) are banned while Tzanakakis (MID/8) and Bambam (MID/5/2 goals) are injured.
Panthrakikos recovered quickly from the easy home defeat from PAOK (0-3) with a good performance and the home draw against Asteras Tripolis (1-1). They took the lead in the score at 5' (Tzanis) and they were in control of the match but their opponent scored at 60' (Usero). Three minutes later Sarakatsanos received a red card but this did not stop Panthrakikos from creating chances for the win. At 78' the red card at Goian made things even for both teams and the score did not change until the final whistle. However, the overall impression was that the players of Mr. Mantzios deserved to win. Mikulić (DEF/7), Makrydimitris (DEF/2), Josse (DEF/6) and Merino (MID/1) are not available because of injuries while Sarakatsanos (DEF/4) is banned.
Betting Pick: Panthrakikos (+0.5) @ 1.70
Ergotelis has done great at the beginning of the season but they would start to lose points as they did not deserve to be so high in the standings. At this moment I believe that Panthrakikos is more capable for a positive result. Considering the important absences of both teams in defense, I will not be surprised if we see more goals than we expect. The option of Over 2.5 goals @ 2.75 as well as the win of Panthrakikos @ 3.60 are two value bets I cannot ignore.
VERIA vs. KALLONI
Veria managed to get the away draw against Apollon (0-0) in a match that it is already forgotten after the poor performance of both sides. Mr. Ghaitanos will continue to guide the team until the club's officials find a new coach. Anastassopoulos (GK/9) and Da Costa (MID/3) are injured while Mrdakovic (FWD/10/4 goals) was left out for a disciplinary misconduct.
The return of Mr. Matzourakis at the bench after three weeks (he was banned) was combined with an amazing home win for Kalloni against Panionios (3-2). Their opponent took the lead in the score twice (13', 57') but the players of Kalloni did not quit and went got a confidence win with three more goals (23′, 75′, 79′). There are three absences reported for today, Gašić (GK/8), Kazakis (FWD/9) and Agritis (FWD/2), because of injuries.
Betting Pick: Double chance X2 @ 1.95
I did not expect to see Veria that low in the standings but their stats so far are disappointing. On the other hand Kalloni is doing very good if we consider that they are inexperienced in this league. They had a few negative performances lately but I will risk saying that the absence of their coach was the main reason for them. For this reason I intend to risk a bit more on the win of Kalloni @ 4.80 as I consider it a value bet from what I have seen from those two teams so far. Another good option is a result of Over 2.50 goals @ 2.50.
OLYMPIAKOS vs. PAOK
Note 1: This match is considered a rivalry battle. The fans of the two teams hate each other.
Note 2: The players of Olympiakos were promised a bonus of 1.000.000€ if they manage to win Panathinaikos, Benfica and PAOK. They have made two out of the three steps to claim it…
Note 3: The chairman of PAOK Mr. Savidis usually announces a bonus AFTER a match and not before it. He has followed his team in this important match and he will be at Karaiskakis tonight.
Olympiakos had an average performance in the away match against Panathinaikos and they managed to get the win with a late goal by Mitroglou at 90'. Panathinaikos showed up determined for a positive result and they deserved a goal but the quality in the roster of the Champions made all the difference in this match. Olympiakos also got a very important win against Benfica in their midweek match for the Champions League but they had many problems in defense which were solved by Jiménez who was the MVP of the match. Ibagaza (MID/1), Ndinga (MID/4), Weiss (MID/9/3 goals) and Olaitan (FWD/3) are out because of injuries.
PAOK had a hard time last week in the home match against Ergotelis. Their opponent took the lead in the score at 13' but PAOK scored the equalizer during the second half with a goal at 64'. A late goal after a foul kick by Vukić at 94' gave the home team a win they probably did not deserve after their average performance. PAOK also had a midweek away match for the Europa League against Maccabi Haifa where they managed to get the draw (0-0) and increase their chances to make it to the next round. Kace (MID/2) and García (MID/1) are still out.
Betting Pick: Over 2.5 goals @ 2.10
I am under the impression that the last two "average" performances of the two rivals in Super League and Europe were caused because they were saving their energy for this battle. Olympiakos is definitely stronger in theory but if there is one team in this league capable of stopping them, this is PAOK. I hope this time we will see a good match with many goals because last season both of their matches were very disappointing. If this battle will go as I expect, do not be surprised if you see a score of Over 3.5 goals @ 3.80.