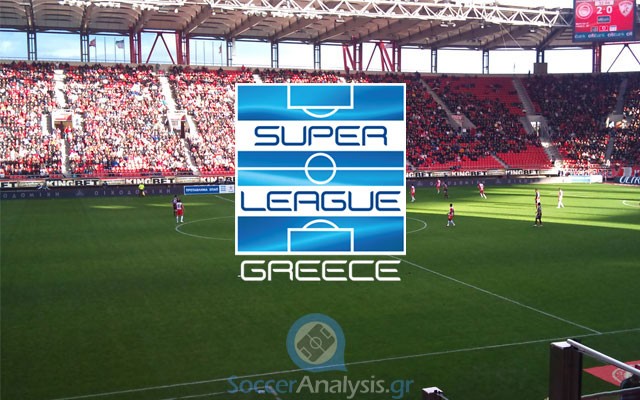 Panionios has not scored in the last three matches
Atromitos warned Panathinaikos during the first half yesterday and I must say that when I watched the Greens taking the lead before halftime I thought that one way or another they would win this match. Unfortunately they ruined my analysis during the second half by receiving two goals and I must say I was surprised by the character the players of Atromitos showed. It takes a lot of guts to turn a match around, especially in a venue like Apostolos Nikolaidis. I cannot wait to watch their midweek match against PAOK where they will try to get closer to the second place.
As I was doing my research on today's matches, I was shocked by the odds I saw again for the home win of Asteras Tripolis vs. Panionios. Keep in mind that the team from Nea Smyrni was offered in similar odds last Monday (see Bomb of the Day) and they did not lose. They had a lot of luck in that match but odds like this (1.20-5.50-14.00) are unreal for an experienced club like them. They have not scored in their last three matches and this is a negative record for them for the last two seasons as they do have many talented players. I wonder what may happen if they score today against the problematic defense of Asteras…
To the Sunday previews and betting picks for the matches of Day 15:
OFI CRETE vs. LEVADIAKOS
Note: This match became a rivalry battle at 2006. The two clubs met in the last day of that season and the winner would avoid relegation. OFI won that match (2-0) and sent Levadiakos to B' Ethniki (now Football League). The two clubs are practically in a war every time they meet since then.
OFI comes from the away defeat against Atromitos (3-0) where the home team ended the match soon with two goals before halftime (17', 45+1). The Cretans are often weaker when playing away so it is not a surprise they fail to compete with a team that has a lot more quality than them. The final score (3-0) depicts what happened in that match and it is my impression that Atromitos could have scored more goals. Things are quite different when OFI plays at Theodoros Vardinogiannis where they are still undefeated (2W-5D-0L, goals 8-4) and they have two consecutive wins (Aris 2-0, Kalloni 3-1). Mr. Sa Pinto will not have the services of Fraggoulakis (MID/8/1 goal) and Perogamvrakis (FWD/11/2 goals) who are still recovering from injuries.
Levadiakos was very accurate and lucky in the home win against Platanias (2-0). An early goal at 12' gave them the lead but Platanias performed better than them for the rest of the match. In fact they must feel lucky for not receiving a goal after the 17 attempts of their opponent (10 were inside the box). Their second goal at 77' killed any hopes for Platanias to get back in the match. Coach Karageorgiou was pleased with the fifth consecutive home win of his team but things are different when they play away as they have five consecutive defeats. Przyrowski (GK/11), Macheras (MID/5) and Vassiliou (FWD/9) will not be available for the match against OFI.
Betting Pick: Over 2.5 goals @ 2.30
What can I say…? Levadiakos proved me wrong last week when I said they are not capable of reaching a fifth consecutive home win. Regardless of what really happened in that match, they made it. Now they will have to face a hated rival and they have the motive of pushing OFI closer to relegation. I cannot trust them for an away win (0W-1D-6L, goals 7-18) but I do expect them to try hard to steal points. I would expect this match to end with a high score like in the cases of Apollon Smyrnis (4-2) and Veria (4-3) where Levadiakos fought hard but did not make it. The options of Over 3.5 goals @ 4.50 and Over 4.5 goals @ 10.00 can easily come true if we consider all the above.
VERIA vs. PANETOLIKOS
Veria received an early goal (15seconds to be exact) in the last away match against Xanthi (3-0) and they spent the rest of the match looking for an equalizer. The home team had an attempt at the bar at 63' while the score was still 1-0 and Veria came close to a goal nine minutes later that could have changed the final result. Xanthi scored again after a penalty kick at 76' killing all hopes of Veria and the last goal came at 84' in a point that they had practically surrendered. Mr. Dostanić will try to get his second consecutive home win but he will have to deal with the absences of Orestes (DEF/12) and Mrdakovic (FWD/13/5 goals) and both of them are considered important.
Panetolikos was in total control in the last home match against Panionios (attempts on goal 22 vs. 4) but they did not manage to beat Anestis, the goalkeeper of Panionios, who was the MVP of that match. They were unlucky at the end of the first half when the attempt of Bakakis was stopped by the bar while Panionios protested for a penalty kick that was not awarded to them by Mr. Kakos (referee) at 70' after Cali acted like a goalkeeper inside the box. This was the third match away from wins for Panetolikos who is not as strong when playing away (0W-3D-4L, goals 4-12). Bikey (DEF/8/2 goals) and Silva Jr. (MID/13/1 goal) are banned for this match while Takidis (GK/0), Bakakis (DEF/13), Koutromanos (DEF/0), Sfakianakis (MID/8), Passas (FWD/3), Koutsospyros (FWD/3) and Poy (FWD/2) are reported as injuries.
Betting Pick: Both teams to score @ 1.95
There is too much pressure on the home win, mainly because of the absences and the poor away performances of Panetolikos. However I do believe this is a better option as Veria has kept a clean sheet only in two matches until now. I agree they do have a huge opportunity for a win today but I prefer to risk on Over 2.5 goals @ 2.25 instead because they are not reliable in defense. This way I will cover the possibility of a new home defeat in case things go wrong.
ASTERAS TRIPOLIS vs. PANIONIOS
Asteras Tripolis was not afraid of Olympiakos in their last away match and they protested a lot for the penalty kick that helped the Champions scored the first goal (74'). The truth is that the Champions had their minds on their midweek match against Anderlecht and this allowed the players of Asteras to defend easily the attacks of their secondary lineup. Asteras had to open after and look for the equalizer and they ended up receiving a second goal at 89' (Olaitan) after an attempt at the bar by Weiss. The match against Panionios is expected to be easier with Usero (MID/14/3 goals), who is banned, being the only important absence for Mr. Verghetis.
Panionios was lucky to have their goalkeeper Anestis, having the game of his life in the last away match against Panetolikos. His saves in the 22 attempts on goal by the home side gave his team a very important point. Panetolikos also had an attempt at the bar after the header of Bakakis (45+2) while the players of Panionios protested for a penalty kick that was not awarded by Mr. Kakos when Cali acted like a goalkeeper insider the area at 70'. Coach Pantelis will have to deal with the absences of Kurdi (MID/14), Kaltsas (MID/10) and Kabadais (FWD/11/1 goal) who are banned while Koulouheris (DEF/7) and Maroukakis (FWD/3) are out because of injuries.
Betting Pick: The win of Panionios (+0.5) @ 4.50
I know this is a long shot especially now that Asteras is motivated for a win to catch Panathinaikos at the fourth place. As you probably know if you have been reading my articles long enough, I am always looking for value bets and this match is a perfect example. To make things short, I strongly believe that if this match was repeated three times under the exact same circumstances, Panionios would get at least one win. The bookies think otherwise but I insist that Panionios is a very dangerous and experienced team. They have not scored for three matches setting a negative record for the last two seasons but they survived in difficult venues like the one of Giannina (win 0-1, first defeat for the home team) and Panetolikos (who has received only one goal at home). Asteras might have a good offense but they are unreliable in defense this season and despite their undefeated home streak (4W-3D-0L) they receive goals too often (16-7 at home). The win of Panionios @ 21.00 is a huge offer and a risk I am willing to take like I did last Monday.
APOLLON SMYRNIS vs. PANTHRAKIKOS
Apollon Smyrnis survived the away match against PAOK (0-0) who had a total of 30 attempts but none of them ended at the net. It was a miracle if we consider they were playing with a man down since 40' (red card at Minga) but they had Tzorvas (GK) in a great day. The players are responding well to their new coach, Mr. Sanchez who will now look for his first win against Panthrakikos. Considering the last two draws against Panathinaikos (1-1 at home) and PAOK they have good chances to make it. Guela (MID/12/1 goal), Hegon (MID/8) and Kamara (MID/12) are injured while Minga (MID/12/1 goal) is banned. All of them are considered important absences for the home side.
Panthrakikos got the win in the last home match against Giannina easier than expected (2-0). The red card at Lila (29') for Giannina was followed by a goal after a penalty kick for the home side giving them a huge advantage for the win. The second goal came at 54' and when Giannina received a second red card at 64' the match was practically over. Merino (MID/2) will be the only absence for Mr. Mantzios but he is not considered an important absence.
Betting Pick: The draw @ 3.10
The confidence of Apollon players might be boosted after the two consecutive draws but I cannot trust their poor defense against the full roster of Panthrakikos. Their opponent is tough when playing away (1W-4D-2L, goals 9-11) and for this reason I strongly believe that the draw has more chances to come true. Let's not forget that both teams will probably focus on not losing as they do not have the luxury of rotation in the three matches they will give until Christmas.
KALLONI vs. PAOK
Kalloni had a very poor defensive performance in the last match against Panathinaikos at OAKA (0-4). The players keep troubling their coach as they are capable only of very good or very bad performances. The proof is that they have not a draw since the season started (6W-0D-8L, goals 15-24). The next match against PAOK is not expected to be easy for them as their opponent is a lot stronger than Panathinaikos who demolished them last week. Mr. Matzourakis will have to deal with important absences; Alves (DEF/13/3 goals) is banned, Lima (DEF/1) Leozinho (MID/14/4 goals), Faria (MID/13) and Gómez López (MID/7) are out because of injuries.
PAOK wasted many chances (30 attempts on goal, one at the bar) in the last home draw against Apollon Smyrnis (0-0). Like their coach said, when you do not score after 30 attempts and 21 corner kicks, you just do not deserve to win. They also had a midweek match against Alkmaar where they failed to get the win scoring the equalizer at the last minute (2-2) and they lost the first place in their Group. Coach Stevens will not have the services of Stoch (MID/14/4 goals) who was injured in the last match.
Betting Pick: Exact scores 1-3 @ 11.00, 1-4 @ 17.00, 2-4 @ 51.00
Mr. Stevens might be right in what he stated for the chances of PAOK but this was just a statistical anomaly. I expect to see Kalloni trying harder after their recent humiliation and if I am right they will score. The odds on everything in this match are way too low (away win, over 2.5 and 3.5 goals), so I will risk on three exact scores that pay a lot better.
ARIS vs. OLYMPIAKOS
Aris comes from a second consecutive scoring draw, this time away against Ergotelis (3-3). The home team was in control for most of the match and they took the lead with two goals during the second half (62', 65'). The entrance of midfielder Tatos made a huge difference to the average performance of Aris until 68'. He scored at 69', he gave the assist for the second goal at 71' and he scored again at 80' to give his team the lead. The players of Ergotelis were shocked but they added pressure and managed to get the draw with a late goal at 95' by Badimanga. The financial problems still hold and the morale of the players is very poor. Coach Milinković will have to deal with many absences as Udogi (MID/13/5 goals), Iraklis (DEF/10) and Tsoumanis (DEF/9) are banned while Aggeloudis (FWD/9/1 goal), Papadopoulos (MID/9), Pulido (DEF/11), Ibeh (FWD/8), Psychogios and Renia (FWD/1) are out because of injuries.
Olympiakos did to have a good performance in the last home match against Asteras Tripolis (2-0) and their opponents complained for the penalty kick that gave Olympiakos the first goal at 74'. The Champions used a secondary lineup because they had their minds on the midweek match against Anderlecht for the Champions League (3-1). Despite the absence of their top scorer Mitroglou who is still injured, Olympiakos scored three times and qualified to the round of 16. Needless to say they are the favorites for the win against the weak roster of Aris who happens to have Karagounis (DEF/2) and Tatos (MID/14/2 goals) on loan from Olympiakos. Coach Michel will not have the services of Maniatis (DEF/12/3 goals) and Mitroglou (FWD/10/14 goals) that are injured while more changes in the starting lineup are expected because of the opponent.
Betting Pick: Exact scores 1-3 @ 13.00, 1-4@ 21.00, 1-5 @ 41.00, 2-4 @ 81.00, 2-5 @ 151.00
Like in the match of PAOK, the bookies are well prepared for everything in this match (Over 2.5 and 3.5, handicap win) and the odds are too low. I prefer to risk on these options and I have already placed my bets combined with the scores of PAOK looking for a huge win with a very low cost.