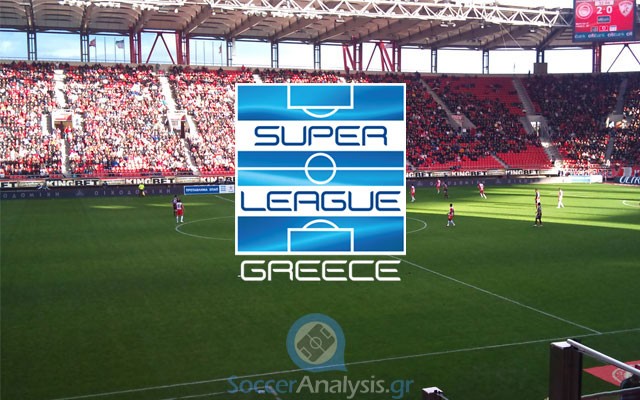 Be more cautious with your bets today.
Midweek matches are quite rare in Super League and all the teams will play their second match from the scheduled three in nine days. Add to this the Greek mentality before the holidays and you may see why I find it highly probable for many players to have their minds set on Christmas plans and not their opponents.
Partly I blame all the above for most of the performances I saw last Sunday. I am not referring to the results or the winners but to the energy most clubs had in the field. OFI scored at 7' and stopped there to ruin my winning streak at the Pick of the Day, Olympiakos stopped at 0-2 with Aris, the players of Panathinaikos thought the match was over with 1-0 at halftime, Panthrakikos received three goals from Apollon and when they woke up (87') they scored twice in five minutes, etc. Anyway…
My time is limited so I will straight go to the six matches we have available for today. You will have to excuse my brief comments but the deep previews you usually read during the weekends are prepared within the week. This time I had only two days available and it is practically impossible to have my usual details.
To the previews and betting picks for the matches of Day 16:
ERGOTELIS vs. APOLLON SMYRNIS
Ergotelis was defeated in the away match against PAS Giannina (2-0) and they protested for a cancelled goal at 64' which could have made things a lot different for them. They are clearly out of form with 5 defeats in their last seven matches.
Apollon comes from the home win over Panthrakikos (3-2) where they surprisingly took the lead by 3-0. They were left with a man down at 87' when Argyropoulos received a second yellow card. Panthrakikos managed to score two goals (89', 92') giving them a stressful win.
Betting Pick: Both to score @ 2.15
Apollon finally got a win after the two important draws against Panathinaikos (1-1 at home) and PAOK (0-0 away but extremely lucky). Their last match was just another proof they cannot be trusted in defense although Tzorvas (GK) had a new great performance. They are in form but Ergotelis is a better team and I expect they will add pressure for the win which will also give room to Apollon for a goal. If I am right the only way to see a winner here is with a result of Over 2.5 goals @ 2.30. Considering the form of Apollon the HT/FT Apollon / Ergotelis @ 34.00 will not surprise me at all.
PANTHRAKIKOS vs. KALLONI
Panthrakikos underestimated Apollon and after their disastrous second half they were down by 3 goals at 81'. When they woke up after the red card at Argyropoulos (87'), they scored twice 89', 92' but there was not enough time for more.
Kalloni took the lead in the last home match against PAOK (6') but they paid the price by receiving five goals (14', 29', 54', 56' own goal, 59') and they should feel lucky their opponent followed the "savoir vivre" and stopped there. Their second goal came at 87' (you must the long shot by Manoussos) in a point that PAOK was waiting for the match to end.
Betting Pick: Both to score @ 1.80
I do not know what has happened to Kalloni. Their defense in the last 3 matches has received 12 goals! At least they are still dangerous in offense. The odds offered on the home win are RIDICULOUS despite the poor form of Kalloni so this is the only option left here.
PANETOLIKOS vs. PLATANIAS
Panetolikos was defeated in match against Veria (1-0) showing their usual away weaknesses. The fans are not happy with the three defeats in the last four matches and there are rumors for a change at the bench of the team since the draw against Panionios.
Mr. Anastopoulos got his first win with Platanias against a strong opponent in the last home match against Xanthi (3-0). He currently has 2W-1D-2L since he took over but he has been defeated in both matches they have played away so far (Kalloni 1-0, Levadiakos 2-0).
Betting Pick: Platanias (+0.5) to win @ 1.70
I do not know why the players of Panetolikos do not respond to their coach lately, at least not as they did when the season started. The coach of Platanias, Mr. Anastopoulos, is too experienced and he has a roster capable of taking advantage of their opponent. The win of Platanias @ 5.00 is a value bet no matter what happens.
ATROMITOS vs. PAOK
Atromitos warned Panathinaikos during the first half with some chances but the Greens thought the match was over just because they took the lead at 42'. This is exactly why Iglesias punished them with two goals in five minutes (60', 65') and offered Atromitos one of their best wins in their history in Super League not only because of the opponent but also because of the character they showed during the match.
PAOK had an extremely easy task against Kalloni in the last away match (2-5). The newcomers scored first (6') but their weak defense received five goals (14', 29', 54', 56' own goal, 59') with PAOK deciding to stop in the last 30 minutes and wait for the final whistle. The second goal of Kalloni (87' Manoussos) was fantastic but it came when the players of PAOK were halfway home.
Betting Pick: Both teams to score @ 1.95
Atromitos has a very good offense but PAOK had a very easy match on Sunday where they spent the last 30 minutes in training mode. I expect both of them to score and if we are lucky enough we may see a scoring draw like 2-2 or 3-3.
SKODA XANTHI vs. OFI CRETE
The small undefeated streak of Xanthi (4 matches, 2 home wins – 2 away draws) ended in the away match against Platanias (3-0). My opinion is that Xanthi had one of their worst performances this season during the second half.
OFI scored a goal at 7' and it was enough to give them the win in the last home match against Levadiakos. I have every right to feel unlucky for my lost pick at the Pick of the Day section, not only because of the two attempts that stopped at the bar (33', 61') but also because of the total attempts of OFI (15 vs. 5 of the opponent). A second goal never came so it is natural things became a bit stressful at the end.
Betting Pick: OFI (+0.5) to win @ 2.00
Xanthi has climbed a bit far at the standings and Platanias showed some of their weaknesses. I feel OFI is playing better with Mr. Sa Pinto and I do expect them to start getting some more away points. Xanthi is strong at home (5W-1D-1L, goals 12-5) and OFI is weak when playing away (1W-1D-5L, goals 4-14) and I am aware that my choice makes no sense. You may as well call it a gut pick. The win of OFI @ 5.00 is also a value bet.
LEVADIAKOS vs. PANATHINAIKOS
The players of Levadiakos kept their habit of changing between home wins (5 in a row) and away defeats (6 in a row) in the away match against OFI (1-0) where they could have received more goals (5 attempts on goal vs. 15 for OFI, their opponent also had two attempts stopped at the bar). Now they want to set a new record in Super League by reaching the six consecutive home wins although their task against the Greens is not expected to be easy.
Panathinaikos comes from home defeat against Atromitos (1-2). Both teams had their chances during the first half and Panathinaikos was the one to score first at 41'. They showed their usual defensive problems in the first twenty minutes of the second half (it is becoming a bad habit) and they gave enough room to Iglesias from Atromitos to turn the match around. They spent the rest of the time looking for the equalizer but their opponent held on the win until the final whistle (attempts on goal 15 vs. 11).
Betting Pick: Both teams to score @ 2.20
Levadiakos is clearly influenced by the home ground effect and the least I expect from them is score like so many other teams have done against Panathinaikos. The Greens usually improve after a defeat and this is why I expect them to fight the match. Considering the performances of Panathinaikos, with or without the win, a score of Over 2.5 goals @ 2.40 is on the way…
OLYMPIAKOS vs. GIANNINA
Olympiakos scored two goals fast (6', 27') so the away match against Aris ended quickly. Their difference from the match of PAOK was they had 60 minutes of training as they never showed any determination to score more goals against Aris.
Giannina managed a relatively easy win in the last home match against Ergotelis and coach Tsiolis starts to feel safe at the bench again. The truth is that if they had lost that match and the upcoming one from Olympiakos things would be very difficult for him. All he needs now is a good performance at Georgios Karaiskakis. Even a defeat with a descent score (2-1, 3-1, 3-2) will be enough.
Betting Pick: Both teams to score @ 2.70
Olympiakos has not been a good host this season even to teams that are relatively "friendly". The good news is that Mr. Michel is expected to rotate his lineup again while Mr. Tsiolis is fond of attacking rather than massively defending for a positive result.