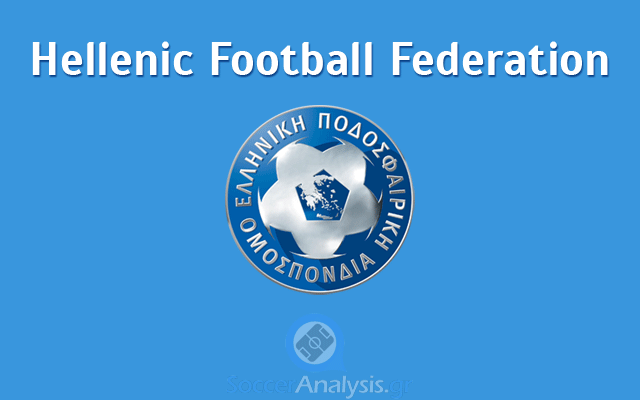 History of Greek soccer
The first Greek soccer competition was held in season 1927-28 after the formation of the Hellenic Football Federation. Despite the years of its existence, only 6 teams have managed to win it:
Olympiakos: 42 times
Panathinaikos: 20 times
A.E.K.: 11 times
Aris: 3 times
P.A.O.K.: 2 times
Larissa: 1 time
Timeline
Panhellenic Championship (1927-1959)
The year 1926 is identified by European Soccer Federation   as the start of the Greek Championship. During that year the Hellenic Football Federation (EPO) was formed announcing the first Panhellenic Championship.
A' Ethniki (1959-1979)
In order to accept Greek clubs in European Cups, UEFA asks EPO to organise the National Championship according to the higher standards of more developed european countries. As a result A' Ethniki was formed.
A' Ethniki Professional (1979-2006)
The National Championship becomes professional and the Clubs take the form of Limited Liabilities Companies. EPAE (acronyms for Union of Soccer L.L.C.'s) is responsible for running this new form of championship.
Super League (2006-today)
EPAE (acronyms of Union of Soccer L.L.C.'s) is dissolved. Super League is responible from now on for running the Championship.
The List of Champions from season 1927-28 until now
| | | |
| --- | --- | --- |
| SEASON | CHAMPION | CHAMPIONSHIP |
| 2014-15 | Olympiakos | Super League |
| 2013-14 | Olympiakos | Super League |
| 2012-13 | Olympiakos | Super League |
| 2011-12 | Olympiakos | Super League |
| 2010-11 | Olympiakos | Super League |
| 2009-10 | Panathinaikos | Super League |
| 2008-09 | Olympiakos | Super League |
| 2007-08 | Olympiakos | Super League |
| 2006-07 | Olympiakos | Super League |
| 2005-06 | Olympiakos | A' Ethniki Pro |
| 2004-05 | Olympiakos | A' Ethniki Pro |
| 2003-04 | Panathinaikos | A' Ethniki Pro |
| 2002-03 | Olympiakos | A' Ethniki Pro |
| 2001-02 | Olympiakos | A' Ethniki Pro |
| 2000-01 | Olympiakos | A' Ethniki Pro |
| 1999-00 | Olympiakos | A' Ethniki Pro |
| 1998-99 | Olympiakos | A' Ethniki Pro |
| 1997-98 | Olympiakos | A' Ethniki Pro |
| 1996-97 | Olympiakos | A' Ethniki Pro |
| 1995-96 | Panathinaikos | A' Ethniki Pro |
| 1994-95 | Panathinaikos | A' Ethniki Pro |
| 1993-94 | AEK | A' Ethniki Pro |
| 1992-93 | AEK | A' Ethniki Pro |
| 1991-92 | AEK | A' Ethniki Pro |
| 1990-91 | Panathinaikos | A' Ethniki Pro |
| 1989-90 | Panathinaikos | A' Ethniki Pro |
| 1988-89 | AEK | A' Ethniki Pro |
| 1987-88 | Larissa | A' Ethniki Pro |
| 1986-87 | Olympiakos | A' Ethniki Pro |
| 1985-86 | Panathinaikos | A' Ethniki Pro |
| 1984-85 | PAOK | A' Ethniki Pro |
| 1983-84 | Panathinaikos | A' Ethniki Pro |
| 1982-83 | Olympiakos | A' Ethniki Pro |
| 1981-82 | Olympiakos | A' Ethniki Pro |
| 1980-81 | Olympiakos | A' Ethniki Pro |
| 1979-80 | Olympiakos | A' Ethniki Pro |
| 1978-79 | AEK | A' Ethniki |
| 1977-78 | AEK | A' Ethniki |
| 1976-77 | Panathinaikos | A' Ethniki |
| 1975-76 | PAOK | A' Ethniki |
| 1974-75 | Olympiakos | A' Ethniki |
| 1973-74 | Olympiakos | A' Ethniki |
| 1972-73 | Olympiakos | A' Ethniki |
| 1971-72 | Panathinaikos | A' Ethniki |
| 1970-71 | AEK | A' Ethniki |
| 1969-70 | Panathinaikos | A' Ethniki |
| 1968-69 | Panathinaikos | A' Ethniki |
| 1967-68 | AEK | A' Ethniki |
| 1966-67 | Olympiakos | A' Ethniki |
| 1965-66 | Olympiakos | A' Ethniki |
| 1964-65 | Panathinaikos | A' Ethniki |
| 1963-64 | Panathinaikos | A' Ethniki |
| 1962-63 | AEK | A' Ethniki |
| 1961-62 | Panathinaikos | A' Ethniki |
| 1960-61 | Panathinaikos | A' Ethniki |
| 1959-60 | Panathinaikos | A' Ethniki |
| 1958-59 | Olympiakos | Panhellenic |
| 1957-58 | Olympiakos | Panhellenic |
| 1956-57 | Olympiakos | Panhellenic |
| 1955-56 | Olympiakos | Panhellenic |
| 1954-55 | Olympiakos | Panhellenic |
| 1953-54 | Olympiakos | Panhellenic |
| 1952-53 | Panathinaikos | Panhellenic |
| 1951-52 | Not held due to National Team's obligations | Panhellenic |
| 1950-51 | Olympiakos | Panhellenic |
| 1949-50 | Not held due to National Team's obligations | Panhellenic |
| 1948-49 | Panathinaikos | Panhellenic |
| 1947-48 | Olympiakos | Panhellenic |
| 1946-47 | Olympiakos | Panhellenic |
| 1945-46 | Aris | Panhellenic |
| 1944-45 | Not held due to World War II | Panhellenic |
| 1943-44 | Not held due to World War II | Panhellenic |
| 1942-43 | Not held due to World War II | Panhellenic |
| 1941-42 | Not held due to World War II | Panhellenic |
| 1940-41 | Not held due to World War II | Panhellenic |
| 1939-40 | AEK | Panhellenic |
| 1938-39 | AEK | Panhellenic |
| 1937-38 | Olympiakos | Panhellenic |
| 1936-37 | Olympiakos | Panhellenic |
| 1935-36 | Olympiakos | Panhellenic |
| 1934-35 | Not finished due to Balcan Cup held by Greece | Panhellenic |
| 1933-34 | Olympiakos | Panhellenic |
| 1932-33 | Olympiakos | Panhellenic |
| 1931-32 | Aris | Panhellenic |
| 1930-31 | Olympiakos | Panhellenic |
| 1929-30 | Panathinaikos | Panhellenic |
| 1928-29 | Not held due to financial crisis | Panhellenic |
| 1927-28 | Aris | Panhellenic |