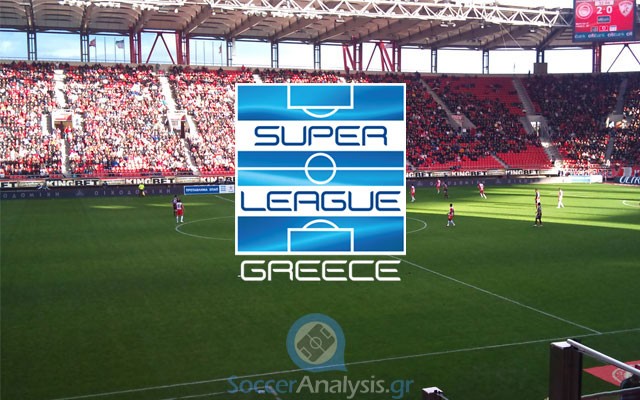 A fight for the last place in Super League 2014-15
This is a single knockout match to determine the eighteenth club of Super League 2014-15. In the case of a draw after the final whistle, there will be overtime and penalty shootout if needed. You should also keep in mind this match is held in a neutral ground, Venue Charilaou (also known as Kleanthis Vikelidis). Let's have a look at the match preview:
Analysis: Olympiakos Volou – Skoda Xanthi
Note: The referee of this match is Mr. Anastassios Sidiropoulos.
Olympiacos Volou had no problems taking the first place (17W-5D-4L, goals 54-18) of Group 1 during the regular season of Football League. They started their battle in the Playoffs with a huge advantage of +6 points but their 4W-7D-3L (goals 10-5) were not enough to get one of the two top places (promotion to Super League). The team was in a crisis when the Playoffs started but the arrival of Mr. Pantelis had a positive impact on them. His debut against Iraklis Psachnon was not good (2-1 away defeat) but the team has not lost in the ten matches that followed (3W-7D-0L, goals 7-1). During this period Olympiakos Volou has not received a goal for nine consecutive matches.
Banned: –
Injured: Kostoulas (DEF/30), Caril (MID/5), Cristobal (MID/15/1 goal), Kapetanos (MID/23/6 goals)
Skoda Xanthi had a very poor season and this is the first time they come so close to relegation. Their home win in their last match against Panathinaikos (3-1) gave them the sixteenth place and a new chance to stay in Super League. That is of course if they will manage to win this knock out match. Coach Kehagias is troubled with the absence of Solari (top scorer of Xanthi and Super League). The last official match of the team was on 13/04/14 and they have been preparing for this moment since then. In the meantime they had two friendly matches against Veria (1-5 away, 16/05/14) and Pirin Gotse Delchev (0-6 away, 24/05/14).
Banned: –
Injured: Solari (FWD/34/16 goals)
TIPS TO CONSIDER
– The supporters of both clubs have been very active lately because of the importance of the match.
– A few days ago I pointed out Xanthi has a great advantage for the win. Why? Because they have been resting since 13/04/14! Olympiakos Volou completed on 01/06/14 a marathon of 47 matches! They played 26 during the regular season, 7 for the Greek Cup and 14 for the Playoffs. And believe me their last 14 matches were the most difficult of all as they constantly had to face opponents who were after promotion as well. Xanthi had to play 11 matches less (34 for Super League, 2 for the Cup).
– Olympiakos Volou got a license to participate in Football League 2014-15 but they DID NOT get the license to participate in Super League 2014-15 after a decision of the Hellenic Football Federation. If they will win Xanthi they will promote BUT:
a. They cannot have more than three foreign players in their roster of age 24+.
b. They cannot renew/expand more than two contracts for players of age 24+
c. They can have as many players of age 24- as they want.
d. Super League will retain 20% of TV rights or other sponsorships to cover debts to former players and coaches of the club.
– Olympiakos Volou has faced only one Super League club this season, Panathinaikos. It was last January when they were in their peak having built an undefeated streak of 16 matches and 12 consecutive wins. Panathinaikos got an easy 4-0 win using a secondary lineup giving a sad end to this amazing streak. The reason I mentioned this is because Xanthi also faced Panathinaikos at the end of the regular season when the Greens had improved A LOT. They faced a stronger and more confident lineup but they managed to get what they wanted. Some of you might find this comparison irrelevant but if Xanthi will be as determined as they were in their match against Panathinaikos, Olympiakos Volou will need a miracle to avoid the defeat.
Betting Pick: The win of Skoda Xanthi @ 1.90
The way I see it, everything works for Xanthi at this moment. They have a better roster, less fatigue and the experience of their consecutive seasons is Super League. Most of the players of Olympiakos Volou are not allowed to follow the club in Super League for next season because of the age limit. This is exactly why I do not expect them to be as motivated as the players of Xanthi will be.
Considering all the above, the handicap win of Xanthi (-1.5) @ 3.30 looks great.