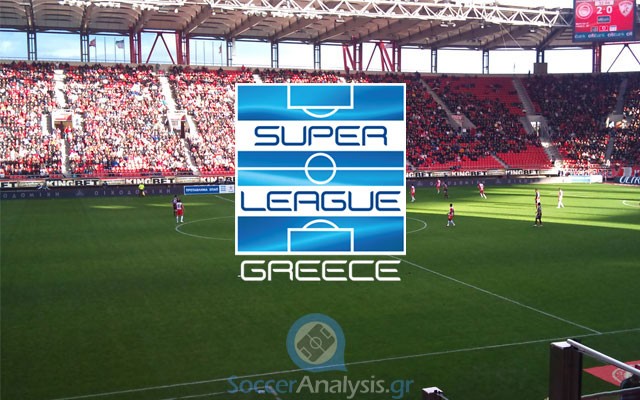 One extra match today
The long break (21 days) was expected to influence Day 12 of Super League. Two goals were scored in only one of the three battles we had yesterday but we'll not give up on our hopes for more in the six we have available today. In case you are wondering why there is no Monday match, the reason is the midweek action we have ahead. The previews and value bets for Sunday:
Analysis: AOK Kerkyra – Olympiacos
Kerkyra was not doing very well before the break having 0W-1D-3L in four matches. For some strange reason they have lost the energy they had in until late September where they had a superb start with 3W-1D-1L and great performances. Their most recent match was the home battle against Panetolikos where they conceded two early goals (16' and 20') and all they did is a late come back with a goal at 84'. Coach Grigoriou and his players are aware they can do better but they need to improve the defense of the team immediately. There are five absences reported.
Banned: Maragos (DEF/9), Zorbas (MID/7/1 goal/1 assist)
Injured: Vlachos (DEF/0)
Other: Diogo (DEF/6) and Ben Shabat (DEF/4) are ill. We need to consider that Nayar, Sánchez, Gomes and Markovski were also ill. They were included in the roster after their last minute recovery but it is not known if they will be in the starting lineup.
Olympiacos used to be an undisputed favorite for all domestic titles but this season they do not look as strong. They still have the best roster in Greece but they have lost points and the worst of all is they keep have huge changes in their performances. Their last emphatic home win against Panthrakikos (5-1) was easy but no one expected to see them having such a weak performance in their recent away match against Atletico Madrid (4-0). Coach Michel has the luxury or rotating the lineup in domestic matches where the opponents are easier and he will do it again today because of the midweek battle against PAOK.
Banned: –
Injured: Giannoulis (DEF/2/1 assist), Durmaz (MID/7/1 goal)
Other: Abidal (DEF/6), Ndinga (MID/4) and Mitroglou (FWD/7/4 goals) are out to rest for the important upcoming home battle against PAOK.
Betting Pick: Under 2.5 goals @ 2.10
I expect Olympiacos to go after a professional win like 0-2 today. The players who played in the midweek match against Atletico will be tired and the team is disappointed after the end of their Champions League journey.
Furthermore they do have their minds set on PAOK and normally they will save up some energy. Kerkyra usually scores at home but my guess is they will concentrate on defense and avoid any risks. They do know their defense is weak and this match can quickly turn into a humiliation.
Analysis: Ergotelis – Asteras Tripolis
Ergotelis has not won any of the last five matches (0W-3D-2L) and their last win was against Niki Volou (1-4 away) on Day 4. The players of coach Dermitzakis have not seen any wins at Pagritio either (0W-2D-3L, goals 5-11). In fact, they are the ONLY club in Super League without a home win. They came really close to it in their last battle against Veria (2-2) where they took the lead by 1-0 (13') and 2-1 (38') but their opponent answered both times (17', 61' penalty kick). The officials of the club complained for the penalty kick that was awarded to Veria and everything could be different if Youssouf had not failed to lock the win for Ergotelis at 56' (bar). There is one absence reported for the next match.
Banned: –
Injured: –
Other: Vlachodimos (FWD/4) is ill.
Asteras Tripolis had many defensive problems in the last away defeat from Atromitos (4-3) at Peristeri. The home team was in control and they took a safe lead twice by 2-0 and 4-1. Nothing seemed to work for coach Verghetis that day. The two late goals of his team (80', 92') which set the final score were mainly a result of Atromitos' poor defensive behavior. Asteras Tripolis also had a midweek match for the Europa League against Beşiktaş (2-2). Their home draw left them out of the next stage of the tournament but we should point out they were down by two goals (15' and 61'). They did manage to end their European journey without a home defeat (two goals at 72' and 82'). My overall impression was that Asteras could have done better but they paid their defensive mistakes against a very experienced opponent. There are five absences reported today while Verghetis is expected to rotate his lineup as many players are tired from the midweek match.
Banned: –
Injured: Usero (MID/8/1 goal), Rolle (MID/9/2 goals/4 assists), Kitoko (MID/1), Ederson (MID/0), Badibanga (MID/3)
Betting Pick: Ergotelis (+0.5) to win @ 1.55
No comparisons can be made between the two clubs. Asteras has a better roster but they look tired lately and no one can blame them for this. After all, they have been playing since the beginning of July.
Their fatigue and disappointment can help Ergotelis get the first home win @ 3.00. I am aware of the risk behind my choice but if Ergotelis was able to take the lead twice against Olympiacos (1-0 and 2-1, final score 2-3 at home) they can go for something better against a respected but very tired opponent.
Analysis: PAOK – Panthrakikos
PAOK suffered the first defeat of the season in the last home battle against Panathinaikos (1-2). The players of Anastassiadis added pressure to the Greens but they were not on a good day. They could have avoided the defeat as they did have the same numbers of attempts (8-9). The break gave PAOK some time to rest and they returned to wins in their midweek away match against Dinamo Minsk (0-2) with two goals by their usual scorer, Athanassiadis. Their key player, Mak (MID), is still injured and coach Anastassiadis is expected to rotate the lineup before the important away battle against Olympiacos.
Banned: –
Injured: Maduro (DEF/3), Mak (MID/8/5 goals/3 assists)
Doubtful: Tziolis (MID/9/1 assist) and Athanassiadis (FWD/7/6 goals) are expected to be out to rest for the difficult upcoming away match against Olympiacos.
Panthrakikos was under a temporary coach in the away defeat against Olympiacos (5-1) and I have not decided yet if the departure of Akis Mantzios was a good for them or not. Coach Roca (former coach of Olympiacos Volou) was called up to replace him and he is not as experienced. Today he will have his debut against a very strong opponent and the main goal can only be a good performance.
Banned: –
Injured: Pérez Moreno (MID/7) has not fully recovered yet.
Betting Pick: Halftime bet / PAOK to win and Over 1.5 goals @ 2.25
The odds are lower than I was expecting but I must admit it is normal. It will be extremely hard to see PAOK having a second consecutive average performance at Toumba. Someone must pay the price for their defeat from Panathinaikos. Panthrakikos is just unlucky enough to be that team.
So far PAOK has dominated all home matches against weak opponents by taking an early lead and scoring two or more goals by half time. My guess is they will do the same today to lock their win in the first 45 minutes and save their strength for the midweek battle at Karaiskakis.
For all the above the option that PAOK will take the lead in the first 10 minutes @ 4.00 is value bet with or without a rotation in their lineup.
Analysis: Panionios – Niki Volou
Panionios got two wins on Day 1 (Ergotelis 2-1 at home) and on Day 3 (Asteras Tripolis 2-1 at home) but their 0W-2D-4L in the matches that followed prove why they are among the favorites for relegation. Their main problem is defense as they have conceded at least one goal in ALL matches. Coach Terezopoulos is under a lot of pressure but today Panionios has a chance to return to wins against the worst team in Super League. Any other result will be a failure. There two problems reported.
Banned: Siopis (MID/9)
Injured: –
Doubtful: Ibagaza (MID/8)
Niki Volou was expected to have difficulties in Super League but they turned out to be weaker than we anticipated. The arrival of coach Tzanavaras on Day 7 gave them their only win until now (1-0 against Panthrakikos at home) but with zero goals scored and a record of 0W-1D-2L since then, nothing has really changed. The new long break, allowed Tzanavaras to work some more. The morale of the team is still poor and the bad finances make it almost certain that nothing can change. An away win against Panionios might bring back their lost optimism but the five important absences do not help.
Banned: Kotsaridis (MID/9)
Injured: Machlelis (MID/7), Stambolziev (MID/7)
Other: Niklitsiotis (MID/7) and Shkurtaj (FWD/7/1 goal) are ill.
Betting Pick: Both to score @ 2.40
I do agree Panionios is a favorite for the win here but odds like 1.45-1.50 are too dangerous for the risk involved. The defenses of the two clubs have unsolved issues and the only thing that can make the difference is the experience of Panionios in Super League.
You should keep in mind Panionios is more dangerous at Nea Smyrni having a total of 83 attempts after 5 matches; 36 of them were "within the box", 40 were "long distance shots" and 7 were "headers". Do you feel confident to place a bet on their win when it is highly probable that Niki Volou will concentrate on defense allowing only long distance shots to the home team? After all, opponents like Panionios are the ones Niki needs to get some points.
Analysis: Giannina – OFI Crete
*Coach Petrakis has spent most of his career coaching clubs from Crete. OFI is among them and he knows today's opponent very well.
Giannina were running an undefeated streak of four matches before the break, having a record of 2W-2D-0L. Coach Petrakis was pleased to watch his players keeping a clean sheet in all of them (goals 5-0). Their most recent match was the emphatic home win against Niki Volou (4-0). The opponent was too weak and too inexperienced to survive at Zossimades and the goals were scored at 7', 49', 75' and 82'. The home team had chances for more goals. The next match against OFI Crete will not be as easy but if Giannina show their usual home strength they can get a new win.
Banned: –
Injured: Dassios (DEF/6/1 assist), Ioannou (MID/0), Kritikos (FWD/2)
OFI Crete was not doing very well before the break. Their important away win against Panathinaikos (1-2) was followed by a home defeat from Asteras Tripolis (2-3) and the away matches against Panthrakikos (0-0) and Xanthi (defeat 2-1). The players of Gattuzo got the lead at 6' against Xanthi but they were unable to stand the pressure of the home team. They now have a chance for a fresh start against Giannina although they do know their opponent is not easy. There are five absences reported.
Banned: Mayron (FWD/8/1 assist)
Injured: Méïté (DEF/5), Kalajdzic (MID/3), Apoño (MID/2), Perogamvrakis (FWD/6/1 goal)
Betting Pick: Giannina to win @ 1.75
Giannina are very confident at home (2W-2D-0L, goals 9-3) and normally they will find a way to get the three points. Their coach, Mr. Petrakis, knows the opponent very well and this can work for their benefit.
From what I have watched, OFI concentrates on defense when playing away, but Gattuzo does not have a quality roster. This explains their record (1W-1D-3L, goals 3-10) and why 4/5 of their away matches had over 2.50 goals. Even the ones where they did not score like Olympiacos (3-0) and PAOK (4-0)…
Analysis: Panathinaikos – Veria
Panathinaikos got two consecutive wins before the break, against Atromitos (2-0 at home) and PAOK (1-2 away) which boosted the confidence of the team. They decided to wait on their opponent at Toumba and they kept executing dangerous counter attacks which gave them the win. They now come from a midweek match against Dynamo Moscow (defeat 2-1 away) after a new good performance. The Greens did not have motive to win since the Europa League was already over for them, but they did take the lead at 14' (Berg). The home team scored twice in six minutes (55' own goal, 61') in a point Panathinaikos was not reliable in defense but their overall performance satisfied coach Anastassiou. The schedule of all teams for today and Wednesday has turned the next two matches (Veria at home, Panetolikos away) into must win situations that will allow them to improve their placement in the standings. There are three absences reported.
Banned: –
Injured: Ajagun (MID/8/3 goals/1 assist)
Other: Schildenfeld (DEF/8) and Mendes (MID/5) are out to rest.
Veria had a superb start this season with 4W-0D-1L but the postponement of Day 6 was not good for them. In the four matches that followed they had a record of 1W-2D-1L and their last three results (PAOK 4-1 away, Panionios 2-2 at home, Ergotelis 2-2 away) were not considered positive. Their defense was poor in all of them and they have actually conceded 8 goals in this period. They did not deserve the point they got in the last away match against Ergotelis with the home team complaining a lot about the penalty kick that allowed Veria to get the draw. Granero and his players had time to rest and work on the weaknesses of the team and we are about to find out if the new break will allow them to return the good performances earlier in the season. There are three absences reported.
Banned: Amarantidis (DEF/9)
Injured: Catalá (DEF/3), Mandjeck (MID/0)
Betting Pick: Both to score @ 1.85
Panathinaikos has a specific approach for all opponents, weak or strong. They are fond of constant pressure and quick attacks (or counter attacks) and now that Berg is back the goals come easier. Veria deserves to have a top placement so far as they are extremely dangerous in offense. The Greens have conceded goals from weaker teams and this is why this will be my main option.
The low odds on the win of the Greens are tempting me to look for an unexpected result but their morale is too good at this moment. I will watch this match waiting to see my live betting options. I intend to do the same for the option of Over 2.5 goals which is now offered in ridiculous odds like 1.55. DO NOT FORGET the midweek action may influence all teams today!