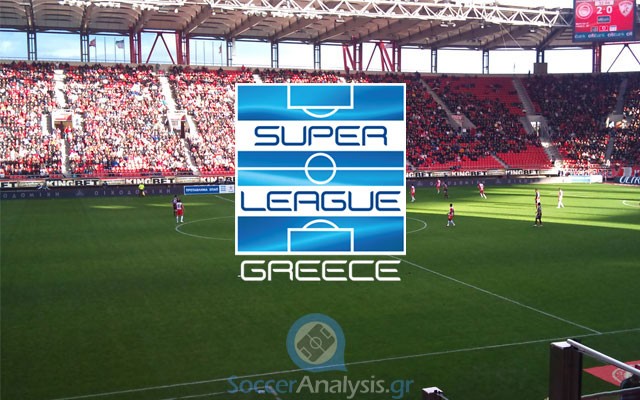 Day off for Olympiacos
Olympiacos is back at the first place after the completion of the first round and allow me to say it is fair. The Champions may not be as reliable as they were in the past but PAOK, Panathinaikos and Asteras Tripolis wasted many of the chances they got to threaten them. The good news is we still have 4 teams which mathematically claim the title and no one can be sure what will happen at the end. I remind you Olympiacos is the free team for Day 18. The first part of the previews and betting picks we have for Wednesday:
Analysis: Niki Volou – Olympiacos
Niki Volou is out of the competition because of past debts. Since 21/12/14, their matches are cancelled and the opponents are appointed winners with a 3-0 score.
Olympiacos won the difficult away match against Xanthi (1-3). Their new coach, Vitor Pereira now has some extra days to get to know the team. He could not possibly hope for a better debut as his players had 100% accuracy (3/3 attempts on target went in at 19', 30' and 53') when the season's average for Olympiacos was 1 goal every 7.5 attempts on target! The team reached a great level of concentration and we should keep in mind Xanthi did not quit (total attempts 5-8). With the score at 0-2 after 30 minutes it was almost impossible for them to make a miraculous comeback. The next opponent of the Champions is Panetolikos (at home) next weekend.
Analysis: Panthrakikos – AOK Kerkyra
Panthrakikos comes from a fourth consecutive draw, this time at home against Atromitos (1-1). They had many difficulties (attempts 3-12) as their opponent was determined for a win. A penalty kick at 42' allowed Cases' team to take the lead. Atromitos added pressure and scored the equalizer at 58' (Papazoglou). The remaining time was a nightmare for the defenders of Panthrakikos who deserved to lose but they got one point instead.
Banned: –
Injured: Christou (DEF/8), Cherfa (DEF/13), Baykara (MID/15/2 assists)
AOK Kerkyra lost the last away match against OFI Crete (3-2) which turned out to be the most unexpected result of last weekend. OFI scored first at 27' but the players of Grigoriou were more dangerous and they scored twice (38' and 49') to take the lead. Unfortunately for them, a red card at Venetis (67') ruined their plans for the win. OFI was awarded a penalty kick, scored the equalizer (68') and continued with an extra man in the field. A new goal at 83' (second penalty kick and hat trick for Milhazes) killed any hope of Kerkyra for a positive result.
Banned: Venetis (DEF/17)
Injured: Diogo (DEF/13), Gomes (FWD/16/1 goal/1 assist)
Betting Pick: Panthrakikos to win @ 2.15
Panthrakikos has a strong motive for a win because they need to keep up with the safe zone. AOK Kerkyra is not reliable when playing away (1W-2D-5L, goals 7-12) and I believe they will be influenced by the unexpected away defeat against OFI. The home team is still undefeated at Komotini (2W-6D-0L, goals 6-4) where they have conceded only 4 of the total 25 (!) goals until now. It is now or never for them.
Analysis: Ergotelis – Panionios
*Attention: Strong winds ripped pieces of the canopy in National Stadium of Pagritio making the field unsafe for the players. Super League has been informed about the problem and it is possible the match will be postponed.
*Strange coincidence: Marinos Ouzounidis (Panionios) was at the bench of Ergotelis last season helping the team get the best finish of their history in Super League (seventh place). I did not expect to see the club letting him go and I find it ironic they will have to play one of their most important matches this season against him.
Ergotelis was humiliated in the last away match against Panathinaikos (5-0). The players of Tsaousanis came very close to score first at 6' (bar) but they were punished with 5 goals in only one half (8', 12', 15', 23' and 42'). There are no more excuses left after a total of 17 matches and 2W-5D-10L (goals 15-33). The team has the second worst defense AND the worst offense in Super League and it is obvious their pre-season planning was wrong. The officials still hope the team will be improved when the new players (4 came, 6 left) adjust. If they want to stay alive, the home match against Panionios must be won at all cost as they are already 7pts away from the safe zone.
Banned: –
Injured: Jovanović (DEF/12/1 goal)
Panionios lost the last away match against Platanias (3-0) but the final score does not depict their efforts in the field. The home team added a lot of pressure for the win with no goals until halftime. Coach Ouzounidis watched Kolovos aiming the bar at 50' and five minutes later Platanias scored (55'). Things became more difficult at 59' when Economou was sent-off (second yellow) leaving Panionios with a man down. The second goal was conceded at 70' and the last great chance to get back in the match came at 79' (second bar, Boumale). Coach Ouzounidis was not pleased with the lack of confidence his players showed for one more away match. The team stayed in Crete for the important match against Ergotelis which is a must win situation for both sides.
Banned: Economou (DEF/11)
Injured: Fountas (MID/12/1 goal)
Betting Pick: Both to score @ 2.00
Both teams must risk today to claim a win that can make a huge difference in their fight to avoid relegation. Their stats in defense make me believe we'll see goals from both sides. A draw convenient and I do not believe any of them will give up until the last minute. The option of Over 2.5 goals @ 2.35 looks great.
The away stats of Panionios are weak (0W-1D-8L, goals 6-17), but this time the will face the worst home team in Super League. Ergotelis is not confident at Pagritio ()
Analysis: Skoda Xanthi – Veria
Xanthi lost a home match for the first time this season but they are not to be blamed because the opponent was Olympiacos (1-3). The change at the bench of the Champions worked and the match was practically over at 53'. Xanthi did not surrender; on the contrary, they were tough for one more home match. Unfortunately for them, Olympiacos was extremely accurate (3/3 attempts on goal went in) and this fact alone was enough to force any team to a defeat. The players of Lucescu did their best (attempts 5-8) but all they got was a late goal at 82' which came to set the final score.
Banned: Bertos (DEF/11/1 assist), Fliskas (MID/15/1 assist)
Other: Ranos (FWD/7) will probably leave the club soon
Veria comes from a home draw against Kalloni (1-1) in a match that was only interesting for the first 20 minutes where we had one attempt at the bar (7' Veria) and two goals (Veria 8', Kalloni 16'). The poor condition of the field did not help the teams to continue in the same tempo and the greatest chance of the remaining match took place at 68' when Kaltsas sent the ball at the bar. The overall stats of the two teams (attempts 15-8) and especially the two bars allow Granero and his players to feel they should have won.
Banned: –
Injured: –
Betting Pick: The win of Xanthi @ 1.90
The undefeated home streak of Xanthi ended against Olympiacos but this season they are reliable at Pigadia (6W-2D-1L, goals 17-9) after a very long time. Veria is capable of anything against equal teams but their away record (1W-3D-4L, goals 6-14) is enough to understand who the favorite is. They often risk more than they should and Xanthi is in position to take advantage of it.
Analysis: Panathinaikos – Levadiakos
Panathinaikos saw Ergotelis having the first great chance of the match at 6' (bar) but it looks like it was exactly what they needed to start. They humiliated the opponent with five goals in the first half (8', 12', 15', 23' and 42') with Marcus Berg scoring a hat trick. Coach Anastassiou was delighted with the concentration and accuracy of his team and characterized the first half as the best since he took over. The Greens got their revenge like we warned you and now they hope to do the same against Levadiakos. After all, they lost points in the match of the first round (1-1 at OAKA, neutral ground) and they usually do not make the same mistake twice.
Banned: –
Injured: Bourbos (DEF/14), Spyropoulos (DEF/0)
Levadiakos was the free team last weekend as their opponent for Day 11 (postponed) was Niki Volou. Their last match was the home draw against Ergotelis (1-1) which was a setback in their efforts increase their distance from relegation placement. They had more chances for the win (attempts 16-8) but more of them were long distance shots (9). Coach Pantelidis was not pleased with the result but the truth is his team was not that dangerous to deserve the three points. The next two matches (Panathinaikos, Asteras at home) will complete a series of difficult matches. Even if they will lose them both, the recent performances show they are in position to start getting points against equal or weaker teams that follow.
Banned: –
Injured: –
Betting Pick: Over 2.5 goals @ 1.75
The Greens are more confident at home (7W-0D-1L, goals 19-4). I am under the impression this match will not be as easy as their last one. Levadiakos had more days to rest, they have nothing to lose and they also avoided the defeat in the match of the first round at OAKA (1-1, neutral venue, former home of Panathinaikos). This option looks safer than a handicap win if Levadiakos will try to resist again.