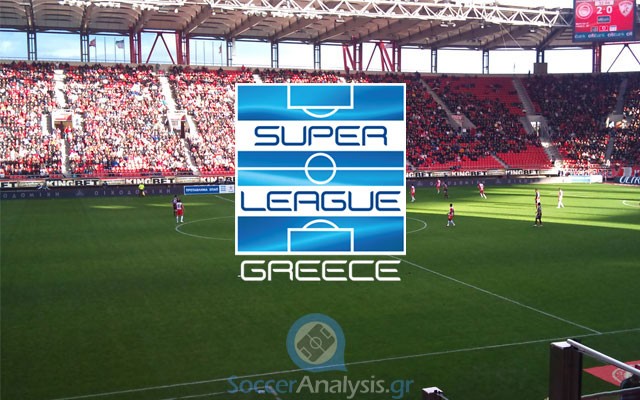 The tight schedule continues
As you probably noticed the top 5-6 clubs of Super League keep leaving points here and there. The main reason is the weak teams rely on their home to get the points they need. A filtered look at the home stats of the competition reveals 16 out of the 18 clubs have lost 0-3 times after a total of at least 9 home matches (some have 10). This explains why the favorites have problems getting away points and we must not forget the tight schedule either (midweek Cup matches ahead). The previews and value bets for the 4 battles of Sunday:
Analysis: Levadiakos – Asteras Tripolis
Levadiakos was defeated in the midweek away match against Panathinaikos (1-0). The players of Pantelidis concentrated on defense but one goal at 29' was enough to give the win to the Greens. The two teams had almost the same number of chances (attempts 8-7) with Levadiakos looking less dangerous to claim anything more. Pantelidis characterized the score as fair because his team did not take any risks. The team is more confident when playing at home (1W-5D-3L) but they are still away from their last season's strong record. There are two problems reported.
Banned: None
Injured: Sanchez (MID/8)
Other: Kone (MID/14/4 goals/2 assists) is out for a disciplinary misconduct
Asteras Tripolis comes from a home draw against Giannina which can only be characterized as a negative result. Despite the early lead of two goals they got (14', 25'), the players of Verghetis were careless and allowed Giannina to get back in the match at 43'. They failed to secure their win during the second half and they were punished with an equalizer at 77'. Pablo Mazza missed a great chance at 83' (bar) to put his team back on the lead and despite their efforts (attempts 14-8) the score did not change until the final whistle. Verghetis stated soccer is a sport that punishes you when you get too relaxed to show why his team did not get the win. There are important problems reported for the next match.
Banned: None
Injured: Košický (GK/14), Sankaré (DEF/14/2 goals/1 assist), Badibanga (MID/4), Parra (FWD/13/3 goals/2 assists)
Betting Pick: Both to score @ 2.00
Asteras Tripolis had problems in this venue last season (defeat 3-1, Pantelidis had recently arrived at Levadiakos) and I believe this match will not be easy for them at all. The motive of survival is too strong for the home team and they will fight for anything they can get. We should keep in mind they had difficulties to win Levadiakos in the first round (2-1, Levadiakos scored first) and I do expect the same to happen today. I am not willing to risk on a fixed odd win at this point but the option of Over 2.5 goals @ 2.30 looks great!
Asteras Tripolis has played three matches for 2015. They were easily defeated from AOK Kerkyra (1-0, the score could be worse), they got an easy home win against PAOK (3-0, all goals scored during the first half) and then they ruined everything with the home draw against Giannina. Their behavior tells me they are capable of anything when they are motivated and the only thing they should be afraid of is their own concentration…
Analysis: Giannina – Panthrakikos
Giannina got a very important away draw against Asteras Tripolis (2-2) in their midweek match. The players of Petrakis did not quit despite the two goals they conceded (14', 25') and punished the home team for believing the game was over so soon. Their goal at 43' was just a warning and they shocked Asteras at 77'. The home team added pressure for the win and missed an important chance at 83' (bar) but the score did not change until the end. Coach Petrakis stated his satisfaction for the reaction of his players and said any team could have claimed the win at the end. This was the third consecutive draw of Giannina. There are two absences reported for the next match.
Banned: None
Injured: Garoufalias (DEF/1), Charissis (MID/11)
Panthrakikos comes from a midweek home win against AOK Kerkyra (1-0) which kept them alive in the battle to avoid relegation. A penalty kick at 38' gave a lead which they kept until the final whistle. AOK Kerkyra was not on a good day; they did try (attempts 5-9) but they did not even score when they were awarded a penalty kick at 75' (saved by Athanassiadis). Cases was pleased to see his team expanding their undefeated streak (1W-4D-0L) with a win which, combined with the points deduction at OFI, brought Panthrakikos out of relegation placement. There are three absences reported for the difficult match against Giannina.
Banned: Potouridis (DEF/17), Christou (DEF/8)
Injured: Ladakis (MID/17)
Betting Pick: The draw at halftime @ 2.10
Giannina are stronger at home (5W-3D-1L, goals 16-7) but I must say I am not impressed by their performances lately. Panthrakikos is too desperate and I remind you they also survived in another difficult venue recently (Xanthi, 0-0) with a similar set of odds. The home team has 3 consecutive draws, Panthrakikos has 4 in the last 5 and they will surely concentrate 100% on defense like they did at Xanthi. The players of Cases have a difficult task but my guess is they can hold until the end of the first half.
Analysis: PAOK – Platanias
*This is the third season of Platanias in Super League. In the previous two seasons they got involved in the fight to avoid relegation. In both cases, the golden points which kept them in Super League came with coach Anastassiadis (PAOK) at their bench.
PAOK won the away battle against Kalloni (1-2) and stayed alive in the battle for the title. They showed their usual away weaknesses and allowed Kalloni to score first (7'). The foolish move of Kaçe at 37' to swear at the referee was punished with a straight red card which made Anastassiadis furious. For a couple of minutes things got out of control with the coach asking his players to leave the field. The ones who were still calm intervened and the halftime ended at 1-0. No one expected what was about to follow though. Against all odds, PAOK entered the field determined to turn everything around. Despite their double disadvantage, Pereyra scored twice (50', 58') to put his team on the lead. Kalloni added pressure (attempts 8-11) and they were awarded a penalty kick at 81' but Itandje saved it turning the last minutes into a thriller. Anastasiadis was pleased to see his 10 players concentrated and determined to get what they wanted. That second half was probably the best 45 minutes of PAOK since the away win at Karaiskakis. There important problems reported but the team is a lot more confident at Toumba (7W-1D-1L, goals 23-10) and the goal can only be a new win.
Banned: Kaçe (MID/16/3 goals/1 assist)
Injured: Glykos (GK/14)
Doubtful: Raț (DEF/15/3 goals/5 assists), Tziolis (MID/11/1 assist)
Other: Tzavelas (DEF/7/1 goal) is no longer in the plans of Anastassiadis.
Platanias comes from a home draw against Atromitos (0-0) in a match that will quickly be forgotten. Most of the action took place in the first half when Atromitos scored (29') but their goal was cancelled (offside, correct decision). The remaining 45' minutes were extremely boring; Platanias was after the point and Atromitos could not cause any real problems in their defense. Both teams lost an important chance during the added time and the result can be characterized as fair. The away stats of Platanias (2W-2D-5L) are not promissing for the next difficult match at Toumba but their goal difference in them (goals 6-8) shows they are capable of resisting to their stronger opponent. There are four absences reported.
Banned: Banana (DEF/17)
Injured: Neplyakh (DEF/6/1 assist), Gomes (MID/12/3 goals/1 assist)
Other: Nazlidis (FWD/13/3 goals) is expected to be transferred very soon and he was left out.
Betting Pick: Halftime/Fulltime bet PAOK/PAOK @ 1.65
PAOK's confidence was boosted after their amazing away win. Platanias cannot be a problem if they are as concentrated as they were in the second half at Mytilini. They must win this match at all cost and add pressure to Olympiacos who plays at 19:30. The knowledge of Anastassiadis for the weaknesses of the opponent can unlock this match easily.
This time I will avoid any risks on a handicap win although I will look for some live betting options (maybe a goal of PAOK in the first 10 or 20 minutes).
Analysis: Olympiacos – Panetolikos
Olympiacos was the free team of Day 18 as their away match against Niki Volou was cancelled because their opponent has left the competition. Their new coach, Mr. Perreira had some extra time to work with his new team and get to know to the players. His first test in the away battle against Xanthi was successful (1-3) but be careful! Olympiacos was extremely efficient that day as their first three attempts on goal went in! The overall stats (attempts 8-9) show the only thing that changed for them that day was their concentration. We should wait for a while to determine if the team will finally start having some convincing performances. There are four absences reported.
Banned: None
Injured: Botía (DEF/10), Fuster (MID/8/2 goals/1 assist), Milivojević (MID/10/2 assists)
Other: Dominguez (MID/15/6 goals/4 assists) is ill
Panetolikos comes from an easy win against OFI (3-1) where the team did only what was necessary to get the three points against a troubled opponent. Coach Chavos and his players totally deserve their fifth place in the standings as they are the only team with one away defeat (3W-5D-1L, goals 10-5) after Olympiacos. Panetolikos can be extremely dangerous on a good day and I have written many times they could be in a better placement if Chavos did not have to deal with important absences so often. This time, there are four problems reported but the good news is the team has no stress as no one will blame them in the case of a defeat against the stronger roster in Super League.
Banned: Koussas (DEF/13/2 goals)
Injured: Bracalli (GK/16), Villafáñez (FWD/10/5 goals/1 assist), Moreno (FWD/5/5 goals)
Betting Pick: The draw at halftime @ 2.75
The newest coach in Super League (Pereira) will face the only coach that has kept his place for almost two years. Chavos was hired on 24/01/13 and he is responsible for the extra attention Panetolikos got in the last two seasons. The club's officials clearly stated they were not ready for the Play Offs last season and the coach was allowed to experiment and prepare his roster almost 10 match days before the end. This time things are quite different. The team looks safe in the fifth place and I cannot see how Veria, Xanthi or Atromitos will get on their way. They are reliable wherever they play and my guess is they will not surrender easily to Olympiacos.
Aren't you curious why Olympiacos is not offered at 1.07-1.12 like they usually are? Panetolikos has conceded the exact same number of goals (13) the Champions have in the same number of matches. Like in the case of PAOK, I will wait to see my live bet options, especially if there will be no winner by halftime. Normally, I would include this match in the Bomb of the Day section but I am concerned with the recent change at the bench of Olympiacos and the fact there is not any Greek referee with the cojones (you know what I mean, right?) to give 50-50 chance to any opponent at Karaiskakis.