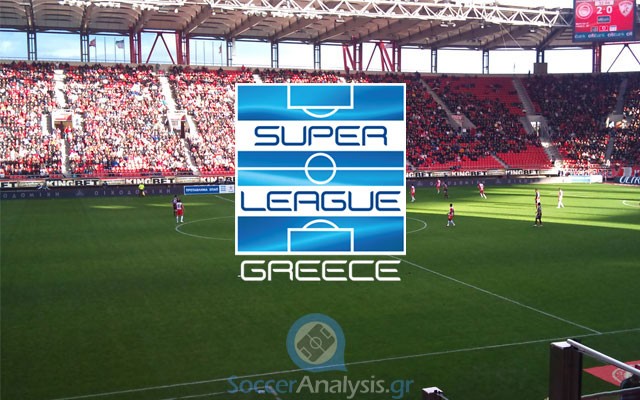 Nothing changed in Super League
It has been a while since my last article as I was not in the mood to write about Greek soccer when other important things (GREXIT, capital controls, etc.) were going on. The new season in Super League started last weekend but despite my wish, it was impossible to launch the new responsive look of this site during August. Hopefully this will happen in the next 2-3 weeks and I must ask you to tolerate with my future delays and the absence of an active database.
Day 2 will keep us busy this weekend and I remind you it is too soon to look for high confidence bets. We need to be patient and wait until Day 5 as teams are gradually showing us their true potential. Let's have a quick look at today's previews:
Analysis: Levadiakos – Olympiacos
*Neutral Ground: OAKA Stadium
*Excellent relations between the two clubs.
Levadiakos comes from an away defeat against Atromitos (1-0) but their performance was a surprise to me. I honestly did not expect to see a team with a Football League roster to give Atromitos such a hard time. In case you do not know it, Levadiakos relegated last season but they returned in Super League because AOK Kerkyra was expelled. They are expected to add more players to their roster very soon. Akis Matzios is still at the bench (since 08/02/15) but his task for a positive result against the Champions and Cup Holders of 2014-15 will not be easy.
Absence: Vyeramko (GK, new transfer)
Olympiacos is the undisputed favorite for every domestic title for one more season. They do have the most expensive roster and they are expected to use this match (and many more) as a good way to train for the only thing that matters to them; the Champions League. Unfortunately, things are not going to be easy as at least two of their opponents in Group F (Bayern München, Arsenal and Dinamo Zagreb) also have their minds set to the next round. The new coach, Marco Silva, has made the fans of the club optimistic this will be the season they will see Olympiacos making that extra step to the Round of 16. The championship and the Cup titles are taken for granted.
Injured: Maniatis (DEF/0, captain and key player), Arthur Masuaku (DEF/1), Bouchalakis (MID/1/1 goal), Alfreð Finnbogason (FWD/1, on loan from Real Sociedad).
Betting Pick: Over 2.5 goals @ 1.60
Olympiacos had no problems scoring three goals against Panionios (3-0 at Karaiskakis) on Day 1 even if their performance was average. I cannot see why they will not do it again. Even in the case the Champions will be willing to throw away some "friendly" points, a result of many goals is highly probable.
Analysis: Panthrakikos – Veria
Panthrakikos had a weak opening match at Komotini against Asteras Tripolis (0-2 at home) and I strongly believe Mr. José Cases should be concerned with the defensive behavior of his team. In fact, Asteras could have scored 1-2 more goals with the stats showing they had a lot more attempts in total (8 vs. 16). A second consecutive home defeat is out of the question at this moment especially when Super League is characterized by the home strength of all teams involved.
Injured: Gavriilidis (DEF/0), Iliadis (MID/0), Fernandez (FWD/0), Diguini (FWD/0)
Doubtful: Baykara (MID, not ready yet)
Veria comes from a home draw against PAS Giannina (1-1) but my overall impression was they did not deserve the point they got. The stats of that game show the two teams had almost the same number of total attempts (15-12) but when we see the shots that were made within the box (3-8) it is clear that Giannina are right to feel they should have won (they also had an attempt stopped by the bar at 48' to lock the win). The late equalizer by Nazlidis at 92' has boosted the morale of Veria that has the excuse of a brand new roster that still needs work. The new coach, Mr. Georgios Georgiadis (former assistant coach of PAOK) is confident there is a lot of room for improvement.
Banned: Giannoulis (MID/0)
Injured: Pavlidis (MID/0)
Other: Lopez (GK/0, not ready), Georgiadis (FWD/0, illness)
Betting Pick: Both to score @ 2.10
Having in mind the recent poor defensive performances of the two sides, I can only pick they will concede at least one goal each. My next pick will be a result of Over 2.5 goals @ 2.50 just in case we have a winner.
Analysis: Skoda Xanthi – AEK Athens
Skoda Xanthi escaped with a point from Toumba stadium after the away draw against PAOK (0-0). The home team was in control (total attempts 12-6) but they were not ready to face the defensive tactics of coach Răzvan Lucescu who wanted a positive result. Believe it or not, Xanthi may had 6 attempts in total but all of them where shots outside the box. Now they return at home where they are traditionally stronger (8W-7D-2L last season) with the hope to force the famous and popular opponent to the first defeat of the season.
Absences: None, full roster
AEK got a home win against Platanias (3-0) at OAKA and coach Dellas has every reason to feel pleased for the emphatic return of his team in Super League. I did not expect Platanias to be so weak (total attempts 15-4!) but maybe they could not keep up with the excitement and the energy AEK' players on their return in the top domestic competition. The truth is we missed AEK and Super League was not the same without them (the same goes for the other newcomers, Iraklis 1908). Coach Dellas and the officials of the club are in search of one more forward after the injury of Djebbour
Injured: Cordero (MID/0, key player), Djebbour (FWD/1/1 goal)
Betting Pick: The Draw at halftime @ 1.95
I really do not think this will be an easy battle for AEK. Despite their great energy and excitement, Xanthi remains a tough team to face away and I cannot help wondering how the bookies came up with odds that favorite the away team so much (average 1: 3.25 X: 3.10 2: 2.20). I would take my chances if the win of AEK was offered at 2.50+ but right now I will just wait for the halftime result. By the way, have you noticed Xanthi is running an amazing streak of 5 draws (friendly and official) with four of them had no goals at all (0-0)!!!